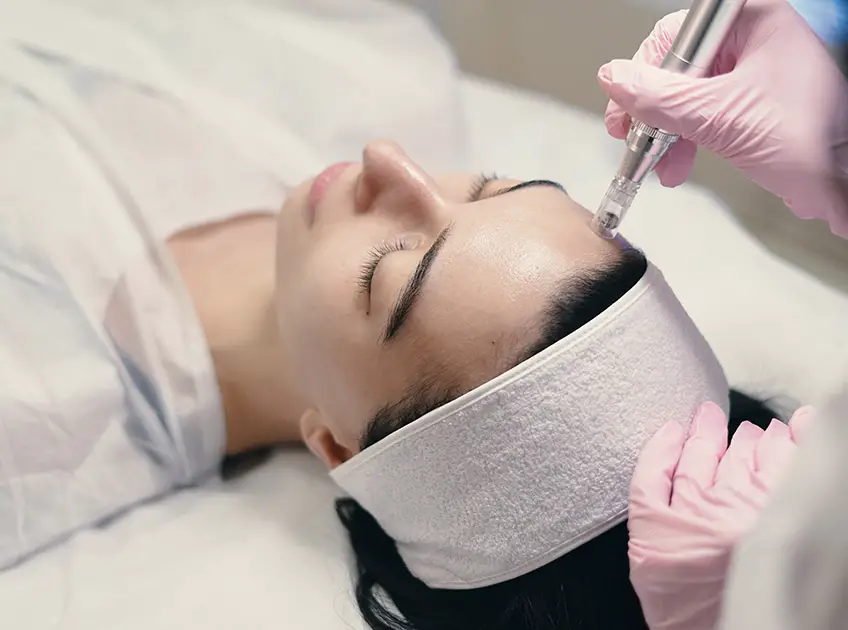 This is a common question that every person who has taken micro-needling treatment can ask. Although the temptation is good, wearing makeup very soon after surgery may cause infection, or else it will affect the healing process.
Women usually want to get back to their makeup and skincare routine after doing the treatment. As most girls know that it is a quite painful and invasive procedure which can be seen clearly on the face that you have done micro needling.
Even though it has given you pain, it delivers some great results. Below is a quick guide for how soon and apply the makeup after micro needling
Remove Dead Skin After Microneedling
What Is Meant By Micro-needling?
Microneedling is a minimally invasive cosmetic method that can be used to enhance the appearance of the skin.
During the treatment, small needles are used to develop microscopic wounds in the skin. It well activates your body's natural healing power to cure soon.
Through this, the production of collagen and elastin will be increased. Collagen is highly responsible for plumping the skin and rendering it elasticity.
It mainly helped to treat a variety of concerns including wrinkles, fine lines, stretch marks, acne scars, and more.
After Micro-needling When Can You Wear Makeup?
If you take micro needing treatment, you need to wait at least 48 to 72 hours to get a cure superficially. You must wait two to three days to begin wearing makeup again.
In this case, take a few days off from the makeup as well as the skincare routine and go natural!
Everyone's skin and body are quite different in everything. Healing may depend upon your body type and genes. Completely avoid at least 24 hours from the treatment.
Then the open skin will be healed. Later you can apply a gentle moisturizer and after 3 days you can use light makeup.
Makeup To Use After The Cosmetic Procedure
After the skin is healed, you can take some lightweight makeup with mild and hypoallergenic ingredients.
You should use plenty of moisturizer before going for makeup. Ensure the moisturizer has completely penetrated the skin before moving to the next step.
You may also use a hydration spray with all-natural ingredients to calm, hydrate, and nourish the skin. Then you can pick a lightweight and breathable power foundation to give you enough coverage.
The mineral liquid foundation also will help you greatly if you don't like to have powder on your face. If you want to start the makeup after the treatment, it is a lot better to begin on the natural side.
Guidelines On How To Apply The Makeup After The Micro-needling Session
As mentioned above, don't forget to wait for some time because doing so, will irritate and hurt the skin. Here is some guidance you need to follow to avoid damaging the new skin.
1. Need To Be Careful On The Ingredients List
Many products will do wonders to the face, but they may be harmful when the skin is in sensitive condition. Avoid products like alcohol, fragrance, hydroquinone, and parabens after the micro-needling sessions.
By this, you can be free from allergies, rashes, and other adverse chemical reactions. Also, ensure you are away from products that contain vitamin A and Vitamin C.
These ingredients also have the power to irritate freshly punctured skin.
2. Avoid Complexion Products
As the face can be extra sensitive after the treatment, it is a must that you want to hide the redness with concealer, foundation, or powder. It will be harmful to your skin because concealer and foundation can cause further skin irritation.
3. Try To Use Sanitized Tools For Makeup
You may well know how much your skin is sensitive after the treatment, in that case even for applying a moisturizer, it is highly recommended to use freshly sanitized brushes.
Before using it make sure it is well-cleaned and free from bacteria and germs
4. Must Use Spf
Applying makeup or not is optional, but wearing sunscreen is a must for the microneedle face.
UVA and UVB rays can damage the skin very much, so it is a must to protect it completely. You can use any type of sunscreen with SPF 25 or higher.
5. Don't Do Physical Activities And Strenuous Exercise
Another important thing you want to remember is that you should not do any physical activities like jogging, exercise, or swimming at least for 72 hours after this treatment.
The rigorous and strenuous activity can absorb harmful bacteria which cause unwanted skin reactions.
6. Make Use Of A Sheet Mask Before Starting The Makeup
To protect the fresh pictures face and to enjoy a beautiful look, you can go for a cooling mask before using moisturizer and sunscreen.
The serum from the mask will deeply penetrate into the face and assist you with inflammation and redness. After micro-needling wearing a mask can refresh the skin. But make sure that you are using it after 24 hours from the treatment.
Conclusion
It is great to keep the face bare right after a micro-needling treatment. Hoping that, this piece of writing will guide you well and help you to avail yourself an extraordinary look without hurting the skin.
Image Credit: freepik
You Might Also Like: