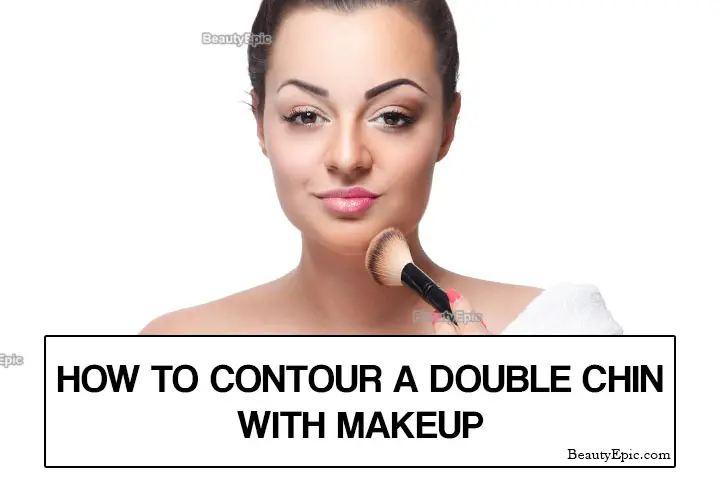 Having a perfectly chiseled face with a defined jawline gives you loads of confidence. Isn't it? Some of us have a double chin which is embarrassing and leads to low self-esteem. Can we do something about it without having to spend large amounts of money? Of course, in this post, I'm going to offer some quick and easy make-up tricks that will help you hide your double chin.
 How to Contour a Double Chin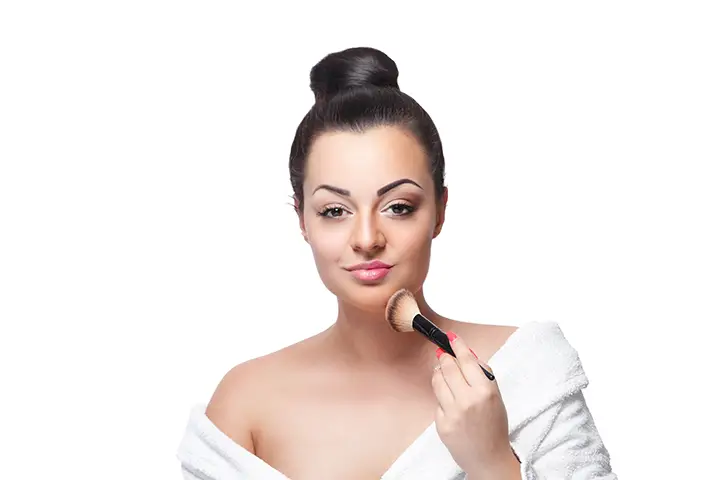 1. Apply a Foundation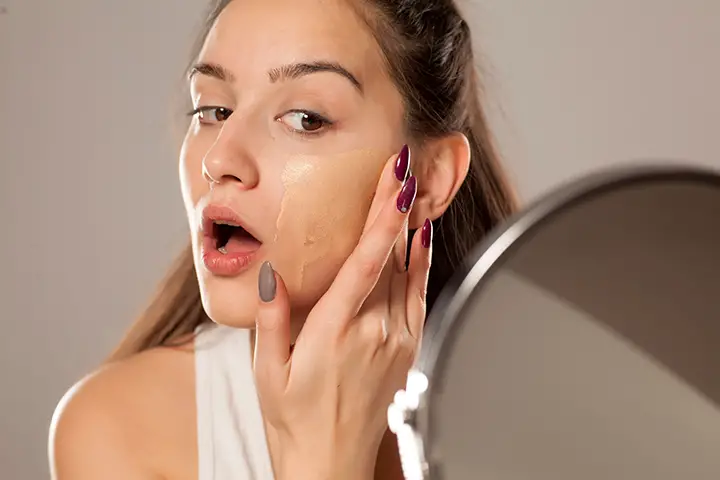 Clean your face thoroughly. Pat dry and apply a thin layer of moisturizer. Start by applying a base foundation on your face. But to cover the double chin, use a shade that is darker than your skin tone. It should not have lines or be so dark that it looks like a beard. Make sure it is even and well blended throughout your face and neck.
[ Read: How To Apply Foundation Correctly ]
2. Start Contouring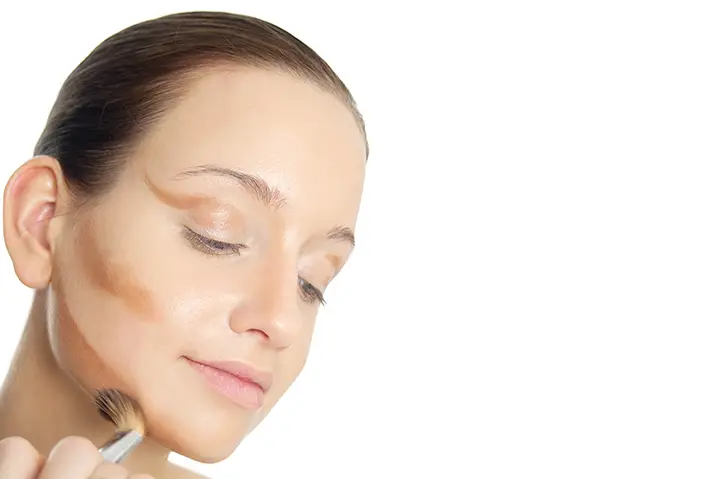 Use a contouring powder or a crème based contour which is darker than your skin tone. You should apply the contour right below the cheekbones for a slender look.
Next, apply the contour powder or the contour stick along the jawline, from ear to ear. Now mark a triangular shape from both sides of the neck to the center of the neck. Blend thoroughly by merging the shade towards the neck to give an elongated appearance.
Apply some blush and highlighter on the cheeks to remove the focus from the jawline. You can apply the same bronzer on your cheeks to maintain a uniform look.
You can define your eyes and make them more prominent, like use nice mascara that makes your eyes look attractive. If you are contouring your double chin, it is best to use neutral shades for the lip color.
[ Read: How to Contour Your Face ]
Tip 1: For medium to dark tone complexion, use a gold-toned bronzer along the jawline.
Tip 2: For fairer skin, use a rose-toned bronzer shade.
Tip 3: Use a light hand with the bronzer and foundation to attain a natural look.
Tip 4: Make a high bun/updo to give the illusion of a slender neck.
[ Read: How To Contour Your Nose Like A PRO ]
Makeup is a boon to hide and highlight desired areas of the face and neck. However, you can also make subtle changes in your dressing and hairstyle to hide your double chin. Here we go.
3. Show Off  Your Neckline
Avoid wearing high neck dresses that will bring the focus on your double chin. Wear dresses that show off your neckline, collarbone, and throat. A scoop neck dress not only looks stylish, it also takes away the attention from the jawline.
4. Do Up Your Hair
Make a hairstyle where your locks do not fall close to your neck and jawline. Too much of hair volume around the neck will heighten the prominence of the double chin. Go in for high ponytails or buns that make the neck look slender and long. Hair ending with curls is a big NO-NO.
5. Some Color on the Cheeks and Eyes
It's simple. This trick helps you take the focus away from the jawline. Highlighting your cheeks and eyes will not just accentuate these features it will make the double chin less prominent.
[ Read: How to Make Your Face Look Thinner ]
6. Select the Lip Color Wisely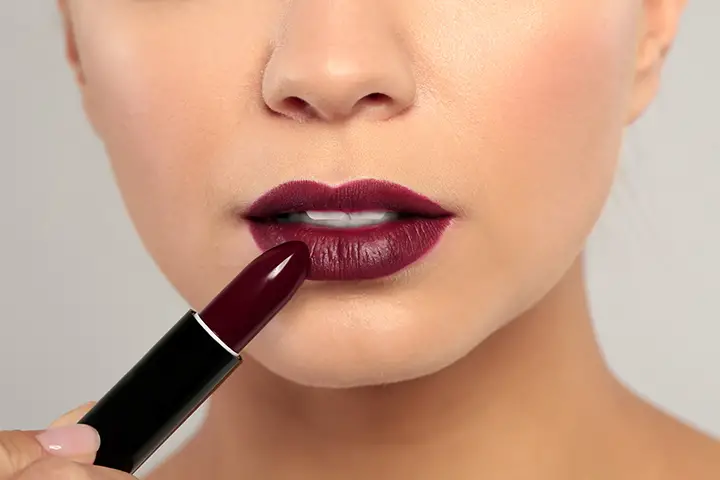 If you use a very dark shade for your lips, the lower half of your face becomes prominent. Neutral colors work best and they make the double chin appear lighter and less visible.
7. Facial Exercises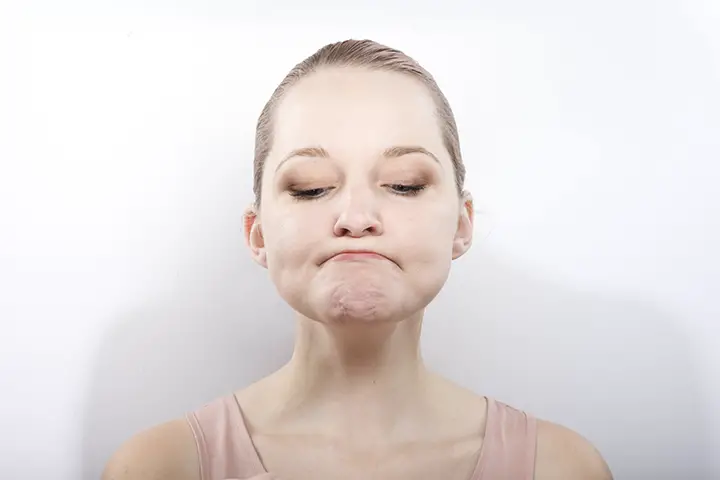 Yes, we have discussed some cheat tricks and hacks to reduce the double chin. But nothing substitutes hard work. Indulge in physical exercises of the face and if you are regular, you will definitely notice a difference soon. Start moving.
Professional makeup artists do a brilliant job of contouring to bring out our best features. No wonder the celebrities and actors look so flawless on screen. But with sound knowledge of make-up shades that can be used for contouring and some practice with brushes, similar makeup results can be achieved at home. Do try out our tips and contouring hacks when you get ready for next weekend party!
Cosmetic Products for Submental Fat Pads
You Might Also Like: