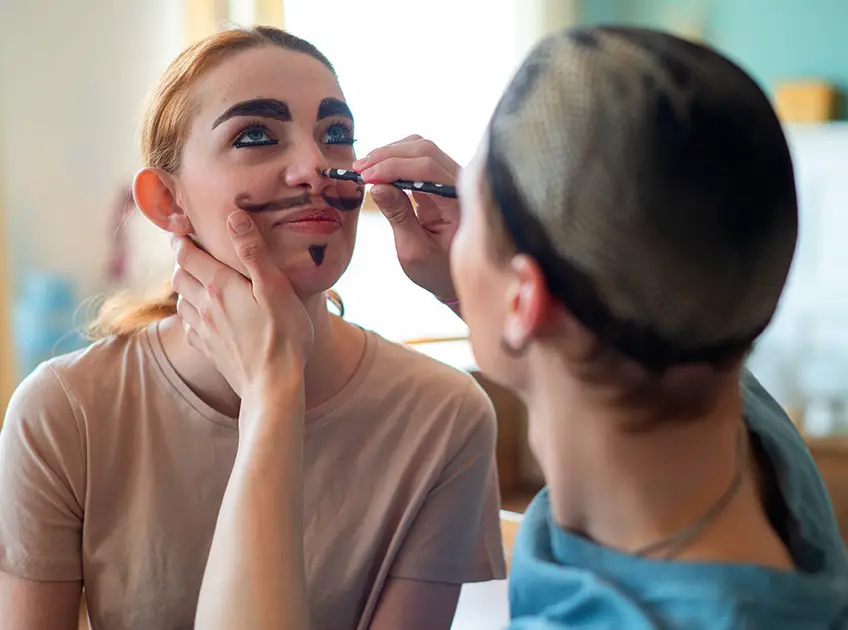 "Art is inside of you; express yourself." – Christofer Drew
Drag Makeup Is An Art Form In Itself.
It all started in the 1800s – much before the telephones were invented. Back in the 19th Century Theaters, male performers used to play women and wore petticoats which used to drag on the floor. The masculine features were transformed into feminine characteristics using heavy , impressive and melodramatic makeup. These performances gained popularity as "putting on their drags", hence the name 'Drag Makeup".
The eloquent drag makeup magnified the artist's expressions to make it more noticeable at the back of the room. Drag makeup includes creating an entirely different character by concealing, contouring, highlighting and covering independent facial features. The makeup products used while doing drag makeup should be highly pigmented and durable to last through the show.
Drag makeup can be fun and all you need is to follow some basic rules while mastering how to do drag makeup. All you have to do is identify your drag persona and play with those combinations of colors.
What You Need To Do Drag Makeup:
1. A Great Primer
For your makeup to feel and look flawless, a solid base is required.Choose a good primer which would make your skin feel like a smooth canvas for heavy makeup.
2. Pigmented Foundation
It is a vital tool for all the drag artists around the world. Choose a foundation that is pigmented, can accommodate your skin tone and can blend flawlessly.
3. Concealers
Concealers neutralize the hyper pigmentation, fatigue, dark circles around the eyes and adjust the skin tone.
4. Contour And Blush/Highlighter Sticks
Contour sticks sculpt the facial features and helps in defining the jawline, cheekbones and hairline. It can also make the nose look pointed by darkening the areas on the face smartly.
Blusher and Highlighter provides a lifting effect to the cheeks and the face. It also helps in contouring and shaping the face.

5. Glue Stick For Eyebrows
Glue sticks help to cover up your brows and provide a blank space to draw better and more defined brows. Use a washable glue stick which is safe to use on skin.
6. Powder Eye Shadows
Eye contouring can be achieved with the help of colorful eyeshadows. It is possible to blend and layer multiple poppy colors on the eyes to create a beautiful dramatic look.
7. Mascara
Mascara provides a more powerful look to the eyes. It darkens the lashes and makes it appear thicker and longer and in just a few seconds we have beautiful, magnificent eyes.
8. Liquid Eyeliners
Using a pigmented eyeliner can create a sensational look while lining the eyes. Drawing bold, detailed lines gives a theatrical effect to the eyes.
9. Lip Liners
Lip liners give volume to your lips and prevent the lipstick from feathering outside the lip line. It also defines the lip pout and makes your lips look fuller.
10. Lipsticks
Lipsticks are self expressive. If you want a sexy, stagy look, there's nothing better than a colorful lip stain.It defines your lips and brightens up your face giving it a more feminine, vibrant look.
11. Beard Covers
Beard shadow can be irritating while applying makeup. So comes beard covers, which conceals the beard stubble and corrects the facial features.
12. False Eyelashes
False eyelashes enhance your eye makeup. They put emphasis on your eyes and make it more expressive. Long, fluttery False Eyelashes also benefit your natural lashes as you can avoid putting on mascara while using them.
13. Setting Sprays/Powders
Setting a heavy pigmented foundation is very important. It gives a finishing touch to your makeup and helps in reducing the appearance of file lines or creases on the skin and makes the skin canvas smooth and crisp.

How To Do Drag Makeup?
To start with your drag makeup look, make sure that your face is clean and dry. If you have any dirt on your face, it will make it harder for the foundation to stick on your skin. This can cause the foundation to come off after a couple of hours.
Apply primer as a base for your drag makeup look. The base should be light and matte.
Cover your eyebrows with the help of the glue stick. This will give you a blank canvas for drawing on the eyebrows.
Find the best shade of drag queen foundation closest to your natural complexion.
Next use concealer and highlighters matching your skin tone and add dimensions to your face.
Do not forget to use concealer under your eyes since they are so essential for a good drag look!
Wing out that thick dramatic line on your eyes and apply the false lashes following the wing.
Outline your lips with the lip liner and apply your favorite lip color over the lip liner.
Set your face with a gentle settling spray or powder and voila,You are Done!
Make sure that these products don't crease so let them settle and dry out properly before performing!
At first, Drag makeup can be a bit of a task. However, with a little bit of time and effort, the drag makeup look can be achieved.
If you are someone who wouldn't hesitate to experiment in the field of makeup, Drag Makeup is for you. So add a bit of glamor to your monotonous makeup routine and dramatize it up with a Drag Makeup Look.
So Girl, Wake-Up And Make-Up!
You Might Also Like: