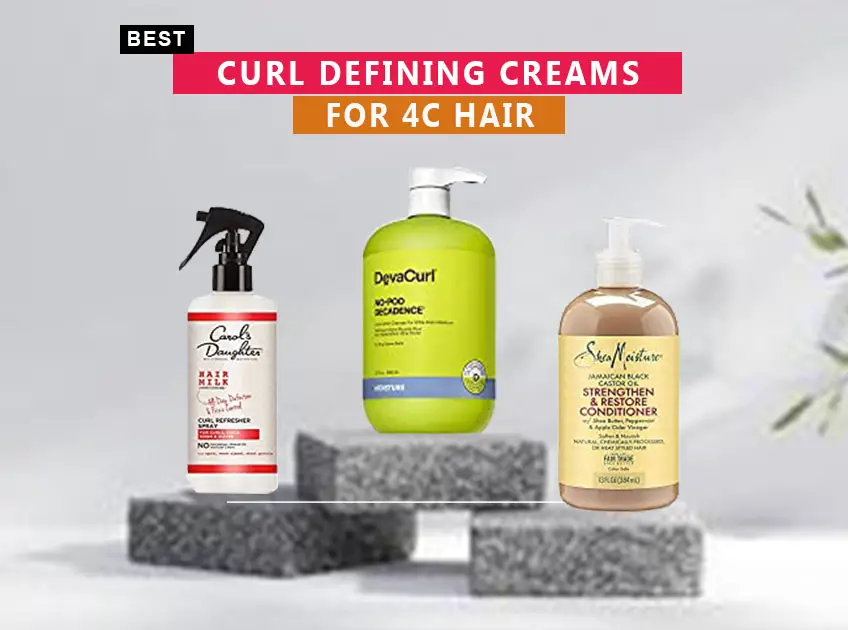 Well-defined curls add glam to the personality. It makes hair look prettier than ever. However, people with 4C hair struggle hard to tame them. Extreme frizz and dryness are major issues with such hair types, and managing them is a real task.
Fortunately, many hair care companies have launched curl defining products that make this work easy. You can find plenty of things like shampoos, conditioners, hair masks, hair gels, mousses, and more that can help make your 4C hair look gorgeous.
Curl Defining Creams
If you have a hard time defining your curls, the products we have listed will help tremendously. Check out the 7 best curl defining products for 4C hair and give a boost of health, shine, and sheen to your gorgeous curls.
7 Best Curl Defining Creams For 4C Hair
1. Ultra-nourishing Formula: Aunt Jackie's Curls and Coils Curl La La Defining Curl Custard for Natural Hair Curls, Coils, and Waves
Infused with mega-moisture humectants like shea butter that defines the spirals beautifully, giving them bounce and health
Helps tame the frizz and works as an anti-frizz product
Delivers long-lasting shine and adds bounce
Perfect for dry and wet hair
What we don't like: It may leave residue; therefore, thorough cleaning is necessary.
[ Read: 7 Best Moisturizers For 4C Hair ]
2. Plant-based Ingredients: SheaMoisture Strengthen and Restore Rinse Out Hair Conditioner
Enriched with 100% pure Jamaican black castor oil with shea butter, peppermint, and apple cider vinegar that promotes hair health
Deeply nourishes and strengthens damaged hair without weighing it down and defining their look
It reduces breakage and shedding by encouraging scalp health
It is free of silicone, sulfate, paraben, and harsh chemicals
What we don't like: It will not dissolve in water properly.
[ Read: 7 Best Oils For 4C Hair ]
3. Perfect Detangler: Kinky-Curly Knot Today Leave-In Conditioner/Detangler
Suitable for extremely curly and coily hair that is often hard to detangle
Helps smoothen the hair texture, making strands soft, smooth, healthy, and easily manageable
The creamy formula of the product helps make the cuticles smooth
It can be used as a leave-in conditioner
What we don't like: Instant results are not seen as it takes at least 2-3 weeks to show its effect on 4C hair.
4. Deep Conditioner: tgin Honey Miracle Hair Mask for Natural Hair Type 3c and 4c hair
Free of harmful ingredients and infused with olive and jojoba oils that heal damaged hair and provide deep nourishment
It is loaded with raw honey, which is a natural hair-nourishing agent
Deeply conditions hair and brings natural softness and shine to them
Manages frizz, reduces breakage, and is suitable for color-treated hair too
What we don't like: The product's smell is not liked by every user as it is overpowering.
[ Read: 7 Best Deep Conditioners For Relaxed Hair ]
5. Ultra-Rich Moisturization: DevaCurl No-Poo Decadence Zero Lather Cleanser
Enriched with quinoa protein and chufa milk that nourishes hair and defines curls
Doesn't strip off the natural oil from the hair and adds extra hydration to its ingredients
Features pleasing light floral scent that makes hair smell great
Cleanses curls thoroughly without being harsh or stressing the knots
It is free of silicon, sulfate, and paraben
What we don't like: It may leave residue on the scalp and hair.
[ Read: 5 Homemade Hair Serum Recipes for Healthy, Nourishing Hair ]
6. Best Spray for Curls: Carol's Daughter Hair Milk Curl Refresher Spray for Curls, Coils, and Waves
Infused with hair-loving ingredients like Agave, Sweet Almond, and Wheat Protein that provide deep nourishment to strands
Also consists of shea butter, pro-vitamin B5, and cocoa butter to add definition to the curls
It is lightweight and tames annoying frizz
Free of artificial colors and fragrances, sulfates, parabens, and mineral oils
What we don't like: It may make hair dry.
[ Read: 7 Best Co-Washes For Curly Hair ]
7. Revitalizing Formula: Design Essentials Natural Coconut & Monoi Coconut Water Curl Refresher
Infused with triple-hydrating monoi moisture mix of wild cherry, coconut water, and chamomile
Consists of silk proteins and active botanicals that will moisturize and hydrate your curls
The lightweight formula tames frizz and strengthens the hair shaft
Free of phthalates, petrolatum, and parabens
What we don't like: the hair may feel oily and greasy after using it.
Conclusion
These are the most effective and the best curl defining products for curly and coily hair. Free of harmful ingredients, they will only help your hair look more defined than ever. Buy any of these and flaunt your pretty curls all the time.
You Might Also Like: