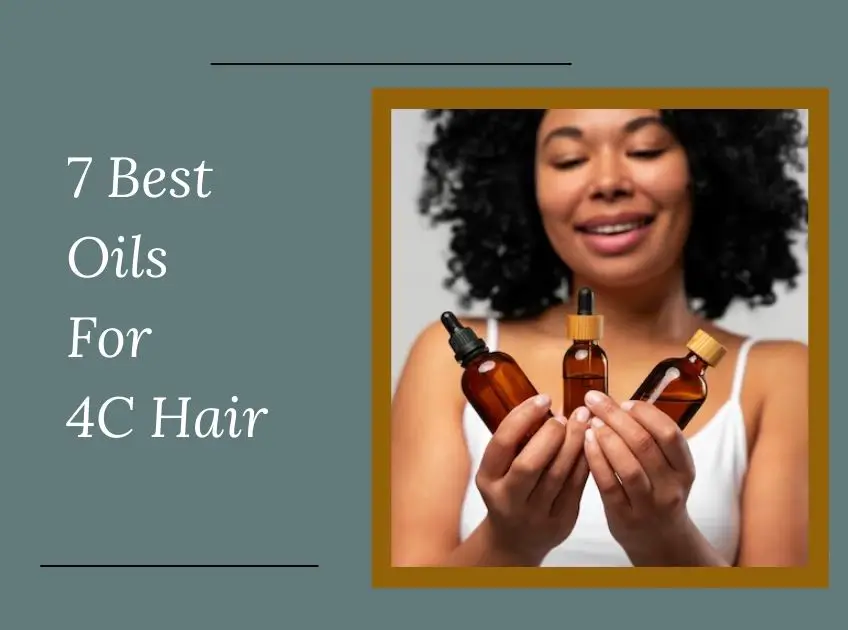 Even though 4C hair can easily turn heads, maintaining it is tricky. The dense structure of such hair sometimes makes them unmanageable and problematic. Luckily, we have some highly effective oils that work wonders on 4C hair and nourish the locks deeply.
4C Hair
Regular use of oil on 4C hair improves hair and scalp health, stimulates hair growth, and boosts hair manageability. Moreover, it also reduces hair thinning and dandruff while enhancing hair shine and softness. Also, if you use a heat styling tool, oils will protect them from damage.
Check out the 7 best oils for 4C hair and make them easily manageable.
7 Best Oils For 4C Hair
1. Ultra Moisturization: Maple Holistics Rosemary Essential Oil
Rosemary moisturizes the hair naturally and makes them healthy and lustrous
It offers volume and bounce to the hair, making them soft and supple
It makes hair look soft and healthy
The ultra-hydrating power of rosemary makes it the best moisturizer for curly and 4C hair
The calming and soothing scent makes it even more appealing
It also adds shine and sheen to the strands
What We Don't Like: It may weigh down some hair textures.
[ Read: How to Use Rosemary oil for Hair Growth ]
2. Hair Luxury: PURA D'OR Organic Moroccan Argan Oil
The oil is extracted from the kernels of the Argania Spinosa Tree
Cold pressed extraction method helps retain the properties of argan intact
Protects hair and scalp from environmental aggressors
It is a rich source of vitamin E and essential fatty acids
It boosts hydration levels by locking in natural moisture
It can be used on the skin as it helps reduce redness and skin irritation with its anti-aging properties
What We Don't Like: People with oily skin can have acne and breakouts using this oil. So, it is better to use it only on hair.
3. Tames Frizz: Maui Moisture Curl Quench + Coconut Oil Curl Milk
The key ingredients are coconut oil, papaya butter, aloe vera, and plumeria extract
The potent blend of these natural ingredients keeps the hair hydrated and smooth
It controls frizz and tames flyaways, making your hair look voluminous and supple
Also, it improves hair shine and softness
Manages tangled hair and transforms them into bouncy curls
Free of silicone and paraben, and other harmful ingredients
The pleasing smell gives 4C hair god vibes
It is lightweight and doesn't weigh hair down
What We Don't Like: It may make the scalp dry.
[ Read: Essential Oils For Frizzy Hair: How Do They Help ]
4. Manages 4C Hair: Carol's Daughter Black Vanilla Softening Hair Oil
It helps transform dull and dry hair into healthy, shiny, and bouncy locks
It helps manage the extremely tight curls and coils easily
Maintains the natural balance of hair and works well on 1C to 4C hair types
Infused with natural ingredients like aloe vera, shea butter, safflower, chamomile, calendula, and sweet almond oil
It adds a layer of moisture to the strands and makes them soft and supple
Best to use as a hot oil treatment for deep conditioning and extra hydration
It is free of mineral oil, silicon, and paraben
What We Don't Like: The overpowering smell makes it unappealing. Also, it may cause breakouts.
5. Improves Hair Growth: Wild Growth Hair Oil
It is made of 100% natural ingredients that stimulate hair growth and reduce hair breakage
Addresses multiple issues such as tangled, dry, and damaged hair
Also, it helps thicken and soften the strands
Infused with olive oil, coconut oil, rice bran, jojoba oil, chickpea, and lentil cocoa
Induces hair growth in bald spots
Combats frizz and prevents flyaways
What We Don't Like: It may dry the hair slightly. Also, it may cause allergic reactions in people with sensitive skin; therefore, a patch test is recommended.
6. Best for 4C hair: Aria Starr Cold Pressed Castor Oil
It is made with 100% pure cold-pressed castor oil
Highly effective in strengthening and nourishing the hair
Improves skin quality and texture
Works on making the hair thick and soft
Reduces hair breakage while detangling the strands
It also helps in reducing hair thinning, dryness, and dandruff
It is hexane-free, fragrance-free, and preservative free
What We Don't Like: The strong smell is not preferred by everyone.
[ Read: 9 Best Castor Oils For Hair Growth ]
7. Ultra Nourishment: Fro Butter Emu Oil Hair Growth
It helps soften dry hair and restore its elasticity
Reduces the dryness and brittleness of the strands, enhancing their shine and strength
It works on eradicating itchiness and split ends and thickens the hair ends
It contains a powerful blend of coconut oil, emu oil, lavender oil, carrot oil, shea butter, and pumpkin seed oil
It makes hair soft and silky and prevents hair loss
It is free of sulfate, paraben, mineral oil, and petroleum,
What We Don't Like: Overpowering smell.
Conclusion
These are some of the best oils for 4C hair. So, if you have a hard time managing them, it's time to start using these oil regularly and make your curly and coily hair healthy and manageable.
You Might Also Like: