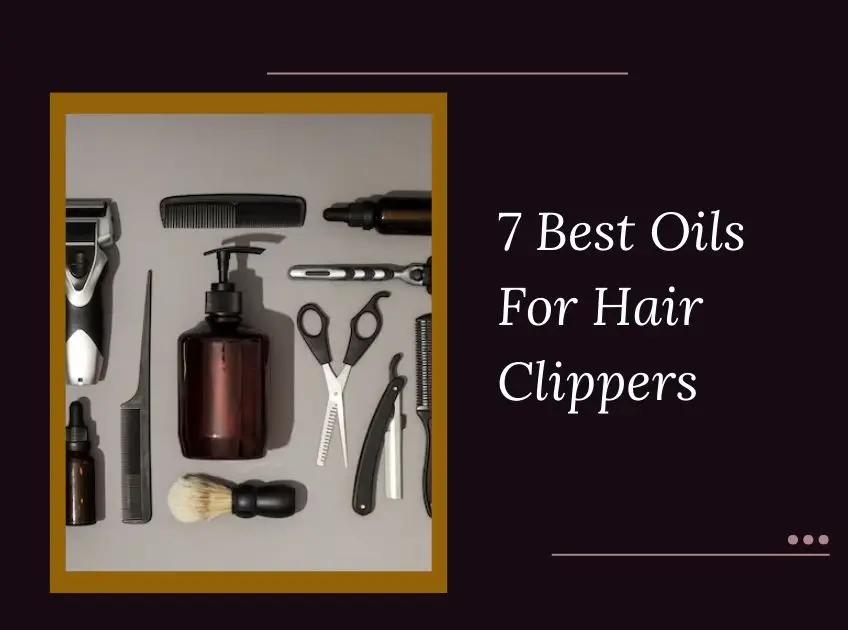 Oiling the clippers offers immense benefits. Apart from prolonging the life of your clippers, it also reduces friction and makes the process hassle-free. It keeps the blade sharper for a long so that you can use the clipper, trimmer, or razor for longer.
Even if you are not in the habit of oiling your clippers after every use, make a routine to oil them at least after every two uses. It will ensure that your costly clipper will remain in its best shape and function for a long.
Hair Clippers
Since there are different types of oils for hair clippers, choosing the one that suits your needs becomes a little tricky. If you are not able to decide on the best oil for hair clippers, check out the list we have curated with the seven best products.
All these products are carefully selected based on their quality and performance. Check them out and find your pick.
7 Best Oils For Hair Clippers
1. Premium Protection: UniKitchen Premium Lubricating White Oil for Hair Clippers
It helps protect cutting equipment from rust and corrosion
Ensures a prolonged life of your razor or clipper
Improves cutting performance with just a few drops
Reduces skin irritation while trimming, cutting, or shaving
Slows down the dulling of your blades
It is professional grade, non-toxic, chemical free, fragrance-free lubricating oil
What We Don't Like: It may feel slightly heavy.
2. Best for Trimming: Andis Clippers Clipper Oil
It is usually recommended for trimming and is made with stainless steel
It is an effective cutting machine oil that lubricates and cleans the blades
Reduces the friction between the metal and the blade is heated less
Best for accurate and safer trimming
It is odorless and colorless
Prevent oxidation and extends the life of the blade
What We Don't Like: The consistency of the oil is thick.
3. Rust Prevention: Godora Premium Hair Clipper Oil Blade Oil with Scientifically Formulated
It is formulated for all electric clippers, trimmers, and blades
improves cutting performance and reduces the likelihood of blades becoming dull
It extends the life of the clipper by preventing rust and corrosion
It is a non-toxic, chemical-free clipper, safe for kids and adults
What We Don't Like: It may smell unpleasing.
4. Premium Grade: WAHL Blade Oil 4 Ounces
It is formulated to suit all types of clippers
Reduces friction
Ensures longer blade life and cooler running
It effectively lubricates and prevents rust
What We Don't Like: Overpowering smell.
5. Effective and Affordable: Oster Premium Blade Lube for Clippers and Blades
It is a premium lubricating oil carefully designed for professional use
Ideal for all trimmers, clippers, and blades
It helps prolong the blade's life and makes it long-lasting
You can apply the oil while the blades are moving
It meets FDA purity standards
Ensures efficient blade performance by keeping blades and bearings lubricated
It maintains a light film of oil between the upper and lower parts of the blade
Made from refined white mineral oil of the highest purity
What We Don't Like: Strong smell.
6. Rust Prevention: Wahl Premium Hair Clipper Blade Lubricating Oil for Clippers
Prevents rust from forming and helps extend the life of the clipper and blades
Reduces the likelihood of blades becoming dull
Reduces friction and heat
It can be used in between a few haircuts
Specially designed to suit all electric hair clippers, trimmers, and blades
What We Don't Like: Thick consistency.
7. Scientific Formulation: Planet Safe AIM Hair Clippers & Electric Razors Lubricant Oil
Scientifically formulated to reduce heat and friction and clean while it lubricates
Protect and preserve your blades with the best lubricant
Non-toxic, non-hazardous, and odorless
Also, it is waterproof and dustproof, made with a human-safe formula
Designed to suit all types of hair clippers, electric razors, and beard trimmers
Prevents the build-up of heat and debris
Reduces heat and friction and prevents rust
What We Don't Like: Strong smell and runny consistency.
Conclusion
Now that you have some of the most effective and the best oils for hair clippers, it's high time you should start using them and prolong the life of your hair clipping tool. All these oils are professional grade, offering premium protection.
You Might Also Like: