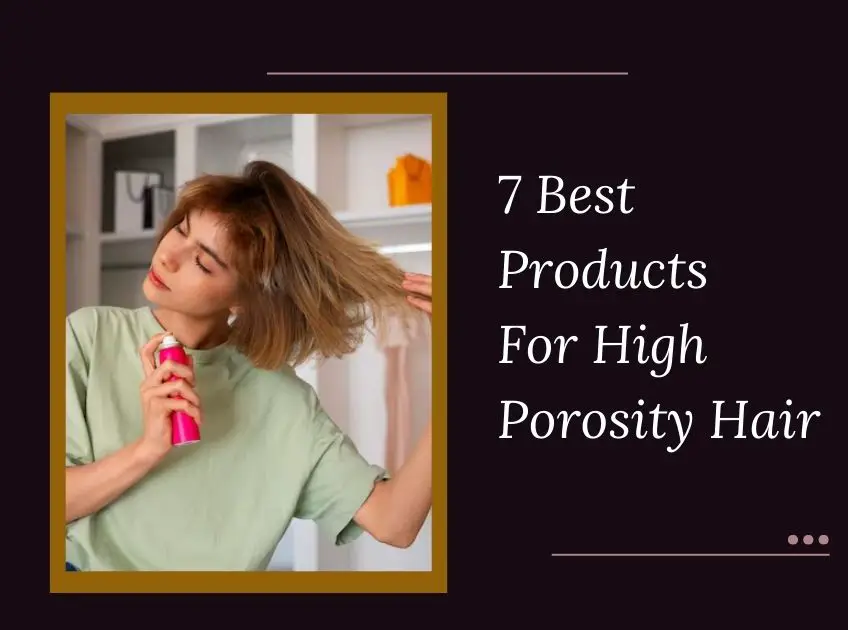 Hair with high porosity is not able to retain moisture for long hours. Due to this, it often stays brittle and day. The major problem of high porosity hair is extreme frizz flyaways. As a result, managing it becomes troublesome.
If you experience that your hair absorbs any product easily and evaporate it at the same rate, it means you have hair with high porosity. Even though it is a major problem in most of the people, we have certain hair care products that help reduce the issue, giving soft, supple and healthy hair.
High Porosity Hair
You can find conditioners, serums, oils, shampoos and whatnot that help high-porosity hair and make them manageable. Here, we have selected some of the most effective and the best products for high porosity hair that gives stunning results.
All these products are tried and tested on different hair types and selected based on their performance to improve brittle and dry hair conditions. Check them out!
7 Best Products For High Porosity Hair
1. Sulfate-Free Lotion: LivSo Moisturizing Lotion
Infused with willow bark extract, soybean seed, and coconut oil
Also contains ceramides and shea butter
Features extracts of German chamomile flower, and honey
Loaded with hydrating and nourishing ingredients
Also contains aloe vera to keep the scalp itch-free and strands moisturized.
Its lightweight and sulfate-free formula
Suitable for all hair types.
What We Don't Like: According to some users, the consistency is inappropriate.
2. Soothing Ingredients: OGX Extra Strength Refreshing + Invigorating Teatree Mint Dry Scalp Treatment
Contains tea tree oil and witch hazel
Offers instant hydration
Also infused with peppermint oil
It is a lightweight oil is easy to work with
It is sulfate and paraben free
Comes at an affordable price and gives stunning results
Helps moisturize and soften the dry and brittle high porosity hair
What We Don't Like: It may make the hair slightly heavy.
3. Ultra Moisturization: Cantu Hydrating Cream Conditioner With Shea Butter
Infused with shea butter as the major ingredient
It contains many more natural ingredients to upkeep hair health
It helps repair brittle, porous hair by offering intense hydration and moisturization to the strands
It helps achieve healthy and strong hair
Works well for all hair types
Suitable for colored and chemically treated hair
Best for hair with high porosity
Retains curls shine and provides an elegant look
What We Don't Like: It may leave residue on the hair.
4. Lightweight and Effective: Mielle Organics Babassu & Mint Deep Conditioner with Protein
Infused with proteins
Helps reduce hair breakage
Rejuvenates hair health
Improves dry scalp and hydrates natural curls
Contains babassu oil for intense conditioning
Promotes a healthy growing hair
Hair helps improve hair elasticity
Suitable for all hair types
Free of sulfate
What We Don't Like: It has an overpowering fragrance.
5. Best Hydrating: EDEN BodyWorks Jojoba Monoi Deep Conditioner
Balances moisture levels
Strengthens the hair shafts
Contains monoi, coconut, and jojoba oil
Prevents hair breakage
Penetrates deep into the roots to restore smoothness
Suitable for dry and thick hair types
What We Don't Like: According to some users, it has a medical scent which is not very pleasing.
6. Ultra Moisturization: Maple Holistics Rosemary Essential Oil
Rosemary moisturizes the hair naturally
Makes hair healthy and lustrous
It offers volume and bounce to the hair,
Gives hair soft and supple texture
It makes hair look soft and healthy
Suits all hair types, including low porosity hair
Calming and soothing scent
Adds shine and sheen to the strands
What We Don't Like: It may weigh down some hair textures.
7. Ultra Hydrating and Effective: OGX Renewing Argan Oil of Morocco
Promotes healthy hair growth
Prevent hair fall and hair thinning
Help seal in nutrients and moisture
Make hair strong and silky smooth
Ensures silky perfection and radiant shine on the locs
Ideal for all hair types, textures
Maintains the moisture levels
Easily penetrates the hair shaft
What we don't like: According to a reviewer, hair gets oily and dirty; therefore shower is a must.
Conclusion
Now that you know some of the best products for high porosity hair, it's high time to invest on them and flaunt your naturally gorgeous locks everywhere. You can pick oil, conditioner, shampoo or any other hair treatment. Just make sure it suits your hair and enhance how they look.
You Might Also Like: