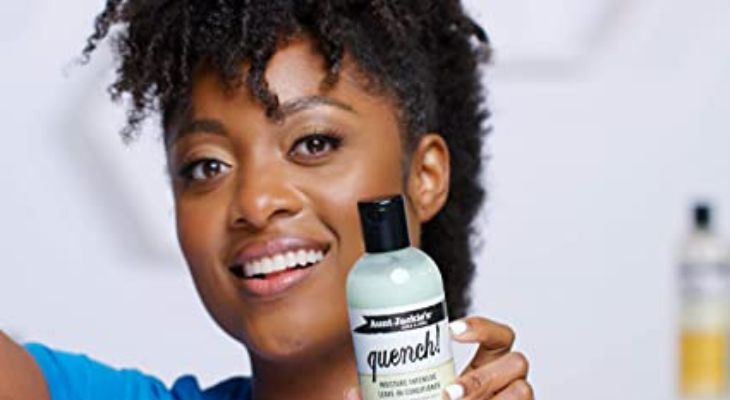 The ability of hair to absorb oils and moisture determines its porosity. People with low porosity hair have cuticles that overlap and are tightly packed together. Due to this complex structure, the hair doesn't easily allow moisture to be absorbed into the hair shaft, causing difficulty for water to saturate hair when it is washed.
Since such hair repels moisture, it becomes difficult to style them. At the same time, they tend to become dry and frizzy often. It is when a leave-in conditioner comes in handy. Leave-in conditioners are usually applied to the hair after you wash it and before you style it.
Low Porosity Hair
Since these products have extra moisture, they tend to protect and help detangle the strands. We have listed the 7 best leave-in conditioners for low porosity hair that can help you manage the low porosity hair effectively.
Check them out!
7 Best Leave-In Conditioners For Low Porosity Hair
1. Organic Conditioner: Alikay Naturals – Lemongrass Leave-In Conditioner
Coming in a creamy texture, this leave-in conditioner is suitable for dry, damaged, and all other hair types
It offers moisturization benefits to the hair and makes them bouncy
It does not weigh the hair down due to its lightweight texture
Infusion of essential oils helps smooth the hair shaft and keeps it moisturized
It contains 100% natural ingredients, among which 90% or organic
The refreshing scent of citrus makes it more appealing
What We Don't Like: It feels greasy.
[ Read: 7 Best Conditioners for Low Porosity Hair ]
2. Detangling Conditioner: As I Am Leave In Conditioner
It comes in lotion form and is made with natural and organic materials
It is suitable for all hair types and helps moisturize and strengthen the strands
It suits curly and coily hair the most as they are low-porosity hair
The durability of curls increases five-time
It makes detangling easy by 80% and increases hair strength by 9%
What We Don't Like: The hair may feel greasy. It is not suitable for oily hair.
3. Ultra Hydrating: Aunt Jackie's Curls and Coils Quench Moisture Intensive Leave-In Hair Conditioner
Packed with shea butter, this liquid leave-in conditioner is suitable for natural curls, coils, and waves
It is ultra hydrating and deep moisturization therapy for hair
It reduces dryness and does not let the hair weigh down, all thanks to its lightweight texture
It offers long-lasting moisture with good softness
The presence of extra virgin olive oil and lack of sulfate and paraben makes it even more appealing
What We Don't Like: It makes fine hair oily.
4. Anti Frizz: Camille Rose | Curl Love Moisture Milk | Leave-In Conditioner for Curly Hair
With vanilla fragrance, this anti-frizz leave-in conditioner works best on curly hair
It hydrates the strands, reduces frizz, and repairs the damaged hair
The silky light notes of macadamia nut and vanilla help in enhancing hair health and prevent hair breakage
It is infused with rice milk that delivers essential vitamins and nutrients to the strands like Vitamin A, D, and B12
Also, it contains Slippery Elm Bark to soften and smooth the hair shaft
What We Don't Like: Overwhelming fragrance.
[ Read: 7 Best Deep Conditioners For Curly Hair ]
5. Repair Damage: Carol's Daughter Almond Milk Leave In Conditioner
It is a lightweight leave-in conditioner that reverses hair damage and helps shield weakened, over-processed hair from future damage
Infused with ingredients like Sweet Almond Oil, Aloe, and Shea Butters, and proteins to improve hair health.
Suitable for low porosity hair and curl types 2A, 2B, 2C, 3A, 3B, 3C
Great for extremely damaged, over-processed hair
Renews hair's vitality without weighing it down
What We Don't Like: It May feel slightly heavy if you have fine hair.
6. Lightweight and Effective: Curl Junkie Beauti-Curls Leave-in Hair Conditioner
It is a lightweight Glycerin-free leave-in conditioner
Infused with hair-loving ingredients like herbal botanicals and emollient butter
Adds shine to the curls and is excellent for softening, conditioning, and detangling the curls and coils
Also, it allows for better spreading and combining/layering with other stylers and gels
What We Don't Like: According to some users, the smell is overwhelming.
7. Ultra Nourishment: EDEN BodyWorks Coconut Shea Leave-In Conditioner
It is one of the best hydration that helps hair strands replenish the lost moisture and become bouncy
The creamy consistency of the product helps in absorbing the moisture and lock in
Also, it helps smooth and clump curls together, leading to more defined styling
Infused with Coconut Oil and Shea Butter that combine to increase the hair's sheen
It can be used daily without causing a build-up
What We Don't Like: It may make it slightly greasy.
[ Read: 7 Best Conditioners For Fine Hair ]
Conclusion
So, these are the best leave-in conditioner for low-porosity hair that can help you manage your hair easily and make detangling process hassle-free. Use any of these and manage your strands.
You Might Also Like: