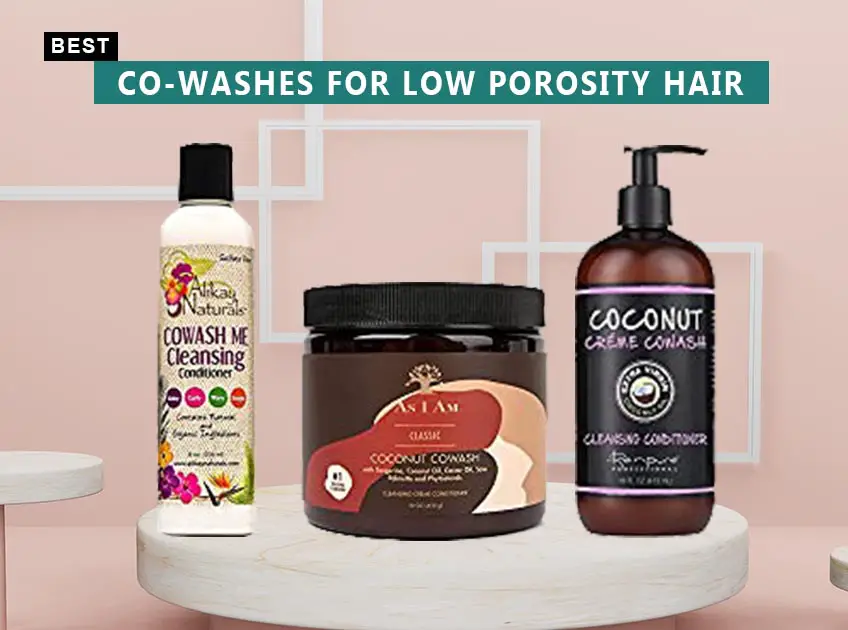 Hair porosity is all about the ability of hair to absorb and retain moisture. When the hair cuticles are very close, they become unable to retain moisture, making hair dry and dull.
Washing such hair with regular shampoos and conditioners can strip off the natural oils and moisture, making it dry and dull. At the same time, the chances of residue build-up are relatively high in such hair types.
Co-Washes
In such cases, CO washing seems the most feasible option to help scalp and hair strands retain moisture. Here, we have enlisted the best CO wash for low-porosity hair that ensures maintaining health, suppleness, and bounce of low porosity hair. Check them out!
[ Read: 7 Best Shampoos & Conditioners For Black Hair Growth ]
7 Best Co-Washes for Low Porosity Hair
1. Suitable for Treated Hair: As I Am Coconut CoWash Cleansing Conditioner for natural coils and curls
It consists of coconut oil, tangerine, castor oil, saw palmetto, and phytosterols- everything that helps to maintain hair health and wellness.
The gentle formula removes dirt and residue while retaining hair health.
Contains natural ingredients and is completely devoid of sulfate, paraben, and phthalates
Best for treated hair
What we don't like: It is expensive.
[ Read: 16 Effective Tips For Healthy Hair ]
2. Detangles the Curls: Renpure Coconut Creme Cowash – Best Hydrating Co-Wash For Natural Hair
Provides intense lubrication to hair and protects it from damage
Removes all impurities of scalp and hair gently
Infused with hair-loving ingredients like keratin, amino acids, and protein
Reverses the effects of hair damage and restores strength,
Bring smoothness and shine to hair
Contains shea butter for extra conditioning of the damaged areasOffers extra protection of lipids
Free of parabens, sulfates, and other harsh salts
What we don't like: The pump may malfunction after some time.
[ Read: How to Get Shiny Hair Naturally at Home ]
3. Pleasant Smelling: Alikay Naturals Cowash Me Clnsng Cond, 8 Ounce
It is a sulfate-free formula, suitable for everyday use
Retains the natural oils of the hair.
Infused with jojoba oil and peppermint oil to keep hair hydrated, protected, and soft
The scalp feels clean and refreshed
Features a pleasant fresh peach scent
What we don't like: Peach smell may feel overpowering to some.
[ Read: Best Sulfate Free Clarifying Shampoo ]
4. Suitable for 2C to 4C Hair: Briogeo Curl Charisma
It works well for people with wavy, curly, and coily hair texture types, which means from 2A to 4C
It is a protein-free conditioning wash, free of sulfates and parabens
Provides a hydrating cleanse while retaining the natural oils of the hair
The active ingredients are Rice Amino Acids that help minimize frizz.
Also consists of Tomato Fruit Ferment that reinforces the hair cuticle, ensuring consistent curl formation
Shea Butter and avocado oil help to nourish, soften, and define curls
What we don't like: Overpowering smell.
[ Read: 6 Best Natural Oils for Hair Growth and Thickness ]
5. Plant-based Extracts: Curl Junkie Daily Fix Cleansing Hair Conditioner
Cleanses the curls without stripping the moisture off
Also cleanses the scalp without adding weight
Concentrated formula that lasts for longer
The active ingredients are Mentha Piperita (Peppermint) Leaf Extract, Yucca Leaf Extract, Melissa Officinalis (Melissa) Leaf Extract, Matricaria Recuitita (Chamomile) Flower Extract, and Urtica Dioica (Nettle) Leaf Extract
What we don't like: It comes with an expensive price tag.
[ Read: Chamomile Tea for Hair ]
6. Intense Cleansing: Creme of Nature Argon Oil Co-Wash Cleansing Conditioner
It is a color-safe formula
Enriched with argan oil for extra hydration
Cleanses hair by removing dirt and product residue
Enriched with argan oil that provides intense hydration to natural hair
Keeps curls frizz-free and defines them
Free of parabens and sulfates
What we don't like: Fragrance may feel overpowering.
[ Read: 7 Best Argan Oils For Hair ]
7. Restores Moisture: EDEN BodyWorks Coconut Shea Cleansing Cowash
It is suitable for all hair types and textures and works best for 4C hair
Helps remove build-up, grease, and residue
Restore moisture into the hair and replenish the moisture loss
Helps make both the scalp and hair healthy and promotes healthy hair growth
Active ingredients are Coconut Oil, Shea Butter, Aloe Vera Leaf Juice, Fatty Alcohol
What we don't like: May feel greasy.
[ Read: 7 Best Coconut Oils For Healthy, Nourished Hair ]
Conclusion
These are some of the best co-wash for low porosity hair. If you have such hair and are frustrated seeing them dry and dull and confused why there is so much residue build-up, fret not. It's time to shift from normal shampoo to co-wash to maintain its health and shine.
Select any of the products that we have mentioned above to flaunt your luscious locks all the time.
You Might Also Like: