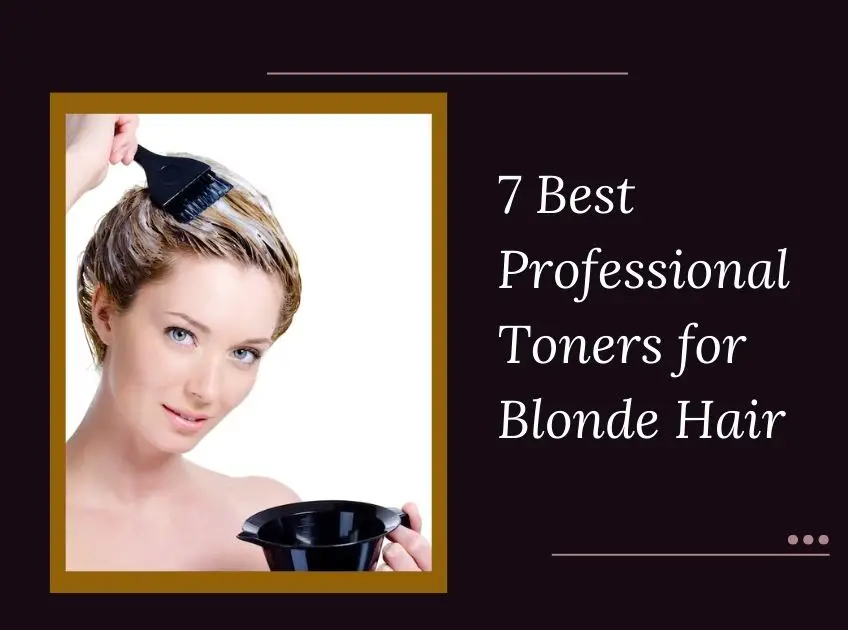 It's difficult to be blonde. Whether you got your colour from blonde hair dye or a stylist, it can be difficult to avoid brassiness or warmth.
Even though it feels and looks amazing when the colour is just right, maintenance is a completely different animal. The use of a blonde hair toner is one method of preventing undesirable colours in the salon, especially for people with fairer skin tones.
Blonde Hair
The toner's goal is to give your hair a lustrous shine and keep its lovely colour from fading. Even though our hairstylists do a good job of applying toner after a recent dyeing session, it's important for you to carry out the process.
So, here is a curated list for you to search for the perfect toner according to your need, check them out!
7 Best Professional Toners for Blonde Hair
1. For a long-lasting effect: Wella Colorcharm Permanent Liquid Hair Toner – T28 Natural Blonde
Neutralizes the warm and brassy notes in natural or coloured blonde hair.
It also works on double-processed blonde hair, and the extra mild formula produces delicate beige or platinum shades.
Your hair colour will last longer thanks to its Liquifuse Technology, which allows the toner to saturate and fuse with the hair.
Just one thing—in order to finish colouring with this toner, you will need the Colorcharm 20 volume cream developer.
What We Don't Like: It may dry the hair out and have a messy application.
[ Read: What Does Toner Do To Hair ]
2. Best toner for medium- and light-blonde hair: Pureology Color Fanatic Top Coat and Tone Purple
This toner bottle can be used on platinum to balayage blonde hair and is ideal for light and medium blonde hair.
Its formula is a combination of oat milk and camellia oil.
For anyone who bleaches and tones their hair, the goat milk aids in moisturizing and repairing damage.
The health of the scalp and hair is improved by the camellia oil's focus on these areas.
This toner is best for the shower after shampooing and rinsing.
What We Don't Like: It may dry the hair out.
3. Customizable: OGX Blonde Enhance + Purple Toning Drops
This does not require an updo or a comprehensive hair care routine.
To any of your shampoos, conditioners, or styling creams, add 3 to 5 drops as needed (adjust according to the level of brightness you desire).
As well as providing moisturized and shiny hair, your blonde hair will be brass-free in no time.
What We Don't Like: It may lead to hair fall.
[ Read: 7 Best Shampoos For Lightening Blonde Hair ]
4. Best overall: IGK Mixed Feelings Leave-In Blonde Drops
The toning leave-in toning drops from IGK eliminate the need for an additional step in your haircare regimen, making them the ultimate time-saver.
Simply combine any of your hair care products with three to eight drops of the adaptable purple formula, then use as directed.
Brightens and eliminates brassiness on a variety of blonde hair colors, including bleached, dark, and even silver hair.
What We Don't Like: It does not sit well with some people.
5. For Vegans: ProVoke Illuminex Touch Of Silver – Strengthening Purple Shampoo
The mixture of blue and purple pigments it contains brightens the natural hair color by balancing orange and yellow undertones.
Hair bonds that have been harmed by UV rays and other environmental stressors are also repaired by this shampoo.
Kept rich and vibrant by its AquaPlex technology, which also hydrates and repairs colored hair.
There are no sulfates, parabens, or silicon in this shampoo.
Works well on any light-coloured hair with silver, grey, platinum, or white tones.
What We Don't Like: Because it has a runny consistency, it does not lather well.
[ Read: 7 Best Toners For Orange Hair ]
6. The mask toner: Bold Uniq Purple Hair Mask
Apply this mask to wet hair to fight discoloration, and watch your hair take on those icy, silvery tones once more.
Being a mask, it will not only tone your hair but also help restore any moisture that it may have lost as a result of bleaching treatments.
This mask's formulation contains soy protein, vitamin B5, and several oils to strengthen hair and keep it feeling nourished.
Furthermore, it is devoid of harmful chemicals like sulfates, mineral oil, and parabens that you do not want to use on your hair.
Has been made to protect hair from UV radiation, which frequently results in damage and colour fading.
What We Don't Like: The smell can be overpowering for some.
7. The soap toner: Ethique Tone It Down Purple Shampoo Bar
The pH-balanced formula of this sturdy natural shampoo bar takes care of brassiness and frizz in light-colored hair.
Jasmine oil and babassu are the active ingredients in this shampoo bar, which give the hair volume and shine.
Beetroot extract also increases the longevity of your hair color. Sulfates and other potentially harmful petrochemical dyes are absent from this shampoo.
Works for silver, gray, or blonde hair.
What We Don't Like: It does not lather well.
Conclusion
The results of a hair toner mostly depend on the texture and history of dyeing your hair. Depending on your hair type and whether you have already dyed your hair, the hair toner's durability will vary. Toning will not harm your hair as long as it's done by a professional. Make sure you have a toner that is appropriate for your hair type if you are doing it yourself at home.
You Might Also Like: