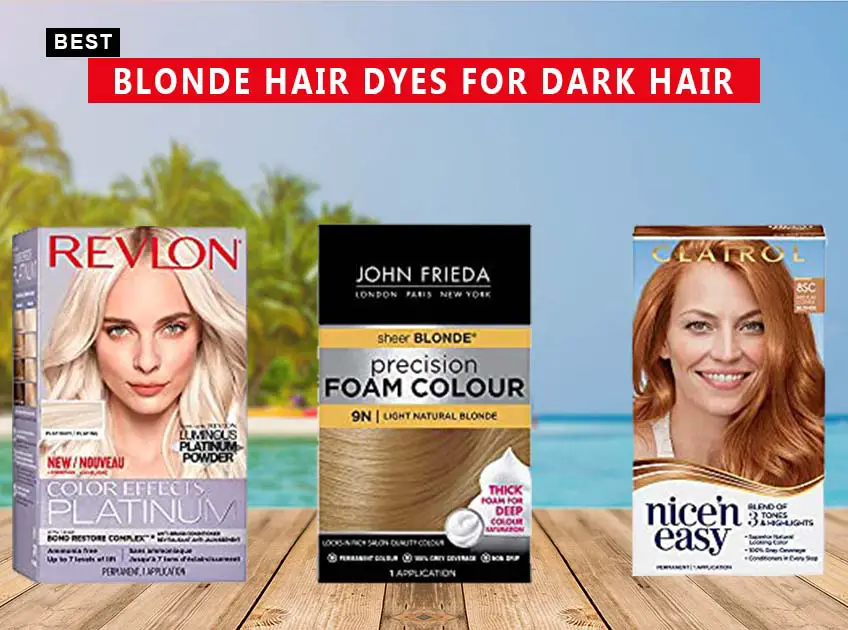 Dark hair is highly pigmented hair. Even though dark hair looks gorgeous in its way, the problem comes only when you want to turn them blonde.
Since coloring hair takes a lot of techniques, you should go to a salon if you are doing it for the first time. However, if you are well-versed with all the tips and tricks of coloring hair at home, DIY is a good choice.
At the same time, you must have the best blonde hair dye for dark hair to attain the desired result. You don't want to turn your hair brassy, right? Therefore, the selection of hair dye holds an important place.
Blonde Hair Dyes
With that in mind, we have listed the 7 best blonde hair dyes for dark hair that are good enough to lift several levels of melanin off your strands, giving the shade you desire. Check them out and choose the hair dye you think would go well with your skin tone.
7 Best Blonde Hair Dye For Dark Hair
1. 7-level lift: Permanent Hair Color by Revlon
Comes with seven levels of lift, which is perfect for lightening even the darkest hair types
Does not contain damaging chemicals
Comes with an anti-brass conditioner
Takes only 25 minutes to lift color
What We Don't Like: If you think of grey coverage, this hair dye won't be a good use.
[ Read: How to Lighten Hair Naturally ]
2. Attain Soft Silver Blonde: L'Oreal Paris Superior Preference Permanent Hair Color
The fool-proof formula is easy to use to enhance your strands
The process is so easy, and the result is smooth color with good gray coverage
Helps achieve gorgeous, fade-defying hair color with dimension
What We Don't Like: You may find the scent of this hair dye very strong.
3. Multiple Use Hair Color: L'Oreal Paris Couleur Experte 2-Step Home Hair Color
Gives salon-quality highlights with a fool-proof and effective formula
Ensures all-over color and precise, even highlights in just 30 minutes
It can be used as ray concealer, root touch-up, brush-on highlights, temporary, permanent, and semi-permanent
color, ombre color, and hair color remover.
What We Don't Like: Very limited shades are available.
[ Read: How To Remove Hair Dye ]
4. Dye with Liquifuse Technology: Wella ColorCharm Permanent Liquid Hair Color
An ideal ash blonde hair comes with subtle gray undercurrents to get an incredibly sophisticated look
Developed with Liquifuse Technology for vibrant and long-lasting results
Easy to use at home with bottle application with gentle floral fragrance
Gives up to 60% more conditioning than other brands
What We Don't Like: The quantity of hair dye is very low compared to other products at the same price.
5. Foam-based hair dye: John Frieda Precision Foam Color
Comes in foam; therefore easier to apply than liquid and doesn't drip
Spreads easily into roots and hard-to-reach areas for precise, all-over 100% long-lasting color
Allows you to achieve stunning color results very easily at home every time you color
Comes with nourishing, after-color conditioner which seals in color for long-lasting color
What We Don't Like: Very limited shades are available in this brand.
6. Triple hair Color: L'Oreal Paris Excellence Creme Hair Color
The formula gives you platinum locks without all the dryness
Offers 100 percent gray coverage for all hair types
The exclusive non-drip creme formula for gorgeous hair color from root to tip
A combination of ceramide, pro-keratine, and glycerin helps get rich color and revitalized hair
What We Don't Like: Hair may feel dry but after proper care it is manageable.
[ Read: Home Remedies for Gray Hair ]
7. Gorgeous Blonde for Dark Hair: Clairol Nice's Easy Permanent Hair Dye
Leaves hair feeling soft and light, and the color is rich and vibrant beyond expectations
Gentle enough to use for those allergic to most dyes
Covers 100% of grays with complementary highlights and lowlights for an authentic look
Formula combines three different tones, so your hair looks dimensional and natural
What We Don't Like: This blonde color is light, therefore, tends to fade faster.
Conclusion
The struggle behind finding the right blonde hair dye for dark hair is real. Firstly you need to look for the shade that goes well with your skin tone, and secondly, you need to have the product that can really strip off the high melanin in the strands.
If the best blonde hair dye selection is getting tougher, fret not and pick any of the products mentioned above. We have reviewed each one of them individually to make your search easy. Go for them and flaunt your blonde!
You Might Also Like: