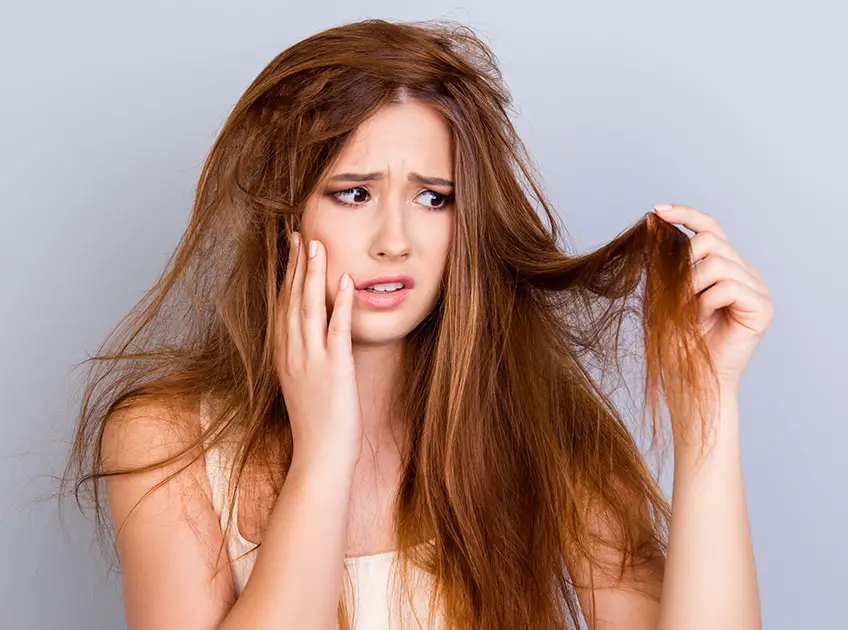 Detangling your hair can be a tedious process. Consequently, that takes a long time and results in hair breakage. Hence, try using the best shampoo and conditioner for tangled hair to protect your hair strands from breaking and to keep your hair conditioned and tangle-free. Keep scrolling this article further as it suggests you some of the best shampoos and conditioners that detangle your hair.
How Important It Is To Use The Best Shampoo And Conditioner For Tangled Hair
Tangled hair is always prone to breakage and thus protecting it with the perfect detangling shampoo and conditioner is always important. When your hair strands are drenched in water, the hair shaft swells, making it weak and vulnerable to breakage. Although detangling your wet or dry hair often leads to hair damage and breakage, and may even affect your hair elasticity.
Using the best Detangling shampoo and conditioner can make your hair knot-free, easy to maintain, and protect your hair cuticles from damage. Furthermore, it smoothens your hair and keeps your locks soft and lustrous.
Best Shampoo For Tangled Hair
Achieve tangle-free and knot-free hair by using any of the following shampoos that work best for tangled hair
1. Design Essentials Natural Almond & Avocado Shampoo
This detangling shampoo is formulated with almond and avocado extracts which are safe for daily use. The sweet almond oil moisturizes your hair and also prevents hair damage and loss while the mineral-rich avocado extract refreshes your scalp further stimulating better blood flow and unclogging the blocked hair follicles. It not only moisturizes the dry, brittle, and damaged hair but also intensely cleanses your scalp and hair as well . The Design Essentials Natural Almond & Avocado Shampoo intends to work more quickly than any other detangling shampoo. Moreover, the wheat and coconut milk contained in its formula improves the shine and strength of your hair also making it thick, voluminous, and bouncy.
Pros
Unisex
Sulfate-free
Ideal for curl type hair
Safe for both children and adults
Includes natural ingredients
Paraben-free, petroleum-free, mineral oil-free
Cons
Leaves residue
Difficult to wash
2. SheaMoisture Detangling Shampoo
The Detangling Shampoo from SheaMoisture works wonders for curly, 3A to 4C hair type, coily, shrinkage-prone hair. This shampoo's formula contains cocoa butter, vitamins, red palm oil, and flaxseed oil. Whilst the cocoa butter hydrates and softens your hair, the antioxidants-rich red palm oil combats free radical damages. In addition to other vitamins and flaxseed oil, the anti-shrinkage blend of this shampoo aids in keeping your hair soft, supple, lustrous, and frizz-free.
Pros
Color-safe
Sulfate-free
Consists of organic ingredients
Unisex
Appropriate for 3A to 4C type hair
Natural fragrance
Cons
The list of ingredients continues to shift
3. Rapunzel Hydrating & Detangling Shampoo
The Rapunzel Hydrating & Detangling Shampoo's formulation is pH balanced and provides superior Detangling for a comfortable combing of wet and dry hair. This shampoo cleanses your hair thoroughly by removing all impurities and excess oil without leaving it to dry. Also, its hydrating formula is fortified with aloe Vera, rosemary extract, and hydrolyzed wheat protein to make your hair soft and manageable. Aloe vera moisturizes and soothes your scalp whereas rosemary extract keeps your scalp clean. The wheat protein contained in this shampoo strengthens your hair as well as enhances its texture. It assists in reducing hair breakage by sealing in the hair cuticles.
Pros
Keeps your hair soft
pH-balanced
Soy-free
Fortifying
Cons
Includes sodium and added fragrance
[ Read: Why Does My Hair Dry So Fast? ]
Best Hair Conditioner For Tangled Hair
Conditioners can help detangle and smoothen your tangled hair, therefore, reducing the chances of hair breakage and split ends. Check out below mentioned few best conditioners for tangled hair
1. Maple Holistics Silk18 Conditioner
Silk 18 Conditioner by Maple Holistics is loaded with the excellence of natural ingredients such as green tea, shea butter, pomegranate, silk amino acids, aloe vera, argan oil, hibiscus, and keratin. This conditioner is helpful in strengthening brittle and frail hair. It works amazingly in detangling the fine curls and minimizes static in fine and straight strands. This product brings the feel of silky smooth to your locks without weighing down.
Pros
Free from sulfates and parabens
Pleasant smell
Cruelty-free
Lightweight formula
Cons
May be unsuitable for too dry or damaged hair
2. Brown Butter Beauty Sweet Milk Hair Detangling Leave In Conditioner
When you are in need of a detangling conditioner with strengthening properties, then Brown Butter Beauty Sweet Milk Detangling Leave In Conditioner can be your best bet. It contains the hydrolyzed wheat protein that will help make the weak points along the hairline stronger. You can either use it as a leave-in conditioner or rinse it off. Its lightweight formula adds shine to all hair types especially works excellent for curly or wavy hair and also reduces frizzy flyaways.
Pros
Pleasant fragrance
Prevents frizz
Improves wet combing
Add and retain moisture
Suits all hair types
Cons
3. SheaMoisture Jamaican Black Castor Oil Conditioner
SheaMoisture Jamaican Black Castor Oil Conditioner detangles your hair and restores its moisture without weighing your hair down. This conditioner is packed with the goodness of Jamaican black castor oil, shea butter, apple cider vinegar, and peppermint oil which nourish and fix damaged, brittle hair and stimulate your scalp, therefore, reducing the appearance of breakage and shedding. Further, it leaves your hair shiny and fully rejuvenated.
Pros
Sulfate-free
Paraben-free
Petroleum-free
Silicone-free
Ideal for kinky, curly, wavy hair
Nourish and soften your hair
Cons
Difficult to dispense the product due to its thick consistency
Conclusion
Since tangled hair is often susceptible to breakage, invest in appropriate shampoo and conditioner that easily detangles your wet or dry hair leaving no damage or hair breakage. These shampoos and conditioners not only detangle your hair but also moisturize and condition your hair making it look soft, smooth, and shinier.
You Might Also Like: