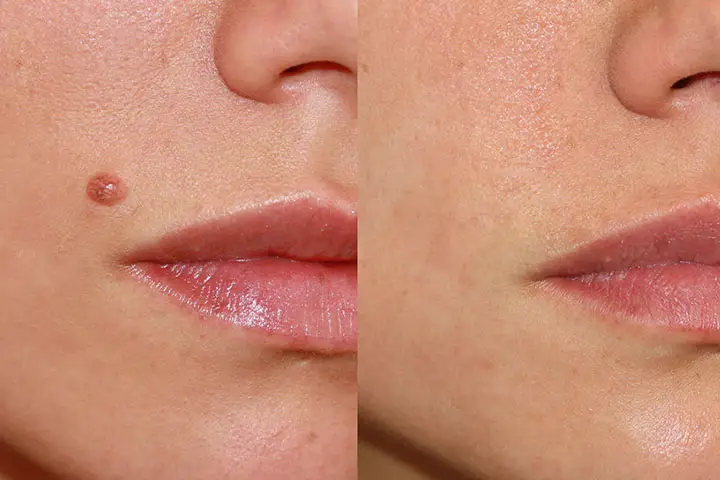 Moles are common lesions on the skin and can be black or brown in color, with a round or oval shape. When cells grow in a cluster instead of separately, they start appearing. When they occur at certain places in the body, people want to get rid of them. So they look for easier and safer ways of doing this. There are other invasive processes too like surgery but this can be expensive. Using castor oil and baking soda is one of the ways of removing it easily. We will see more details on this in the next section.(1)
Why are Castor oil and Baking Soda Effective Remedies Against Moles?
Castor bean seeds are used for the extraction of castor oil and have been used for ages for treating various skin issues such as the removal of acne, scars, and stretch marks. The appearance of the oil is pale yellow and has vital characteristics such as anti-viral, anti-fungal, and anti-bacterial characteristics. It is effective in removing the moles through penetration deep into the lower layers of skin. Skin becomes soft and remains hydrated with it.(2)
Method of Using:
Here is the method of using castor oil and baking soda but it is better to consult a doctor first to make sure that they are not cancerous. The method of using baking soda and castor oil is by mixing them and applying them on moles. We will see more details next.
Ingredients:
Castor oil- 2-3 drops
Baking soda- 1/2 teaspoon
Bandage having adhesive.
[ Read: How to Use Castor oil for Mole Removal ]
Directions:
First, mix the oil with the baking soda powder to create a sticky paste which has to be evenly spread on the mole.
To keep the paste in place, this needs to be covered with a bandage.
Let it remain overnight and remove it the next morning. Wash the area and repeat it every alternative day till the mole disappears.
How long does it take?
It takes some weeks for the mole to vanish. This depends on the mole size, the larger it is, the more is the duration.
Precautions:
Scrubbing has to be avoided while applying the mixture to the mole as this can cause scar marks even when the mole vanishes.
[ Read: How to Use Garlic to Remove a Mole ]
Are There Any Side Effects of Using Castor oil and Baking Soda to Remove Moles?
Though castor oil is known to have various benefits for the skin, castor bean and its products can cause issues if used by someone already allergic to it. Also, others should avoid overusing as it can lead to skin irritation. It is a safer practice to do a patch test before starting to use it on the moles regularly.
Castor oil has numerous advantages for human hair, skin, and overall health, but when it comes to the removal of moles, it is extremely important to check with a doctor before using any home remedy.
Scientific Evidence:
Final report on the safety assessment of Ricinus Communis (Castor) Seed Oil, Hydrogenated Castor Oil, Glyceryl Ricinoleate, Glyceryl Ricinoleate SE, Ricinoleic Acid, Potassium Ricinoleate, Sodium Ricinoleate, Zinc Ricinoleate, Cetyl Ricinoleate, Ethyl Ricinoleate, Glycol Ricinoleate, Isopropyl Ricinoleate, Methyl Ricinoleate, and Octyldodecyl Ricinoleate- https://pubmed.ncbi.nlm.nih.gov/18080873/
The Oil That Heals: A Physician's Successes With Castor Oil Treatments- https://books.google.co.in/books?id=qkuCGOQfHSsC&printsec=frontcover&dq=The+Oil+That+Heals:+A+Physician%27s+Successes+With+Castor+Oil+Treatments&hl=en&sa=X&redir_esc=y#v=onepage&q=The%20Oil%20That%20Heals%3A%20A%20Physician's%20Successes%20With%20Castor%20Oil%20Treatments&f=false
FAQs
Q. Is it safe to use Castor oil and baking soda for moles removal?
Ans: Yes, it is a safe process that forms a non-invasive treatment method. Still, individuals need to be careful if they have skin allergies.
Q. Do Castor oil and baking soda guarantee the removal of moles?
Ans: The skin type of individuals varies and so does the type of moles. Smaller moles can disappear sooner. Sometimes larger moles take too long to disappear and might give the impression to the user that it is not effective.
You Might Also Like: