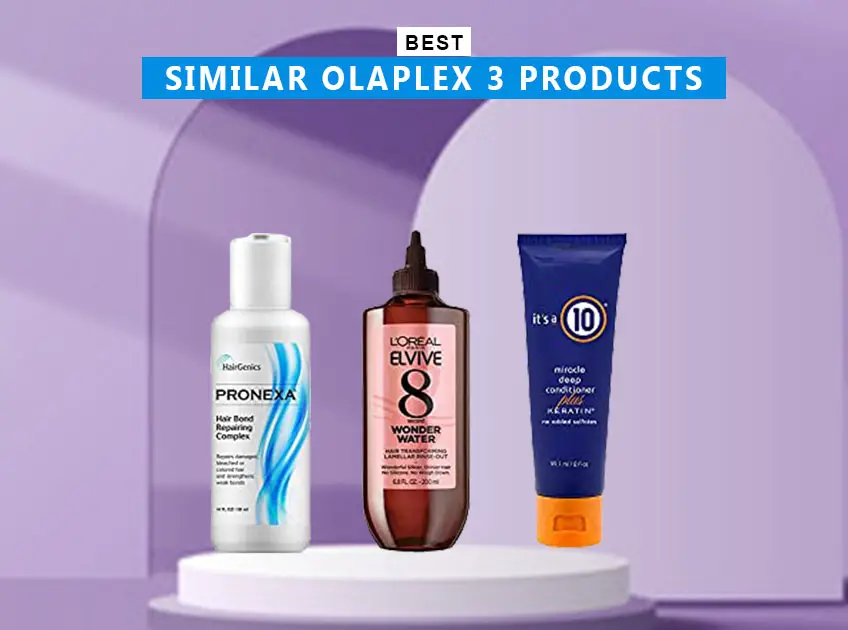 When it comes to managing broken bonds and repairing damaged hair, Olaplex seems to be one of the most promising solutions. Olaplex No.3 is designed for all hair types that need repair. It strengthens hair by nourishing them deeply and making them stronger.
Olaplex No. 3 is the original bond builder, which is meant to repair extreme damage. Whether you face dry or brittle hair, Olaplex No. 3 promises to make them soft, shiny, and more resilient. The intense repair formula ensures healthy and voluminous growth.
Even though this product is highly effective, it comes with a downside- the expensive price tag. Due to this, people often look for budget-friendly options that can help achieve a similar result without spending huge. Luckily, there are many Olaplex No. 3 alternatives that are not expensive and help repair hair.
Before checking the alternatives for Olaplex No. 3, let's find out what makes Olaplex so popular and what its ingredients are that contribute to its effectiveness.
Ingredients
Olaplex No. 3 is an at-home disulfide bond building treatment for damaged hair that preps hair for intense repair boosting with an unbreakable bond. A single molecule, free of silicones and oils, dramatically improves hair strength, protects from within, and provides immediate results. The best part is you get instant results, and a complete makeover of hair is observed.
People with damaged hair can use Olaplex No. 3 two to three times a week. Regular use shows the immediate result and helps to improve the texture of hair. It is suitable for all hair types, especially those with visible damage.
The patented active ingredient in Olaplex is a compound called bis-aminopropyl diglycol dimaleate, which is a "bond multiplier." It begins the process of preventing damage and repairing hair.
Apart from its patented active ingredient, the major ingredients of Olaplex No. 3 include the following-
Antioxidants: Ascorbic Acid (Vitamin C), Tocopheryl Acetate (Vitamin E)
cell-communicating Ingredient: Retinyl Palmitate (Vitamin A)
Hair Protecting: Ascorbic Acid (Vitamin C)
Hair Nourishing Ingredient: Glycerin
Soothing: Aloe Barbadensis Leaf Juice, Panthenol, Wheat Amino Acids
Pros
Repairs the broken bonds and nourishes the hair.
At-home hair treatment for lustrous and voluminous hair.
Consists of hair-loving ingredients that keep them healthy and well-nourished.
Protects hair from environmental stress and damage.
Cons
Olaplex No. 3 is an easy-to-use hair perfector but comes with a hefty price tag, making it hard to afford by all.
5 Best Similar Olaplex 3 Products
1. Hairgenics Pronexa Hair Bonder Bond Repairing Complex And Conditioner
Uses a patented combination of ingredients to relink the broken disulfide bonds caused by chemical or thermal damage.
Repairs bonds from within, strengthens hair bonds and repairs structural damage within the hair.
Restores healthy appearance, strength, and feel, for beautiful, natural, healthy hair, even for those who have undergone dozens of harsh chemical or heat treatments.
Paraben-free, sulfate-free and phthalate-free, made only with the finest ingredients available.
2. Professional Keratin Hair Mask  Collagen & Biotin
Consists of hydrolyzed keratin and silk protein, coconut oil and Pro-Vitamin B-5 all in one repairing hair mask that instantly transforms the texture of hair, making it smoother, thicker, healthier-looking with higher volume and bounce.
Gives damaged and dry hair a renewed look and feel of silky perfection and radiant shine.
Helps soften the hair by penetrating strands from the inside out. Hair masque helps improve strength and elasticity of tresses.
Coconut oil is an active ingredient that helps moisturize and revive strands, giving hair a natural boost
3. Arganmer Professional Plex N. 3 Hair Perfector
Helps restoring disulfide sulfur bond inside the hair, making the hair stronger, firmer, detoxifies and refreshes the hair.
Suitable to be used during dyeing, bleaching, straightening or other chemical procedures.
Perfect hair recovery and care treatment.
4. L'oreal Paris Elvive 8 Second Wonder Water Lamellar
Transforms hair in 8 seconds for silkier, shinier, healthier looking hair.
Visibly transforms hair from the first use.
Uses breakthrough lamellar water technology, 8 seconds to silkier, and shinier, healthier looking hair with a totally weightless feel.
Silicone-free and paraben-free, consisting of moisturizing agents and amino acid that target damaged areas of hair.
5. It's A 10 Haircare Miracle Deep Conditioner Plus Keratin
Keratin enriched, deeply moisturizes, smoothes, detangle, restores elasticity strength, protects from sun damage.
Helps restore hair elasticity, provide deep nourishment and strengthen them.
Adds shine to the hair and prevent split ends.
Fortified with natural and hair-loving ingredients that promises to bring health and shine to hair.