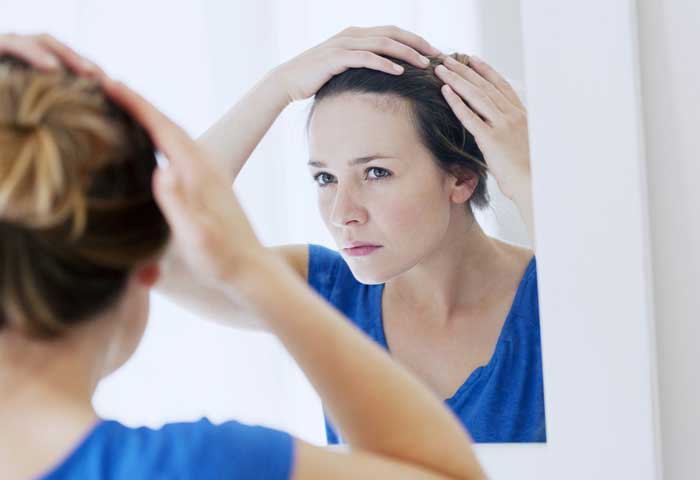 In this article we are going to talk about the cures that how can we prevent our hair from getting white/grey in young age! A young age may be defined in the teen years or till 25 years. You must have also observed that out life is not same as it was before our life style pattern has changed fully 360 degrees. Our  life has become really busy! When we get busy to our work stress come with it and work load and work pressure is also complementary to it. Not only stress but also out timings to pay attention to our eating habits have also created a mess. The time we sleep the time we eat "everything counts to our health" and as our health is disturbed so our hair too! Let us read to know how to get rid of white hair in young age.
How to Get Rid of White Hair in Young Age
You must have observed may people just at the age of 15 or 16 started getting grey strands on their scalp. Well this may be due to many reasons except from improper health. That may be a heredity, some hormonal disorder, pollution and many more. Sometimes even regular consumption of alcohol, tea and coffee in excessive amount may also cause white/grey hair. Instead of taking artificial sources to your diet such as medicines or supplements it is better to follow Natural cures which are helpful in preventing premature white hair and helps in restoring the natural color of hair.
1. Drink Amla Juice for White Hair
Gooseberry has tremendous benefits and one such benefit is the treatment of white hair.
In India It is commonly known as Amla. Consuming gooseberry in any form regularly( daily) will surely provide you with best results.
It may be difficult for some people to consume gooseberry in any form so they may directly apply this on their scalp.
There are many Ayurvedic shampoos available in market which contains gooseberry as an ingredient.
Also there are many gooseberry powders available which can be used to wash hair.
2. Gooseberry for White Hair
take pieces of gooseberry in dried form
soak them in water for overnight
Use this water for rinsing hair
This water would be having all the nutrients the fruit has. This is also one of the best way to cure or prevent yourself to grow white hair.
[ Related: 50 Amazing Benefits of Amla ]
3. Amla Powder and Lemon Juice for White Hair
Take some amla powder and lemon juice and almond oil and mix them well in a bowl
Apply the mixture over the scalp.
Leave your scalp with this mixture as such for about 45-50 minutes.
After this smoothly massage your hair and
Wash the head with cool water And moisturizing shampoo.
Using this mixture on a daily basis.
[ Related: Home Remedies to Control Hair Fall ]
4. Curry Leaves for White Hair
Curry leaves are easily available in markets. The leaves can be used to cure white hair problem with the combination of buttermilk.
You just need to Prepare a paste by mixing butter milk and curry leaves.
You need to have one teaspoon of curry leaves and then add them in one cup of buttermilk and the paste is done.
Apply this amazing paste on your scalp and massage it gently.
Wash it after 30-40 minutes.
5. Sesame oil for White Hair
You need to have one teaspoon of sesame seed oil and combine it with almond oil (four teaspoons).
Mix both the ingredients well.
Massage your hair with this oil on scalp for about 20 minutes.
Then wash.
6. Yogurt for White Hair
A homemade yogurt is best to cure the development of white hair. Yogurt has always chosen as is one of the best natural cures for the treating and curing white hair.
If you can eat yogurt then you must consume about of half to one litre of yogurt on a daily basis.
Yogurt contains a large amount of Vitamin B and vitamin B is really helpful for the patients suffering from white hair.
The above mentioned tips will surely help you reduce white hair in young age. Do leave your feedback below.
You Might Also Like:
Image:- 1