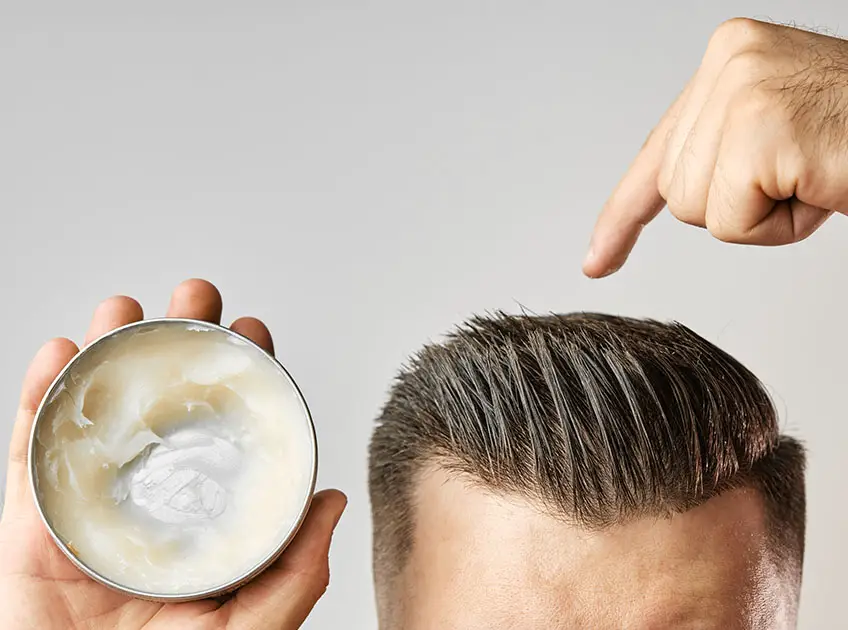 If you like the hold and style that pomade bestows your hair but require some advice on how to remove it when you have done, then keep reading this article. Pomades are just great at taking the pomp to next level and that is because most pomade are made up of petroleum, which is not penetrated by water. Regular shampoo won't give you a hand to remove pomade, but it was only done by pomade shampoos and some other techniques. Unlike normal one, pomade shampoos have extra grease-cutting power which will make life so much easier. Scroll down to know more about pomade.
Get Pomade Out Of Hair
What Is Meant By Pomade?
Pomade is a sticky and waxy product that dries hard when holding certain hairstyles in place. In the olden days, it was made up of lard or bear fat. But these days, pomade has been made from beeswax, lanolin, and petroleum jelly. The formula in which, holds hair in place because the base ingredients molecules present in this attach to the hair molecules and to each other. This gives a popular range of styles for both men and women. Water-based pomades have been developed easily compare to oil-based pomades.
Certain Tips To Remove Pomade From Your Hair
There are two types of pomade available. They are water-based pomade removal and oil-based pomade removal. For water pomade removal, you can wash with normal shampoo and warm water, that is enough. But for oil pomade removal, you have to search for tricky things to remove out of it. Some of the methods are given below for you.
1. Pomade Shampoo: You may go for a specially formulated shampoo which is sold out on the market and it is especially made for the one who likes to style with pomade. Such products are easily found in most salon stores and it is very effective when comes to breaking down the grease as well as removing stubborn products from your hair. Most pomade shampoo deeply cleanses and nourishes your hair as well as leaving it very glowing and healthy.
2. Clarifying Shampoo Or Oily Hair Shampoo: Shampoos that can be formulated for oily hair are said to be an effective alternative to pomade shampoos. The compound involved in this product has safely stripped the hair and greatly works to treat by removing an oil-based pomade. In addition, it also works to remove water-based pomades.
3. Dishwashing Liquid And Pomade Shampoo: Dishwashing liquid has surfactants that highly work to cut through pomades that are oil-based. To do this process, you will need
Dishwashing liquid
Pomade shampoo
Normal water
Procedure
Cover the hair with one tablespoon of dishwashing liquid and soak for some minutes
Wash out with warm water
Apply a pomade shampoo in order to remove the last bit of grease
Lastly, wash out with normal water to seal the hair follicles and leave the hair healthy and shiny
4. Olive Oil And Dishwashing Liquid: In this process, olive oil helps to break down the grease from the pomade and makes it easier to remove. To do this process, you will need
Dishwashing liquid
Olive oil
Conditioner
Normal water
Regular shampoo ( optional)
Procedure
Apply one tablespoon of olive oil to the hair and massage thoroughly to ensure you obtain the right into follicles.
Leave this in the hair for a few minutes then wash out with warm water
Then apply some amount of dishwashing soap to the hair and massage thoroughly and wash with normal water.
Apply dishwashing soap again and leave it for 15 minutes this time to get rid of any stubborn styling substance which are remains in the hair
If you finished your 15 minutes, impart your hair and scalp another massage then wash with warm water
At this point, you can use any of your regular shampoos but it is an optional one.
Finally, finish it with a good conditioner to replenish if any natural oil may be lost in this process.
5. Deep Conditioner: Deep conditioner has its way to remove pomade in the hair. To do this process, you will need
Deep conditioner
Hairbrush
Normal water
Procedure
Apply the deep conditioner to the hair and use the same amount as you have used the pomade.
Massage into the hair and scalp thoroughly
Brush the conditioner through the hair like, brush it backward, sideways, and forwards to spread the conditioner through the hair and break up the stubborn clumps of pomade.
Leave this in the hair for nearly 10 minutes
Wash with lukewarm water
If you still feel the products in the hair after towel drying, redo this process until you get satisfaction.
Conclusion
Concluding that, different techniques are given above to get pomade out of your hair. Find the one that matches you well and go for it to ease your work.
You Might Also Like: