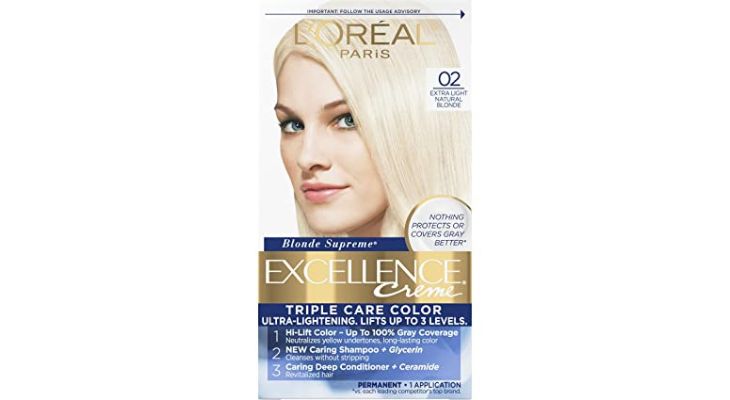 Aging affects not only our health but our skin and hair too. As we age, getting gray hair is not a new thing. It happens mainly because the supply of melanin pigment to the follicles depletes. However, other factors such as genetics, diet, and ethnicity also affect it tremendously. It is the reason why some people experience gray hair before others of the same age.
Even though you may try multiple products, there is still no scientifically proven method of reviving the follicle's melanin production. It means that once hair has turned gray, it cannot attain the previous color until you don't dye it.
If you are fine coloring and hiding your white hair, we have come up with the 7 best colors for white hair. Since giving a drastic change by using some dark colors may make you look funny, we have listed only light colors that will complement your skin tone and give you a stunning look.
Check out the best colors for white hair!
7 Best Colors For White Hair
1. Smokey Silver: L'Oreal Paris Feria Multi-Faceted Shimmering Permanent Hair Color Hair Dye
It helps bring intensified color to hair, turning white hair into smokey silver
Features a prismatic color, spectrum custom-blended, ensuring white hair looks gorgeous
The formula is ultra-nourishing to the hair and stays gentle on the scalp
The color is inspired by cutting-edge fashion, giving you the trendiest look
What we don't like: The scalp may feel slightly irritated on certain skin types; therefore, perform a patch test.
[ Read: How Long Does Permanent Hair Dye Last? ]
2. Balayage: Clairol Nice'n Easy Balayage Permanent Hair Dye, Blondes Hair Color
Best for creating trending highlights, making white hair look awesome
Gives a bold as well as subtle look for a flawless persona
Infused with hair-friendly ingredients that stay gentle on strands
Free of nasty ingredients that can make hair fragile and weak
What we don't like: Hair may feel dry after application, but with proper care, they look natural.
3. Extra Light Ash Blonde: Schwarzkopf Keratin Color Permanent Hair Color Cream
It is a perfect color for white hair as it maintains its natural look of it yet adds a different personality
Comes with a pre-color serum for strong and healthy-looking hair
The color intensity is perfect for giving the desired shade
Helps to get even color, straight from the roots to the tips
What we don't like: It is an ultra-light color; therefore, people looking for some darker shades should go for it.
4. Light Blonde: Permanent Hair Color by Revlon
Best to color hair at home as it comes with easy-to-apply instructions
The results are long-lasting
Formulated with nourishing ingredients that keep hair soft and supple
It is an ammonia-free hair color formula enriched with keratin and silk amino acid
Features Revlon's 3D Color Gel Technology for extra nourishment
What we don't like: Limited shades are available.
[ Read: 15 Basic Hair Care Tips ]
5. Light Brown: Clairol Nice'n Easy Permanent Hair Dye
Helps create three hair tones and highlights with its exclusive Color Blend Technology
Gives an authentic look wherein the color lasts for more than 8 weeks
Comes with color blend formula, color blend activator, cc plus color seal conditioner, expert gloves
Easy to use
What we don't like: The application may seem messy, but it helps get the best color for white hair.
[ Read: Is Necessary To Wash Your Hair After Coloring ]
6. Deep Light Golden Brown: Garnier Hair Color Nutrisse Ultra Coverage Nourishing Creme
It is formulated to develop rich color that can cover white hair with ease
Enriched with the goodness of avocado, olive, and shea oils to keep hair well moisturized and protected
Deeply nourishes the strands and features non-drip creme formula
No mess, easy application, and great for coloring white hair
What we don't like: It takes time to produce the desired color, so you must be patient.
[ Read: Ion Intensive Shine 00 Clear Demi Permanent Creme Hair Color 00 Clear Review ]
7. Extra Light Natural Blonde: L'Oreal Paris Excellence Creme Permanent Triple Care Hair Color
Helps color the most stubborn grays with ease
Ensures generous hair color from root to tips
Enriched with the goodness of ceramide, pro-keratine, and glycerine for revitalized hair
Comes with after-color shampoo with Glycerin that helps eliminate excess residue from the scalp and strands.
What we don't like: You may need to take the help of someone if doing it at home.
[ Read: Hair Color For Sensitive Scalp ]
Conclusion
These colors look great on people with white hair. They will mimic the original hair color, ensuring you don't look overdone. Pick the best colors for white hair and flaunt your luscious locks.
You Might Also Like: