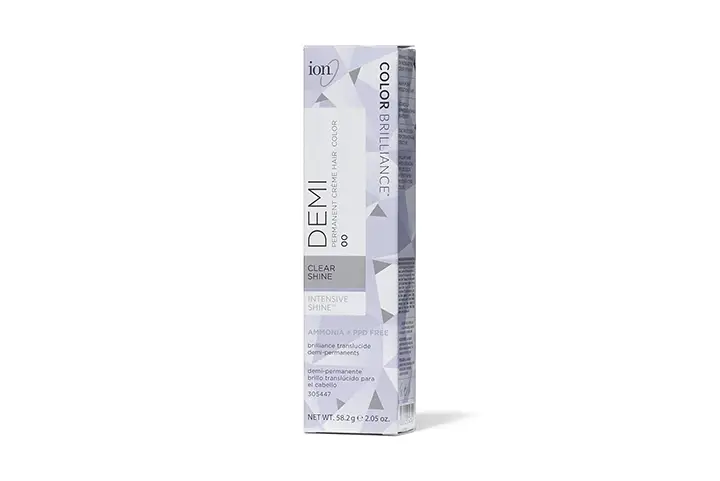 Ion is a demi-permanent color that is ammonia free, which has the ability to either cover gray hair or blend hair color in a safe and natural manner. It works softly on your hair and does not lift your base. It is safe for all types of hair.
It enhances, changes or increases the color intensity. This demi-permanent color gives intense conditioning and you can get the maximum light reflection and shine.
Ion Intensive Shine 00 Clear Demi Permanent Creme Hair Color 00 Clear
How it Works:
Ion color Brilliance intensive shine demi-permanent cream hair color is a state of the art European ionic formula that is a luxurious, long lasting and deposits only hair color.
Ionic formula provides protection for stronger hair structure.
It contains botanically derived nourishing ingredients with a refreshing fragrance.
The demi clear oo is a colorless shade that will give you dazzling shine when used alone or less color intensity when mixed with other colors.
Pros:
Ion demi-permanent color can last upto 24 washes.
It is abundantly useful for hiding gray hair.
It is easy to use and will not damage your hair.
This hair dye is lighter because it is Ammonia free.
Prevents breakage of hair strands.
Cons:
The color fades somewhat after each wash.
Rating: 4.4 out of 5
Ion Intensive Shine 00 Clear is Ammonia Free and Deposit only to enhance and refresh color. Provides up to 50% grey blending. Get this demi-permanent hair color and the amazing color intensity.
Frequently Asked Questions (FAQ's)
Q. Does it come with developers?
Ans: No, it does not. It works really well with the Ion 10 volume developer for sensitive scalps; I never have any skin irritation with it, and I color my roots every 3 weeks. Happy coloring!
Q. Does it change dyed hair color?
Ans: It does not change your dyed color.
Q. How many washes does it last?
Ans: About 24 washes.
Q. How long does oo clear shine last??
Ans: About 4-6 weeks depending on how gentle your shampoo is.
Alternate Products:
You Might Also Like: