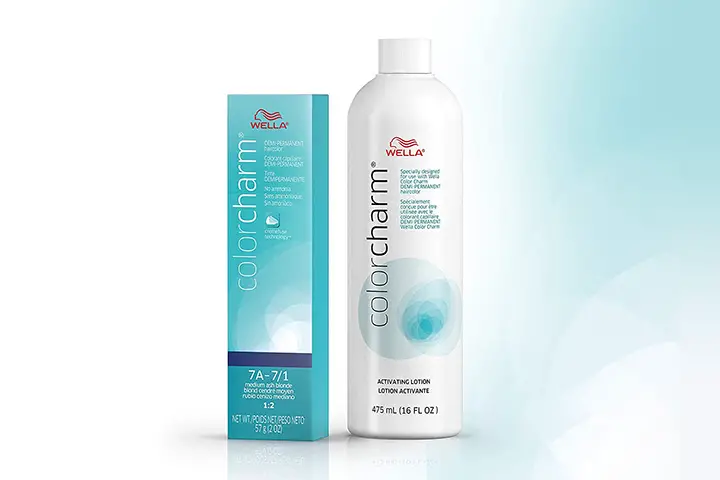 Apply WELLA Color Charm Demi Permanent Hair Color to add or change the tone of your hair. This will help to give the color within the hair cuticle and that lasts up to 24-28 washes.
This product not only colors your hair but also nourishes your hair with 50% grey hair coverage. It gives more natural-looking hair.
Wella Color Charm Demi-Permanent Hair Color
How it Works:
This product involves cremefuse technology which douses, penetrates and fuses with hair to deliver vibrant color that is exceptionally fade resistant.
It gives best results with the developer: Color Charm activating lotion.
The processing time is 20 minutes for this product.
Always use color charm activating lotion with Color Charm demi-permanent hair color for optimal results.
Pros:
It deposits only color to enhance and refresh hair color look.
It lasts upto 24 washes.
It gives vibrant results that leave your hair silky soft and bright.
Ideal for grey blending, toning and to add color shine.
Cons:
The results vary from person to person.
Rating: 4.5 out of 5
WELLA Color Charm Demi Permanent Hair Color refreshes and adds richness to the faded hair . It mixes with the greys for a versatile look of refresh, glossy and tone. Try this lightest ash blonde for silky soft and brilliantly bright hair.
Frequently Asked Questions ( FAQ's )
Q. Are there other products I need to use with this product?
Ans: Yes you need to get the activator since it is a demi permanent color.
Q. Will this color my grey hair which is 20% of my hair?
Ans: Yes. I have 25% gray and it does wonderfully.
Q. Does this product change the texture of curly hair?
Ans: It will not change the texture for normal hair.
Q. After mixing with the developer, how long do we have to wait?
Ans: Mix it well. Wait 5-7 minutes to apply.
Alternate Products:
You Might Also Like: