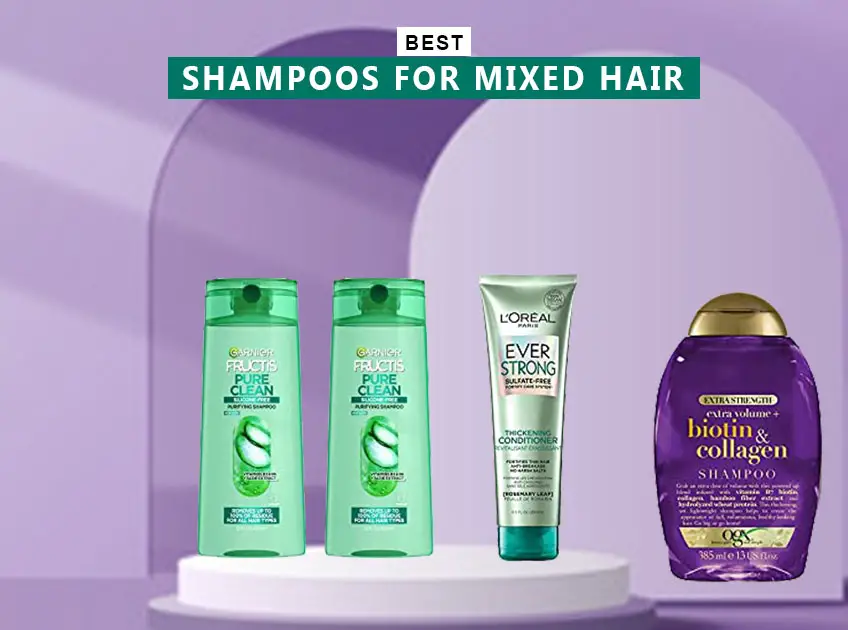 When they say having mixed curly hair is a blessing, maybe they don't know the struggle behind maintaining it. Curly hair looks pretty indeed, but it is prone to multiple hair issues, among which frizz and flyaways are the most common.
Even though natural oil is abundant in all hair, curly hair still tends to become dry as the oil doesn't reach the cuticles due to low porosity. With all the twists and turns in the strands, oil struggle to reach down tips, making hair frizzy. As a result of this, hair becomes prone to slitting and breakage too.
Mixed Hair
Certain shampoos can add to this dryness; therefore, using the best shampoo for mixed hair is a wise decision. These shampoos deliver a deeper clean and remove stubborn residue on the scalp. At the same time, they help moisturize the scalp as well as the hair strands to tame frizz and keep flyaways at bay.
If you are not able to find the best shampoo for mixed hair, check out the list we have shared and find your pick.
7 Best Shampoos For Mixed Hair
1. Best For Frizzy and Damaged Hair: KERASTASE Paris Bain Extentioniste Length Strengthening Shampoo
Works well on weak, brittle, and damaged hair
Lightweight formula, perfect for rebuilding the internal structure of each strand
Infused with lipids that keep hair shiny and bouncy and prevent breakage
Helps remove impurities, buildup, or excess oil
Works well with mixed, damaged hair
Enhances the natural hair growth speed
What We Don't Like: It may be mild on thick hair types.
2. Best Sulfate-Free: Marc Anthony Grow Long Super-Fast Strength Shampoo
Best for curly and frizzy hair that are hard to maintain
Sulfate-free formula infused with caffeine and ginseng
Make hair velvety soft, and smooth
Consists of vitamin E and argan oil
Nourishes dry ends and prevents split ends
Promotes healthy and faster hair growth
Has a refreshing fragrance
Make the hair feel amazingly soft after every wash
What We Don't Like: It won't help with dandruff.
3. Ultra Nourishing: OGX Extra Strength Biotin & Collagen Shampoo
Consists of biotin and Vitamin B7 that nourish hair and makes it strong
Infused with collagen, wheat protein, and bamboo fiber extract
Bring volume and health to the fine-textured hair
Helps hair look dense and voluminous
It is lightweight and easy to use
The floral scent makes it pleasing
What We Don't Like: It produces less lather.
4. Rebalance Scalp: ACURE Buildup Balancing Hemp & ACV Shampoo
A perfect clarifying shampoo for mixed hair
Consists of apple cider vinegar that promote hair health
It cuts through oil and buildup and rebalances the scalp
Also, it contains hemp seed oil that adds to its moisturizing benefits
Promote hair growth and thickness
Infused with botanical extracts like blackberry fruit, aloe leaf juice, and chamomile flower
Lightweight and deeply nourish the hair
What We Don't Like: It has a synthetic fragrance.
5. Gentle Hair Care Formula: Garnier Fructis Pure Clean Fortifying Shampoo
Infused with plant-based fortifying ingredients like aloe extracts and citrus protein.
It contains essential vitamins like vitamins E, B3, and B6
Also contains fruit and plant-derived extracts to tame the frizz and flyways.
The ingredients are gentle enough to use every day
It is free of paraben, silicon, and other nasty hair ingredients
What We Don't Like: The hair may feel greasy.
6. Effective and Affordable: L'Oreal Paris EverStrong Thickening Shampoo
Infused with extracts of rosemary
It brings natural shine and health to the mixed hair
It helps fortify thin, mixed and fragile hair
The special formula helps build 15 times more strength to the hair strands
It cleanses the scalp and each hair strand
Do not strip off hair and scalp's natural oil
What We Don't Like: It is not good for people with extremely dry hair.
7. Treats Dandruff: OGX Teatree Mint Extra Strength Shampoo
It is a deep cleansing shampoo, leaving hair and scalp feeling minty and fresh
Infused with botanical extracts like tea tree oil, peppermint, and witch hazel
Eradicates buildup, leaving hair and scalp thoroughly clean and fresh
It helps break down sebum in the oily scalp
Removes residues that buildup with styling products
Do not strip down the natural nutrients from hair
It also has antibacterial and antiseptic properties
Offers anti-fungal benefits too
What We Don't Like: A thorough cleaning is needed to remove the residues completely from the scalp.
Conclusion
So, these are some of the best shampoos for mixed hair that help manage such hair types with ease. If you are using normal shampoos, we would recommend you to start using them for the luscious locks.
You Might Also Like: