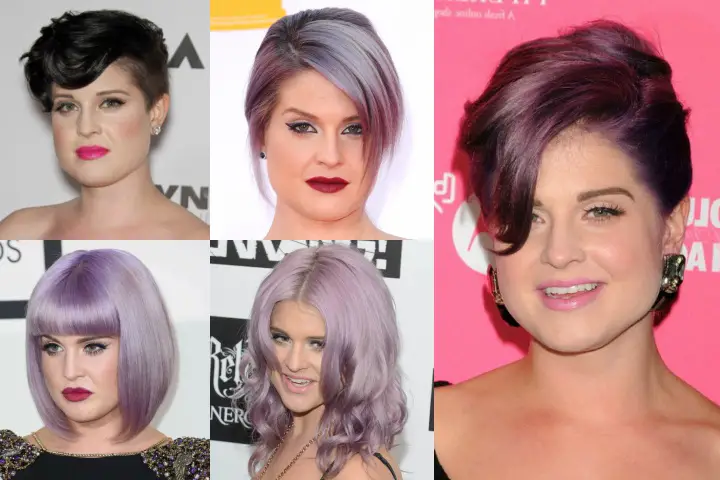 Looking for some hairstyles and cuts that are different and trendy? Here are the stylish and sassy hairstyles and haircuts of Kelly Osbourne that will inspire you. 
Kelly Osbourne is a multi-talented person who spreads her wings in the fields of acting, singing, fashion designing, modeling, and television. Kelly along with her family members starred in the the reality show 'The Osbournes' which aired on MTV. Osbourne loves to try different hairstyles and hair color which are fabulous and creates a new style among the other celebrities. She is more fashionable when comes to hair styling and all her hairstyles and haircuts show off her boldness and pride with her hair texture and density by making her fans drool over her daring looks. Let us explore some of the amazing hairstyles and haircuts of Kelly that will amaze you.
15 Kelly Osbourne Hairstyles & Haircuts
1. Kelly Osbourne's Short Classic Bob Cut Purple-colored Hair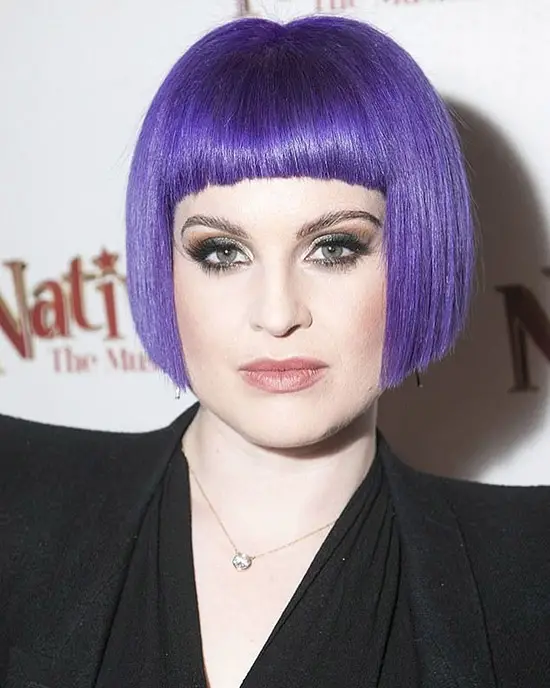 Osbourne looks stunning in this haircut. She chopped her thick, dense purple-colored hair into a short straight bob cut with front even fringes. This is the most common hairstyle that looks unkempt and aligned together. This hairstyle combined with the gorgeous purple color is dynamic and absolutely spectacular on Kelly.
2. Bun With Side Swept Retro Curl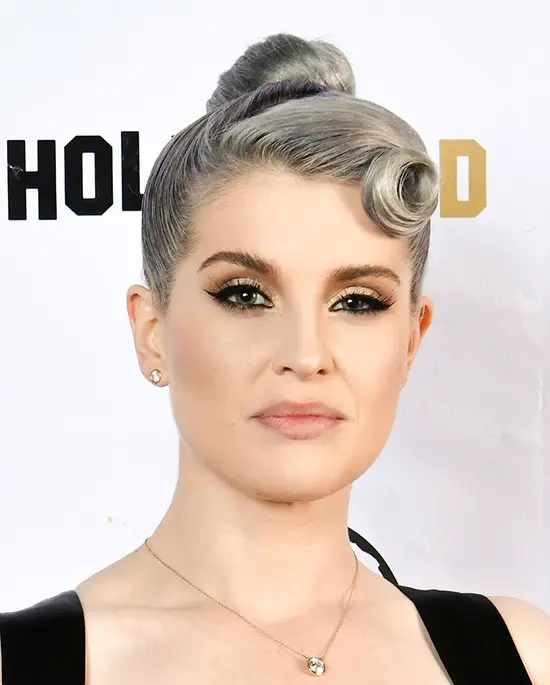 Kelly Osbourne, an English actor made her stylish appearance with this hairstyle. The bun is created with the silver blonde mane and the side swept front hair is retro curled round. This hairstyle makes Kelly look glorious and modish.
3. Osbourne In Shoulder Length Feather Cut Hair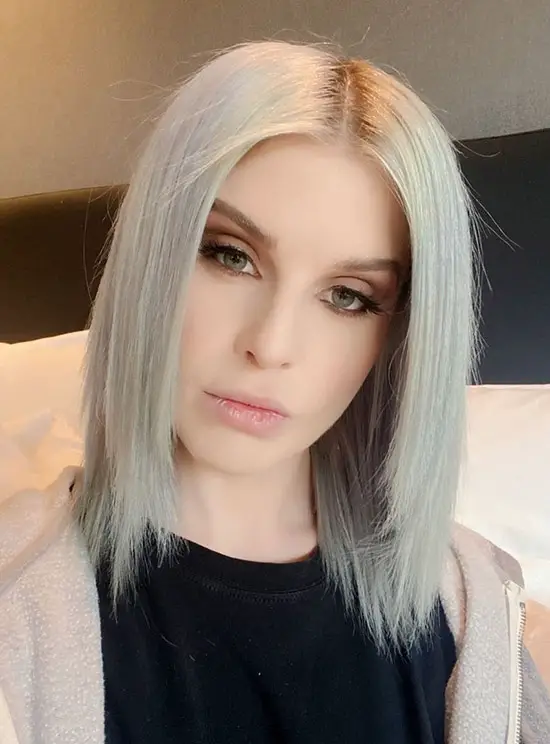 This hairstyle is all about simplicity and elegance. Kelly Osbourne colored her hair platinum blonde and straightened it to smooth. The platinum blonde hair is chopped off to shoulder length. This center-parted straight hair makes Kelly Osbourne look chic as well as graceful and it suits all events.
4. Kelly Osbourne's Medium Straight Light Purple Colored Free Hair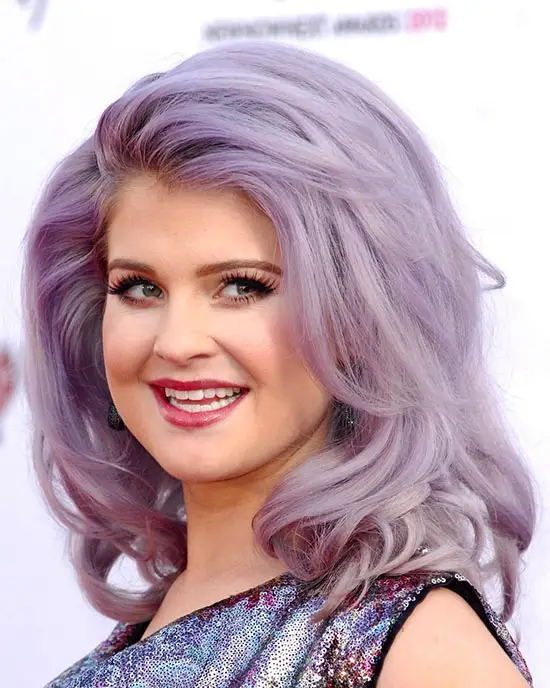 Kelly is looking all gorgeous in this light purple-colored hairstyle. The side-parted hair is blow-waved smooth adding volume and lift at the roots. The ends are lightly curled to add bouncy movement and give the overall style movement and shape. This hairstyle adds sumptuousness and loveliness to her face.
5. Kelly Osbourne's Bold Mohawk Hairstyle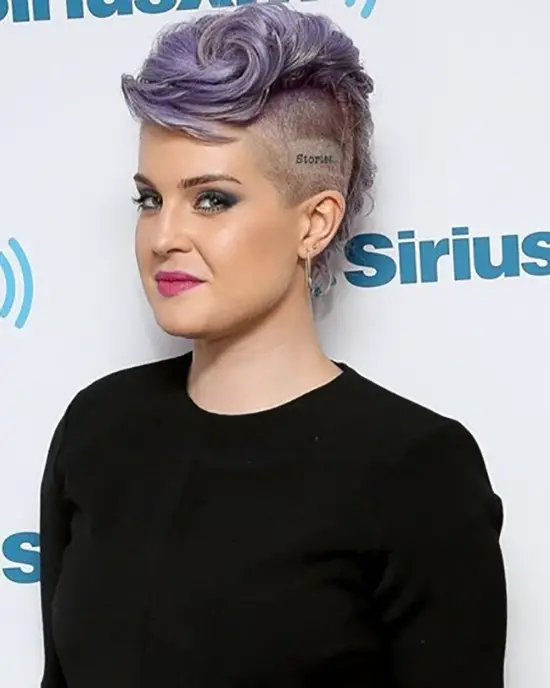 Osbourne always amazes her fans with her brave and discrete hairstyles. The one among them is her Mohawk hairstyle in her gorgeous purple-colored hair. The sides are shaved and the center purple-colored hair is curled at the ends. This modern-looking bold hairstyle makes her more famous and a trendsetter.
6. Tightly Pulled High Ponytail Braids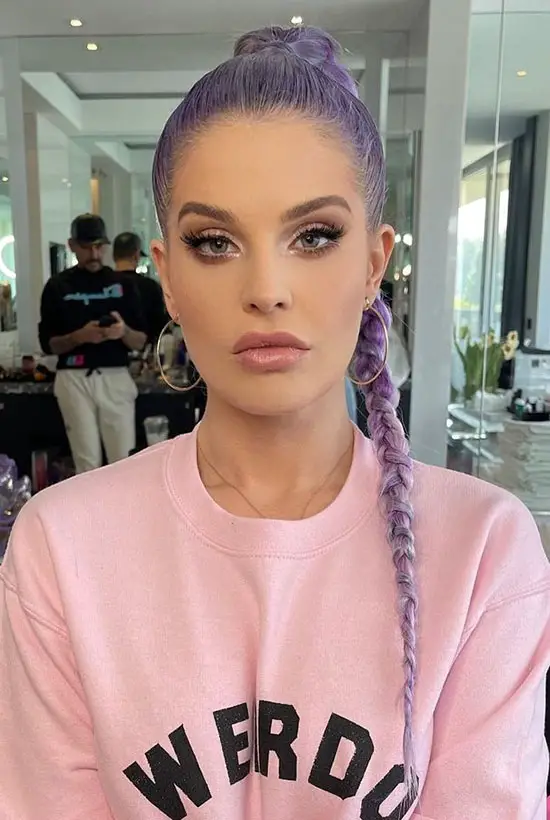 This multitalented actress released her picture of her light purpled hair, styled as tightly pulled high ponytail braids that look amazing. This high ponytail braid is put in front and this hairstyle accentuates Kelly Osbourne's alluring cheekbones and chin. This hairstyle fits with any modern attire.
7. Osbourne In Lovely Pastel Purple Colored Wavy Long Hair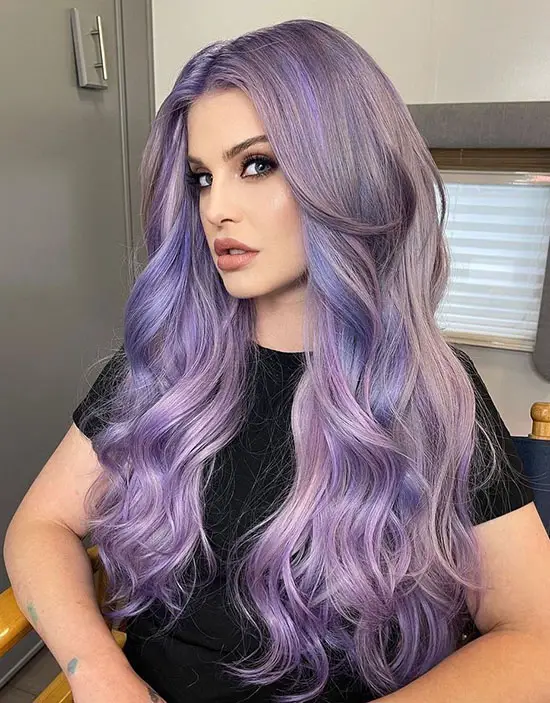 Kelly Osbourne debuted a new and fresh hairstyle. The long dense pastel purple-colored wavy hair is center parted with face framing long bangs that side swept. The lilac waves looks absolutely amazing and glorious on this fashionable singer. This astounding hairstyle inspires anyone with long tresses to try this look.
8. High Ponytail Wavy Hair With Center-parted Bangs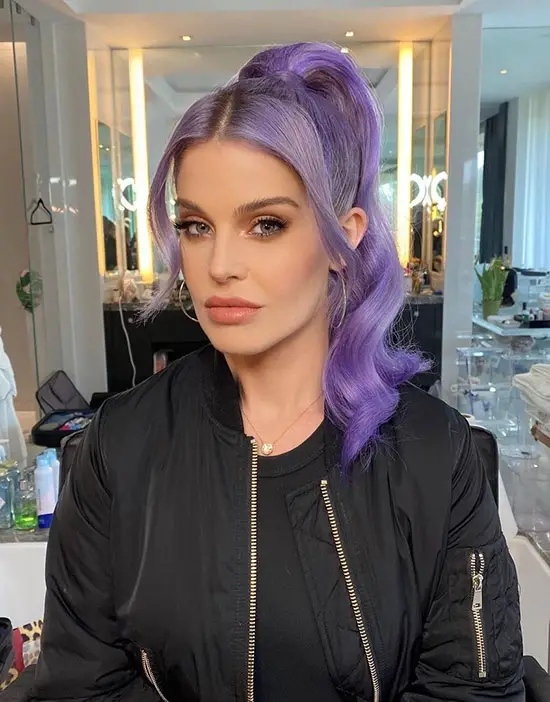 Osbourne rocked with this stunning hairstyle of the high ponytail. Her purple-colored hair is secured into a high ponytail and the waves are added in the middle hair and the ends are curled a little to give a movement. The bangs in the front are center parted and slightly curled. This hairstyle makes Osbourne look majestic and glamorous. It elevates her sleek slim face.
9. Kelly In A Knotted Double Bun Hairstyle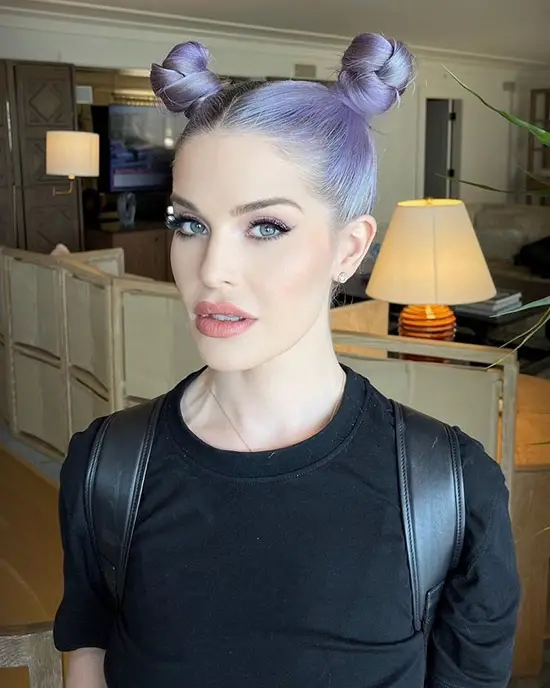 This classy sassy hairstyle suits Kelly Osbourne's face well. Her pale purple-colored hair is center parted and tightly pulled and knotted into a high bun on two sides. This hairstyle elevates Kelly Osbourne's fine jawline perfectly. This hairstyle mesmerizes everyone and goes well with trendy outfits.
10. Rainbow-colored Braided Double Bun With Front Bang Retro Curled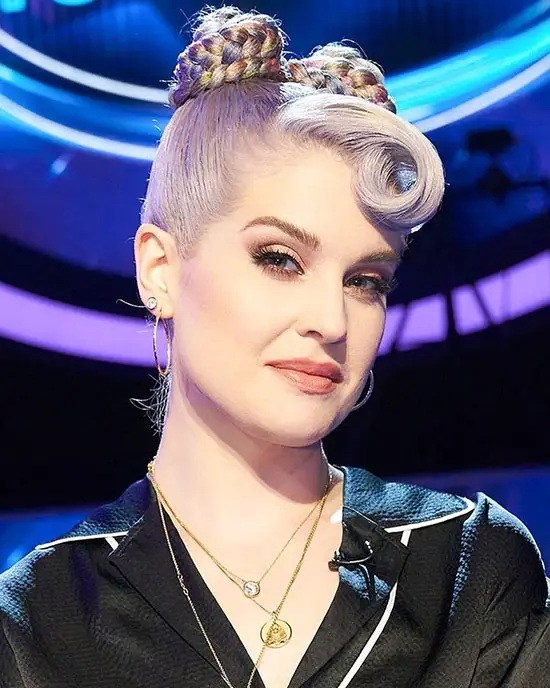 This talented pop singer rocked with this hairstyle that looks incredibly great and classic on her. The tightly pulled hair is braided with her rainbow-colored strands and tucked into a bun on two sides. The side swept front bang is retro curled. This unique hairstyle created a new trend among her fans who follow her for her different hairstyles.
11. Dark Purple Straight Long Free Hair With Bangs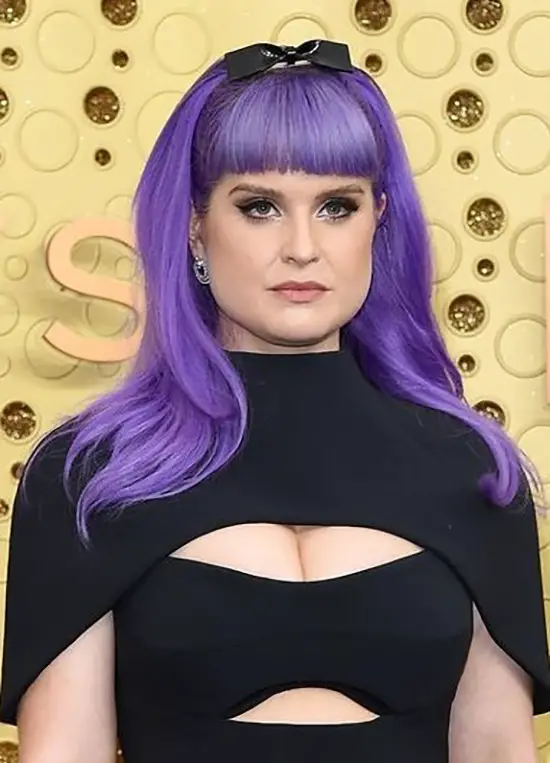 Kelly Osbourne made an appearance with long straight dark purple colored hair complementing her black outfit. This hairstyle makes her look cute and hot which got the front bangs and a black bow clip secured on the crown high. This hair color and hairstyle suits anyone who loves to be trendy and modernistic.
12. Kelly Osbourne In Pretty Shoulder-length Razored Bob And Bangs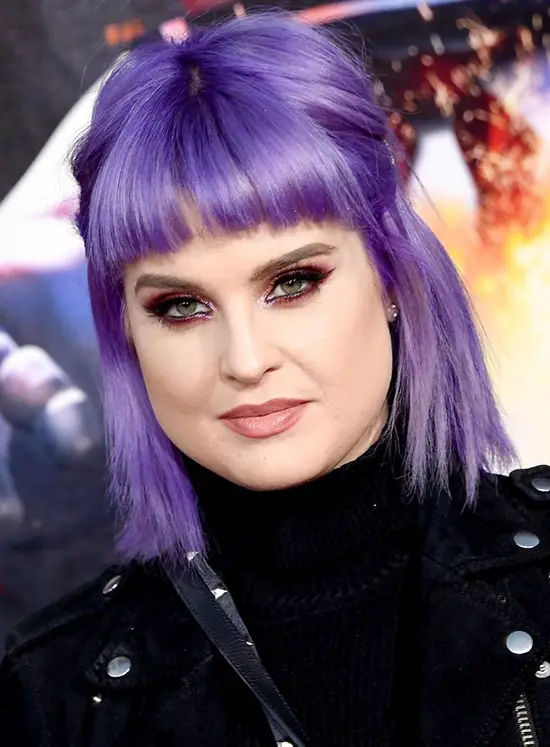 This haircut and hairstyle look fabulous on purple colored hair of Kelly Osbourne. The front bangs are kept smooth and the side hairs are pinned on two sides. The bottom hair is razored and cut to shoulder length bob. This half up half down hairstyle gives a super bold and courageous look to Kelly Osbourne.
13. Light Purple Colored Pixie Haircut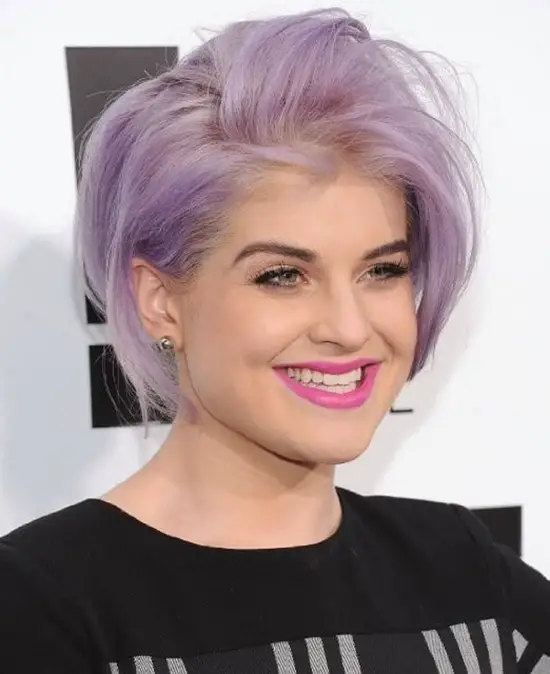 Osbourne is cute and adorable looking in this messy pixie cut hair. Her light purple-colored straight hair strands are super messy and accentuate her triangle-shaped face well. This is the new trendy pixie cut that looks tremendously bold and pretty on Kelly Osbourne.
14. Loosely Pulled Hair With Left Side Swept Long Layered Bangs Hairstyle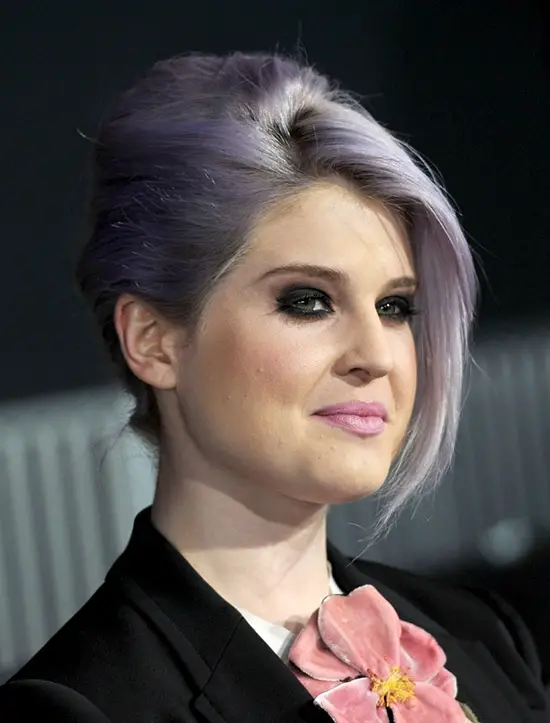 This hairstyle is all neat and fantastic that looks great on Kelly Osbourne. The very light purple-colored hair is loosely tucked and updo at the back and on the left side the swept long layered bangs are kept smooth. This hairstyle is good looking and suitable for everyone.
15. Kelly Osbourne Wows Us With A Retro Purple Hairstyle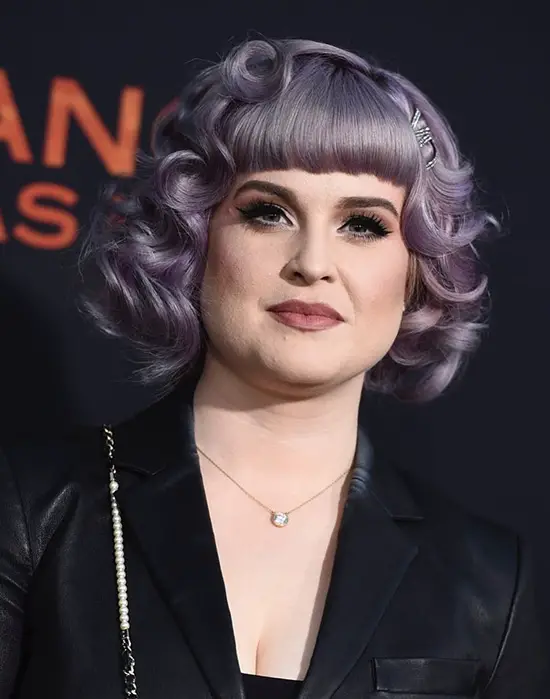 Kelly Osbourne makes everyone go wow on her look with this retro-styled purple hair. Her jaw-length bob cut hair is curled which is decorated with a pair of  jeweled clips. The forehead covering bangs are kept straight. This vintage hairstyle makes Kelly appear classic and fabulous
You Might Also Like:
9 Best Haircuts For High Cheekbones