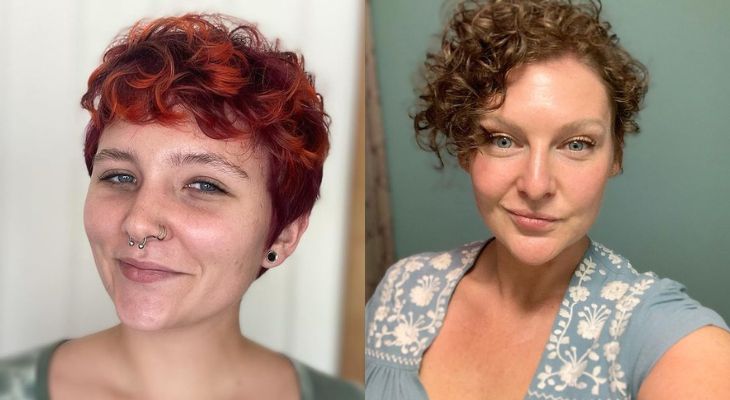 What is more beautiful, sweet, and adorable than a curly pixie cut? Whatever may be the hair type, it may be wavy or curly, this might be the best and new haircut to try out. Luckily, pixie curly cut suit for any type of face shape and no matter if you are round, square, or oval one. A curly pixie hairstyle may not be the first thing to come to mind when thinking of a makeover. But a curly pixie or short wavy is a fantastic idea if looking for a way to cut the hair in style. A pixie cut can add life to your hair when you have natural curly. Here provided some outstanding pixie cuts for curly hair.
18 Charming Pixie Cut For Curly Hair for Women
1. Short Wavy Pixie Cut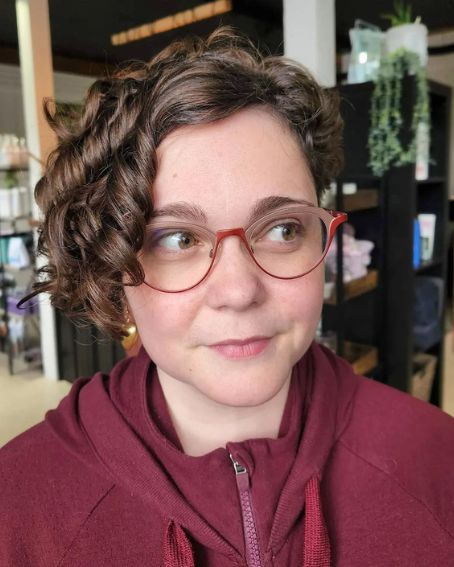 This cute curly pixie style with short wavy is very chic, fun, and feminine too. Curls usually don't take much time to maintain, so give a little effort and have a perfect curly pixie. It can look really astonishing if styled in a natural wavy look.
2. Textured Curly Pixie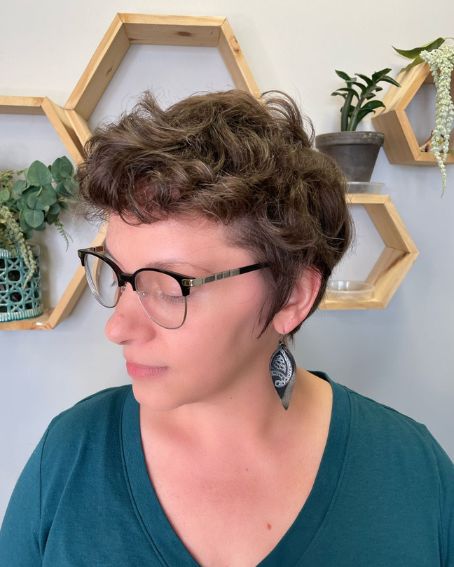 When considering pixie cuts for curly hair, opt for layers and do style to mimic fullness. This will keep the user looking bold and beautiful. Textured curly pixie is short and cute, anyone can wear this stunning cut.
3. Short Pixie Cut With Bangs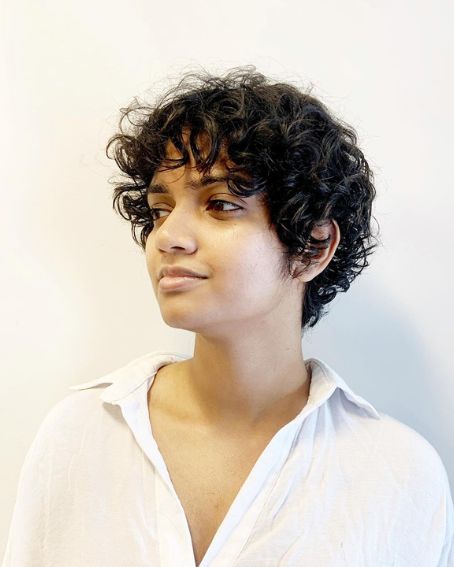 This particular curly pixie cut with bangs is more adaptable in terms of styling. Leave your curl up to an eyebrow and side hair up to the ear. It will create more volume on the head and looks fabulous.
4. Big Chop Curly Pixie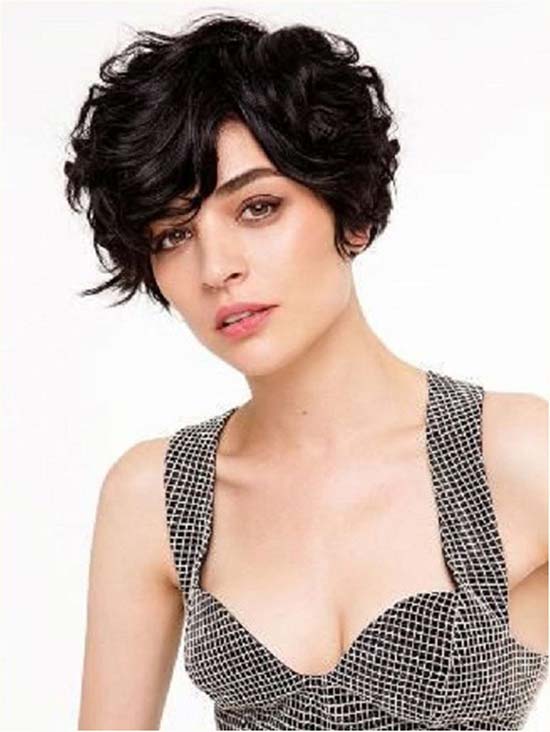 A big chop curly pixie is a wonderful option for a short hairstyle to wear every day and also for special occasions. Make this style with proper accessories and can wear a headband to get an amazing appearance. 
[ Read: Long Pixie Hairstyles & Haircuts ]
5. Light Brown Locks And Curly Pixie Cut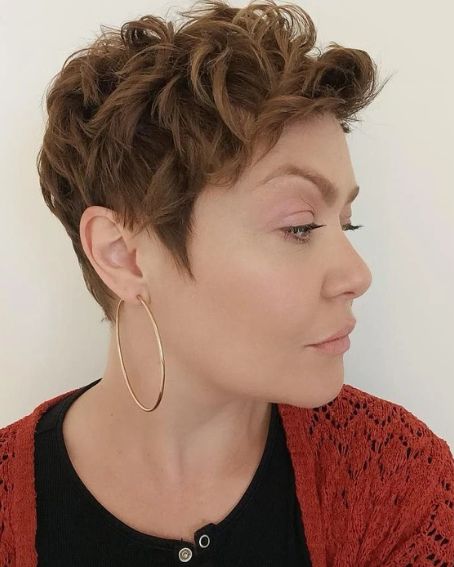 A short and pretty curly pixie cut on light brown hair truly has a distinctive sense of nonchalance as well as a freestyle about it. The European touch of this style makes the look more special.
6. Golden Beige Balayage Curly Pixie
Balayage is a word that has been buzzing around the world of hair recently. This golden beige color with balayage curly pixie hairstyle is ridiculous bouncy and smart which helps to render a lovely style
7. Blonde Curly Pixie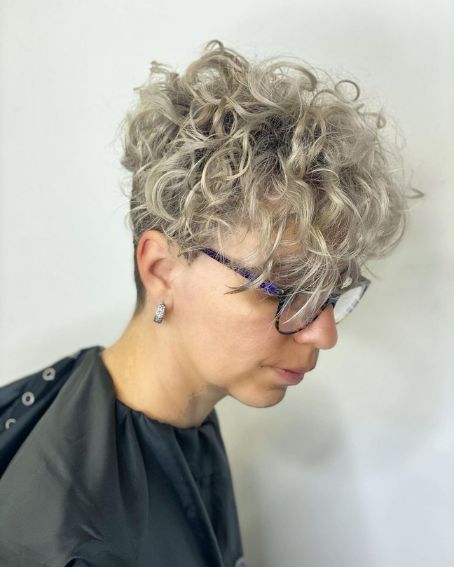 Don't be afraid to go for a blonde hairstyle and show everyone that white blonde is really fun. This blonde curly pixie is chic and sexy. If you want to go for super short then this blonde curly pixie is for you.
8. Pink Curly Pixie Cut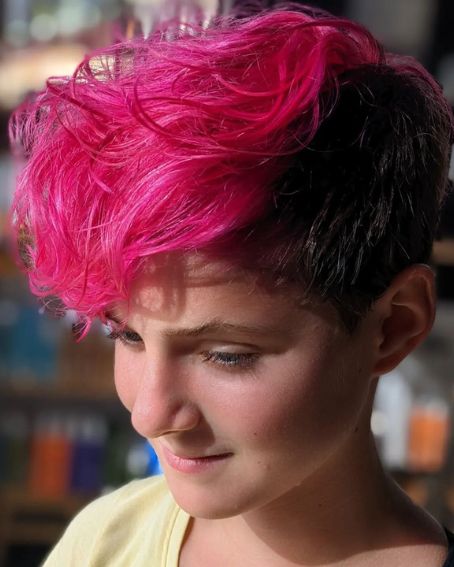 Let your naturally curly hair get shine through by cutting it into short and dyeing it with a new color. Just admire, how pretty this pink curly pixie is, the pink curly at the top and leaving black color at the side is completely extraordinary.
9. Undercut Curly Pixie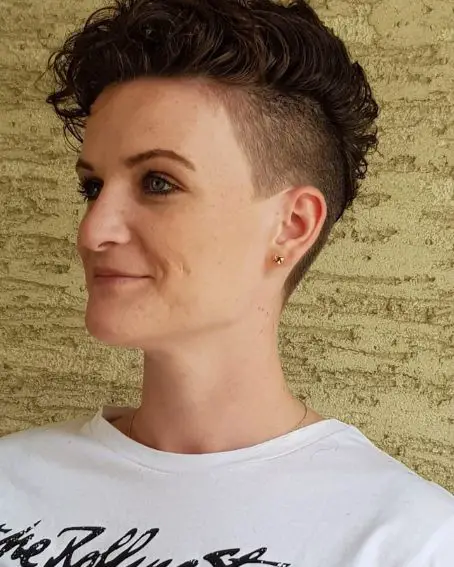 Even though this undercut curly pixie needs daily styling as well as frequent visits to a beauty salon, it is said to be a bold fashion statement and also make it worthwhile. This style is so good that no one will be able to resist the sweet charm.
10. Voluminous Curl Pixie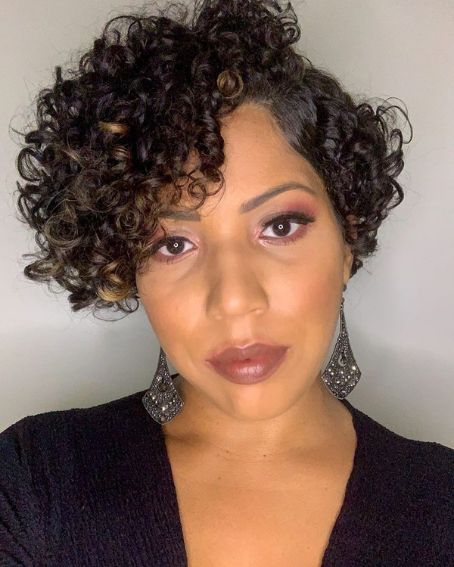 Voluminous curly pixies are very perfect for women touched 40 who need a younger look. It is better to keep long bangs to obtain a more youthful look. When styling this type of curly, use a proper spray to improve the texture.
[ Read: Pixie Cut for Round Faces ]
11. Pixie Haircut With Free Ringlets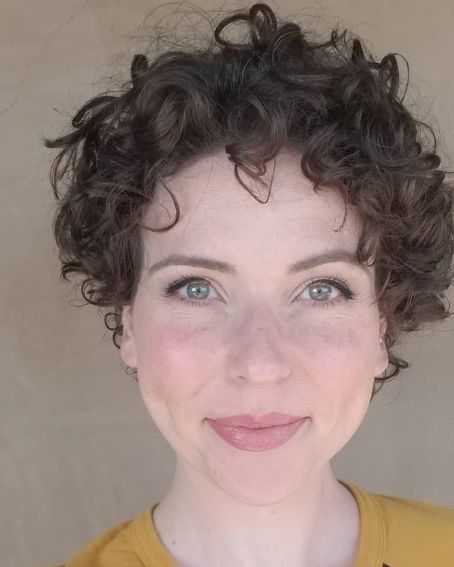 A curly pixie cut hairstyle is already gorgeous and tempting to those who look for a short style this season. Pixie with free ringlets is easy to maintain and assists you to avail more stunning and stylish. 
12. Super Short And Curly Pixie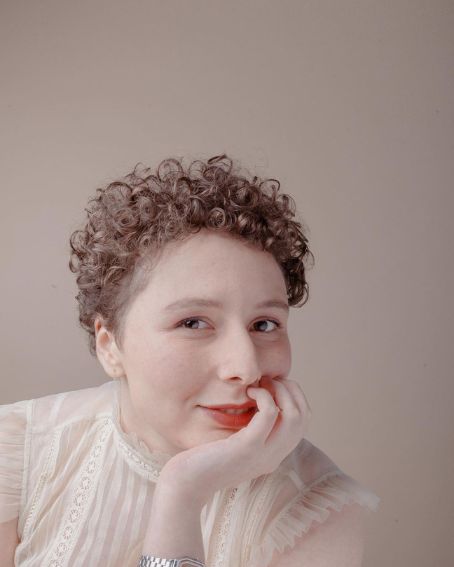 This super short and curly pixie is great for ladies with oval faces who require a manageable, simple yet bold haircut. Curly on the full of the head gives you a neat and smart look. 
13. Asymmetrical Pixie Cut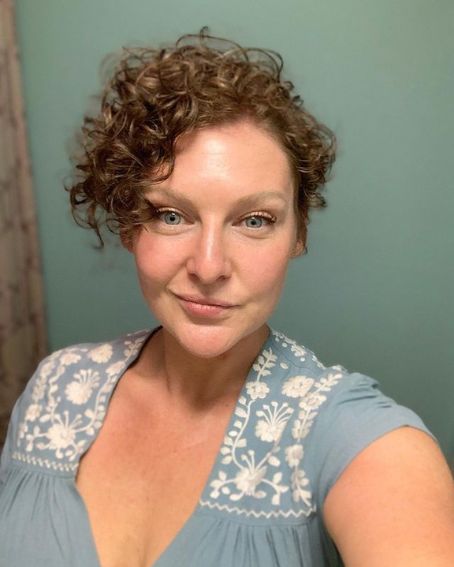 An asymmetrical pixie cut for curly hair is a chic option for women. In this style, pixie combined with messy curly creates a fuller look and also suits for thin curly hair. It has several layers to make a perfect as well as full style.
14. Red Curly Pixie Cut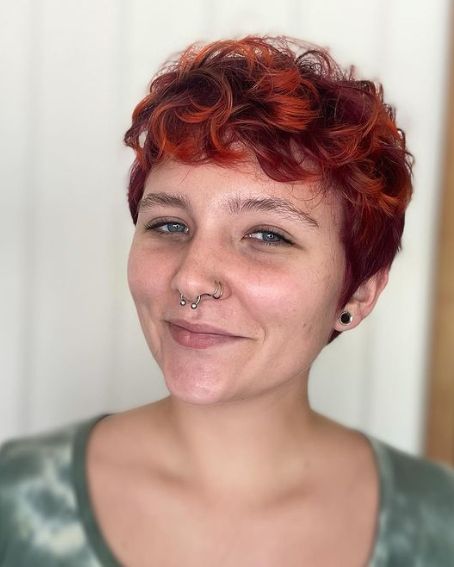 Here is an orange shade curly pixie cut for you to try out. Girls with brown skin tones will have tons of fun playing with this color. A soft curl on the top renders a rich look with mesmerizing appearance.
15. Curly Layered Pixie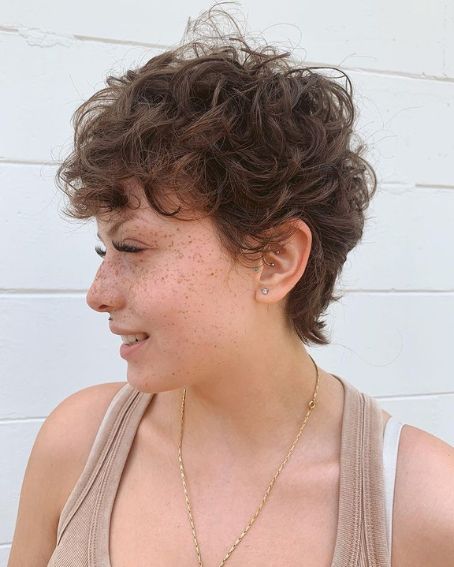 Messy and layers hairstyles go hand in hand when it comes to slaying looks. Layered hair mostly has a lightweight and unique texture. No matter what kind of pixie cut and types of layers you have, get yourself with some messy vibes and see the look amp up.
16. Pixie Cut Curly Loose Pompadour Hair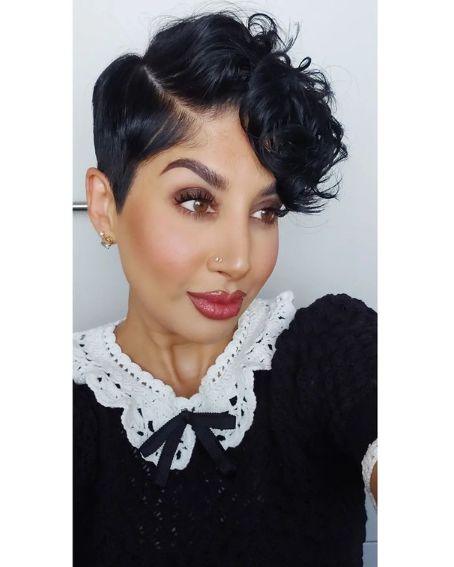 Another retro pixie style is said to be a pixie cut curly loose pompadour hairstyle. This is a loose version that looks very natural and it can flawlessly work for both casual and formal occasions.
17. Full On Top Pixie Curly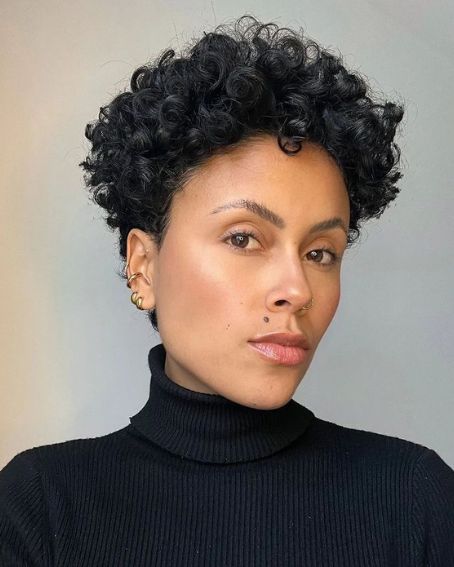 Black women are born with gorgeous curls, but they want even more curly with a pixie cut. This full-on top pixie curly looks more professional yet chic and fun at the same time. 
18. Curly Hair Pixie Bob Cut
This curly hair pixie bob haircut is modern and also appropriate for women of all ages. For this superb style, you need to have some specified length of hair. If you have, then try it to get a rock'n'roll glam.
You Might Also Like: