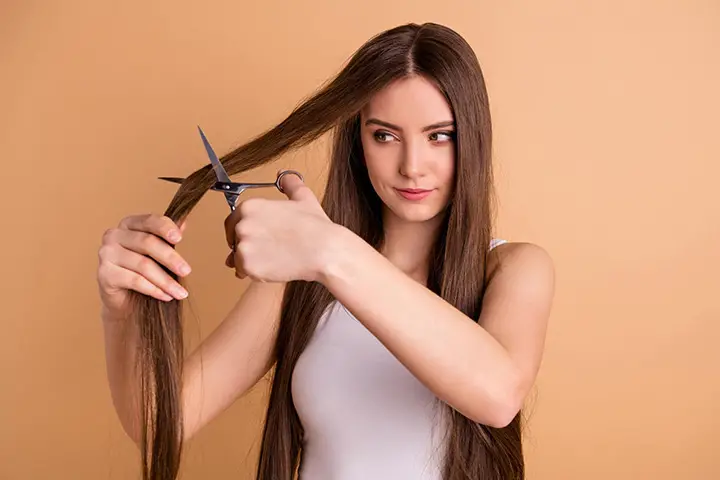 Cutting hair at home is interesting but requires some tricks to get it done well like a professional hairdresser. This is especially important during these times of lockdown when desperately need a haircut and want to try it at home. Let us see the process to get the best haircuts at home.
Steps for Cutting Hair at Home Like a Pro:
1. Gather All the Tools First:
This might sound very simple but it is the basic, yet most important thing to get started. The tools include sharp scissors; a wide-tooth comb for those having curly hair, and a fine one for those having straight hair; some clips to divide the hair into sections and ensure precision while cutting; a towel and a spray bottle.
2. Decide the Hairstyle:
Not all hairstyles suit every type of face and body so it is important to know what looks best on you first. Always make sure to cut less than the length you have in mind to ensure that you can still make rectification in case anything goes wrong.
[ Read: Benefits of Flaxseeds For Hair ]
3. Shortening a Non-Layered Ponytail:
This is suitable when you don't have layers. First, the hair needs to be combed well to remove all knots. Also, lean over and comb it from back to front and tie it to a ponytail. With a ruler, decide the length you need. Using your fingers or some hair clip, trim it off to the desired length using scissors. Avoid blunt edges by using the pointcut method to remove the dry ends. You can even give it a horizontal cut.
Shortening Layered Hair: Comb well to make the hair knot-free. Begin with the font later. Section it and twist it to create a natural outcome. With fingers, pinch the hair to the desired length and trim it off with scissors.
To Get a Softer Finish and Blunt Edges: Cutting vertically will help in getting a softer finish while doing it horizontally results in blunt edges. Recreate a natural effect with the help of scissors at an angle as well as cutting the twisted hair.
4. Cutting Small Sections of Hair:
Divide the hair into sections based on the layers it already has and cut them at an angle.
5. Remove the Split Ends
After completing the front section, check the split ends, and less layered sections. Point cut the ends pointing down to the floor, to remove the split ends.
[ Read: Home Remedies for Damaged Hair ]
6. For Cutting Bangs:
These look great on some faces but it is difficult to get a good bang when you are doing it at home. First section the hair into 3 parts. Clip the sides to the back but twist the front and point cut to get a natural shape. Then finish it off by unclipping the remaining part and leveling them as you want.
Tips to Follow for a Better Outcome:
Your hair texture will determine if the hair needs to be dry or wet while cutting it.
Use hair clips that remain intact without slipping.
Use a hair straightener to get smoother hair so that you can get the accurate hair length at the end.
Get a comb with double edges, i.e with fine as well as wide teeth.
Never use blunt scissors.
Cutting the hair like a pro comes with practice, so it is recommended to start with simple cuts first. You can also check out different videos on YouTube to visualize how it can be done perfectly. Gradually after some practice, you can make it like a pro.
You Might Also Like: