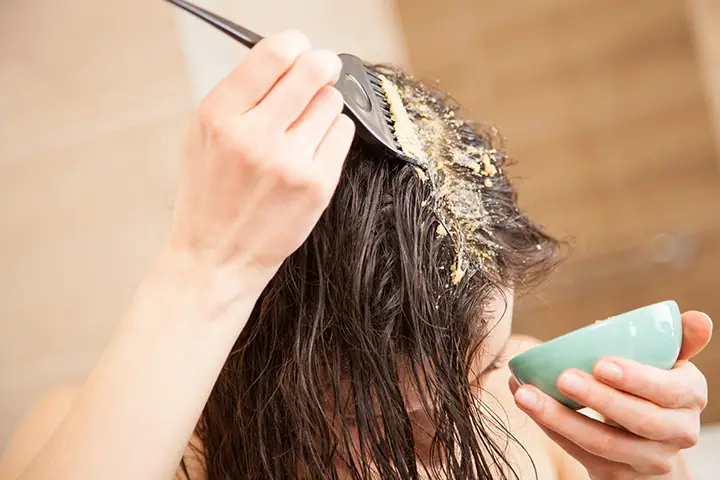 Flaxseeds have long been known as a super food that has numerous health benefits. Among these, one is hair growth. Since it is loaded with nutrients, taking them regularly, or using flaxseed gel or oil nourishes the hair and keeps them strong and smooth. We will learn its benefits on hair more elaborately along with ways of using it in the next section.
Benefits of Flaxseeds for Hair:
The advantages that flax seeds have on hair are explained under the following points:
1. Prevents Brittle Hair:
The elasticity of hair strands is increased because of the nutrients in flax seeds. So you can apply it topically or consume it to experience significant outcomes.
2. Healthy Scalp:
Vitamin B, magnesium, selenium, copper, and manganese in flax seeds helps in making the scalp healthy. This promotes hair growth and makes them stronger.
3. Hair Conditioning:
Hair becomes manageable and smooth by taking flax seed. They remain moisturized which prevents frizz, dryness, split ends, and breakage.
4. Balances The pH Levels of The Scalp:
Flaxseed does this besides balancing the production of oil which has a direct impact on hair growth.
[ Read: Coconut oil for Hair – Benefits & Uses ]
5. Gluten Free Protein Source:
Since flaxseed is a good source of protein that is gluten-free as well as vegan or vegetarian, consuming them enhances the protein intake in diet which results in stronger hair.
6. Prevents Hair Loss:
Vitamin B includes riboflavin, vitamin B12, folate, and biotin which is found in flaxseed. It also has niacin, pyridoxine, pantothenic acid, and folic acid. Vitamin B deficiency results in loss of hair but since flaxseed is rich in this vitamin, daily consumption prevents loss of hair.
7. Better Texture of Hair:
Flaxseed is rich in short-chain omega 3 fatty acids, mainly alpha-linolenic acid that is crucial for the hair follicles' health. This enhances the elasticity of hair fiber, prevents thinning, and prevents breakage besides keeping them strong and making them appear shiny. Also, dry scalp and dandruff are prevented.
8. Prevents Free Radical Damage and Split Ends:
Flaxseed has vitamin E which reduces free radical damage and enhances blood circulation in the scalp. This also keeps the hair roots nourished and moisturized, preventing split ends, when combined with a healthy diet and a hair care routine.
[ Read: How to Use Castor oil for Hair Growth ]
9. Prevents Premature Greying:
Proteins, minerals, and vitamin B in flax seeds prevent greying of hair prematurely. Taking a spoonful of it every day helps in achieving this.
Using Flaxseeds for Hair:
Flaxseed is a good source of soluble and insoluble fibers that aid in hair growth and prevents them from breaking. It can be consumed, or used in form of gel and oil, as mentioned below:
1. Flaxseed Hair oil:
For using flaxseed oil, take 2 tsp of it and warm it to massage on the scalp using fingertips. Then wrap the hair with a hot damp towel after discarding the excess water.
This should be left wrapped for 30 minutes so that the oil can seep deep into the follicles. After this, you can wash it with a mild shampoo.
This needs to be repeated twice or thrice a week to experience better outcomes.
[ Read: How to Get Thick Hair Naturally at Home ]
2. Flaxseed Hair Mask:
Flaxseeds are the one-stop solution for various hair problems. Using flaxseed oil or gel regularly can be beneficial but besides this, a hair mask can also be made using the seeds.
For this, take 1/4th cup of the seed and mix it with 2 cups of water for enhancing the quantity based on your hair length. This mixture needs to be boiled till white froth appears and the mixture thickens.
Strain this and let it cool. Take 1/4th of the cooled-down mixture and refrigerate the remaining. To this add heated coconut oil and lavender oil and apply on the hair strands.
Let it remain for 2-3 hours before washing it off using a mild shampoo or conditioner so that it gets absorbed well. Using this twice a week can give amazing results.
[ Read: Homemade Castor oil Hair Mask Recipes ]
3. Flaxseeds Hair Gel:
To make it at home you need 1/4th cup of flaxseeds, 2 cups of water with a tbsp of lemon juice. The water and flax seeds need to be boiled till it thickens after which you need to add the lemon juice and stir it. Turn off the gas once the mixture attains a gel-like consistency.
Let it cool and strain it. Store it in a jar and use it for styling your hair every day. For enhancing hair growth, it can be used as a topical treatment on the scalp. This has to be repeated daily.
It is not harmful since the natural mixture doesn't result in any product build-up on the scalp and results in healthy hair growth.
4. Adding Flaxseeds to Your Diet:
This helps in hair growth. You can eat them raw, or ground them to take with oatmeal, soup, smoothies, cookies, muffins, or milk. Make sure to store the ground flaxseeds in an air-tight container to keep them safe.
Besides this, you can take it with yogurt too. For this take a cup of low-fat yogurt, some chopped strawberries, blueberries and 2 tbsp of ground flax seeds, and some cinnamon powder. All these need to be mixed in a bowl and served. It has amazing health benefits besides the great effects on hair.
Final Words:
Preventing the hair problems and making them stronger or enhancing their texture can be done easily at home by following the natural ways like using flaxseeds as discussed above. It is always better to opt for such natural ways rather than relying on store-bought chemical products as they cause long-term negative effects on the hair.
You won't be witnessing results overnight with natural ways but if you follow them consistently, the results will be overwhelming, and that too without any chance of side effects. Incorporating healthy eating habits along with natural hair care practices can result in best outcomes.
You Might Also Like