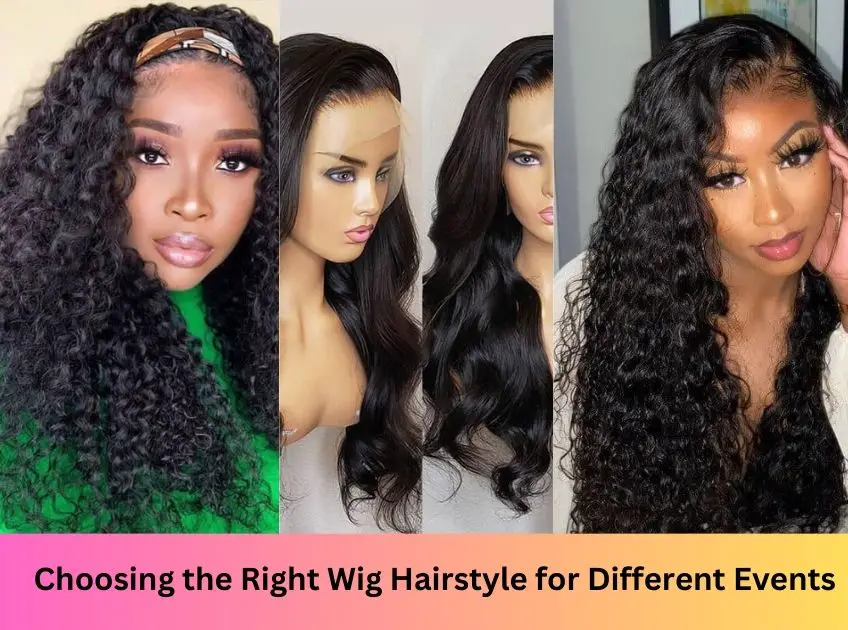 For hundreds of years, wigs have saved the day for many women. Gone are the days when people ditch pop-up events because they couldn't make it to the salon.
These days, you can look stunning in minutes by simply throwing on a wig. There is a wide variety of human hair wig hairstyles you can choose from (long, short, neutral, colored, straight, curly, etc. ).
Human hair wigs can immediately sophisticate your appearance, but what kind of wigs will be the most appropriate for your event?
Choosing the right wig hairstyle for different events goes beyond picking any wig. There are factors you need to consider.
In this article, you will learn:
a. Tips for choosing the right wig hairstyle.
b. The best wig hairstyle for your event.
Smart Tips for Choosing the Right Wig Hairstyle for Different Events
There are a couple of things to consider when choosing a wig hairstyle for your event. Let's take a look at them.
Best Wig Hairstyles For Different Events?
That is the first thing to consider before picking a wig for your event. The nature of the event will give you an idea of how you should look.
Your wig is a part of your dressing. You don't want to stick out unnecessarily by over-dressing or covered in the background by under-dressing.
To blend in perfectly, first, find out the nature of the event. Read your invite carefully and pay attention to the tone of the sender.
You can do a quick Google search if you are unsure of the event's nature,
Let's look at the best wig hairstyles for different events.
Best Wig Hairstyles for Parties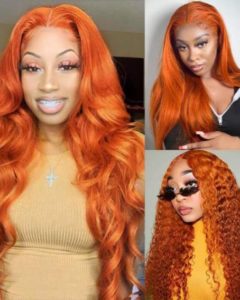 There are wig hairstyles that work for parties. How can you select a wig for a party?
Since it is a party, you will want a wig that falls into this category.
You want to select a wig that makes a statement. Depending on the kind of party, this is the time to try colored wigs.
You want to wear a wig different from what you would wear. If you often wear a ponytail, this is the time to let your hair down. A bone straight wig, wigs with bangs, or a body wave will work perfectly.
Comfort is another thing to consider when choosing a wig for a party event. You will likely dance and move around in a party.
So, you want a wig that won't shift or pull out easily. Wigs with tight-fitting caps will work better. 360 frontal wig may not work if you are going to sweat and dance.
Best Wigs for corporate events/Business Meetings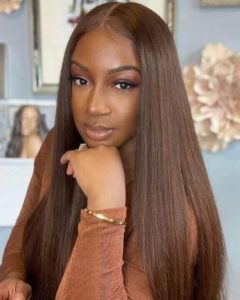 You need a simple yet sophisticated wig hairstyle to look pulled together for work/ business. You want to choose a wig hairstyle to help you stay polished and professional all day.
You can't go wrong with a messy bun, ponytail, French twist, or braids. These hairstyles don't require frequent adjustments.
A bone straight, body wave or braided wig will work perfectly. You can style your wig in minutes with a few hair pins, ruffles, etc.
You don't need to wake up extra early to style any of these wigs.
Best Wig Hairstyles for Casual Outings/Weekends
You don't want to spend all your time installing a wig for a casual outing with your friend/family. You want an effortlessly beautiful wig that you can wear in minutes.
A curly wig is perfect for this kind of event. A side/center part wig works great because you can sweep it to the side to achieve that playful-pretty girl look.
Best Wig Hairstyles for Date Nights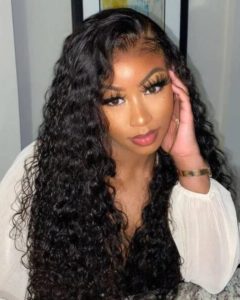 You want to choose a wig hairstyle that reveals your beautiful face shape. The HD lace wig works well for a date night because it matches any skin tone. You can expose your hairline without looking bare.
You can also put the frontal wig in a bun or ponytail while leaving some curls from the sides. You can achieve this with a straight or curly wig hairstyle.
Best Wig Hairstyles for Wedding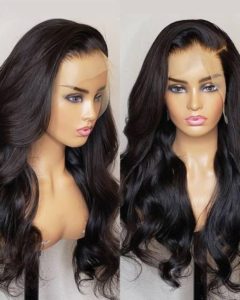 Your wedding day is one of the most critical days in a woman's life, so you want to look perfect. Choosing the best wig hairstyle for your day is the way to go.
You want to choose a wig you can style – a long wig works. A body wave wig has a natural wavy look for an elegant and stylish look.
When choosing a wig for your wedding, you don't want everyone to know you are wearing a wig. It is best to pick an HD lace wig.
The HD wig suits all skin types, melts into your skin, and gives you the perfect hairline that will flatter your natural beauty.
Best Wig Hairstyles to Wear While Travelling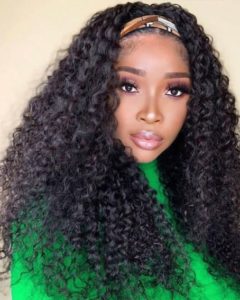 When traveling or on a vacation, you need a wig that will give you zero stress. You don't want to spend hours installing your hair – Doesn't it defeat the essence of relaxation?
You want to choose a wig that is easy to wear. A wig that you can just wear and go with little styling or maintenance. The headband wig works perfectly for a travel event.
You need just a few clips and changing headbands to give it a different look.
What is Your Face Shape?
Your face shape largely determines the kind of wig hairstyle you should wear. Different wig hairstyles flatter different face shapes.
Let's look at the best hairstyles for different kinds of face shapes.
Wig Hairstyles for Round Face
If you have a round face, you should choose a wig hairstyle that will reduce width and add more length to your face.
Center/side part long straight wigs and side curtain bangs are excellent choices for people with round faces.
Wig Hairstyles for Oblong Face
The best wig hairstyles for people with oblong faces are wig hairstyles that reduce the length of their faces. Wigs with bangs, short body waves, and neck-length curly wigs will flatter your face length.
Wig Hairstyles for Square Face
Wig hairstyles that cover the jawline and the forehead will work best for someone with a square-shaped face. Side/center part curly wigs, long curly wigs with bangs, side swept wigs with bangs, and curtain bangs.
Wig Hairstyles for V-Shaped Face
You want to choose hairstyles that will add volume to your chin. A neck-length curly wig, side swept bone straight wig, and short body wave wig will work for people with V-shaped faces.
Final Thoughts
Wig hairstyles can significantly complete your dressing. A nice outfit is incomplete without nice hair.
You don't just want to complete your outfit with any wig. You want a wig hairstyle that makes you look standout. Consider other factors like – your style, hair color, and comfort.
You want to look beautiful, but your comfort matters too.
Related Articles: