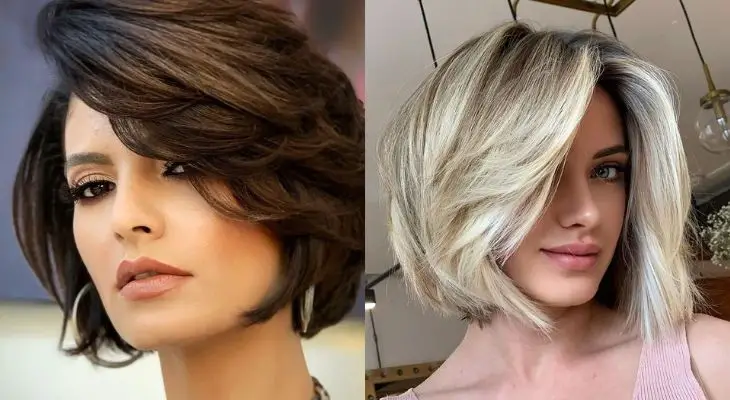 Angled bob hairstyles have made a big comeback and it works well for lots of hair types. Luckily, through this haircut, you can get countless styling options. Although an angled bob is one of the wonderful haircuts, there is still a plethora of ways to put an interesting style on this newfound classic cut. Angled bob is like a forward haircut, shorter in the back and longer length in the front which gives it an angled appearance. There are numerous types of angled bobs is available to choose from. The most common styles are inverted, asymmetrical, choppy, and more. Here, presented some of the popular trends in angular bob through which you can pick which style you want.
18 A Cute & Inspiring Angled Bob Hairstyles
1. Blonde Angled Bob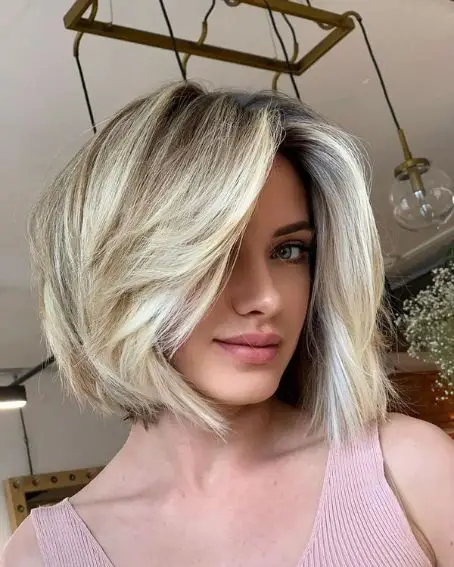 Doing a haircut few inches down reveals this angled bob's impressive versatility. Bob looks absolutely awesome with the straight hair. This blond angled bob will look great on you and should know a chic bob needs good styling with a blow dryer and flat iron.
2. Black Stacked Angled Bob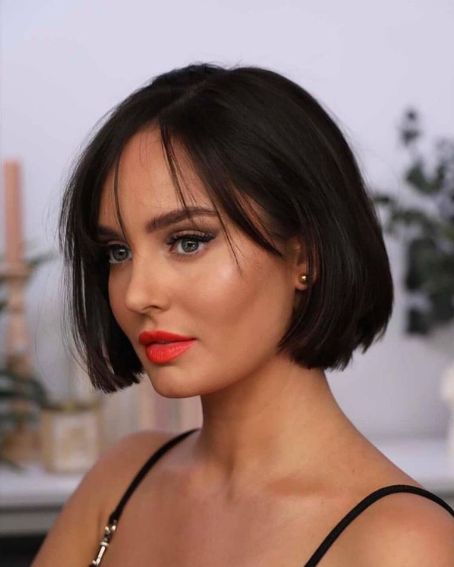 If you have a round face, you will surely love black stacked angled bob which makes them look narrower. Keep up to the chin length with a stunning outfit to get a ravishing view.
3. Creative Bob With Blonde Highlights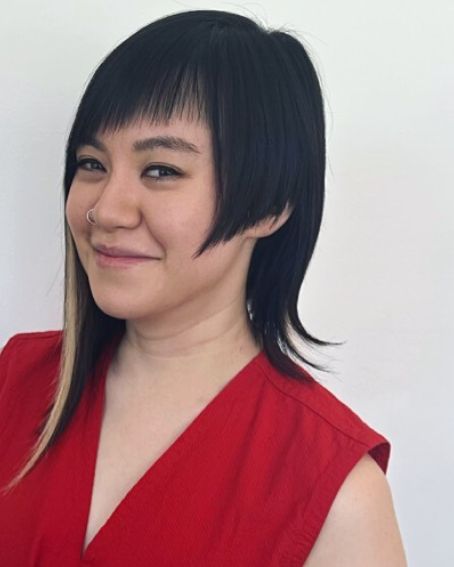 Don't want to compromise the trend and style, then you must choose a creative bob with blonde highlights. Long hair on the back, short hair on one side in front, and blonde highlights on another front side sustain its gorgeous look.
4. Salt And Pepper Bob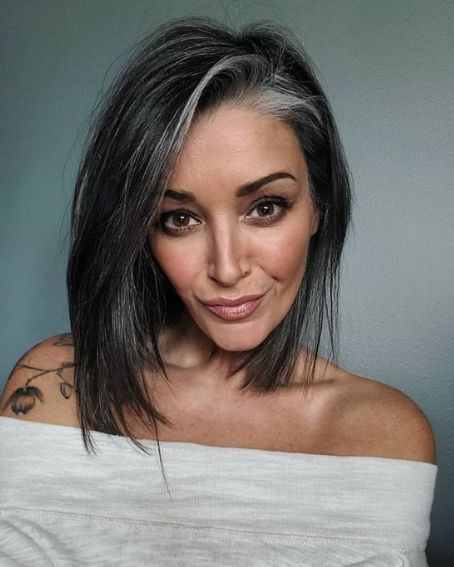 This mesmerizing feminine appearance is ideal for parties. Balayage does a fantastic job in bringing out the hair textures as well as the movement of the long angled bob with pretty loose waves. Salt and pepper bob works well on both medium and fine hair.
5. Asymmetrical Bob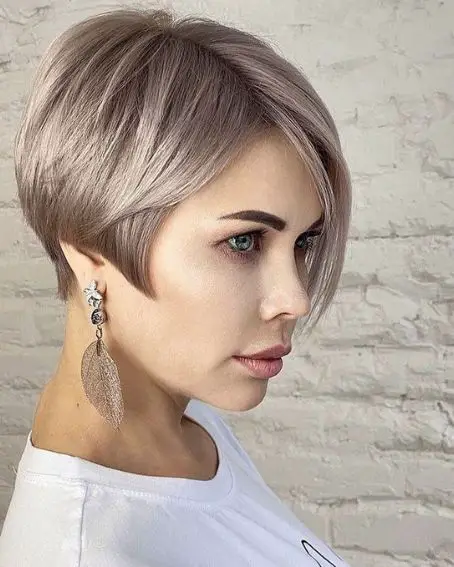 Brighten the natural black with a silver shade. The cool blonde highlights enhance the glam factor of the angled bob hairstyle, while some tresses behind the ear draw attention to the facial features.
6. Sleek And Shiny Angled Bob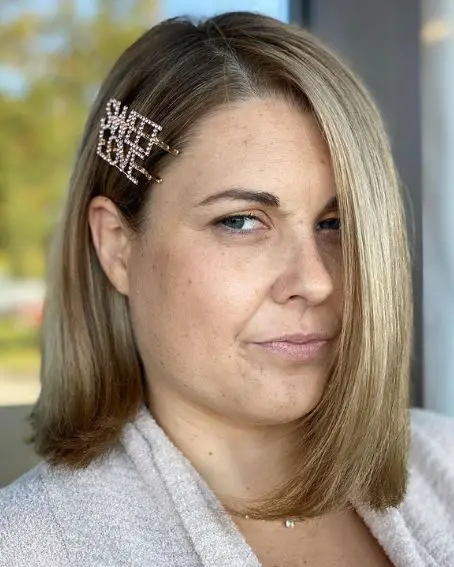 The sleek and shiny angled bob is one of the famous hairstyles, in this bob haircut, the sharp line in which is an all-time classic. A blunt bob like this is the perfect choice for women who have thick hair.
7. Soft Angled Bob With Fringe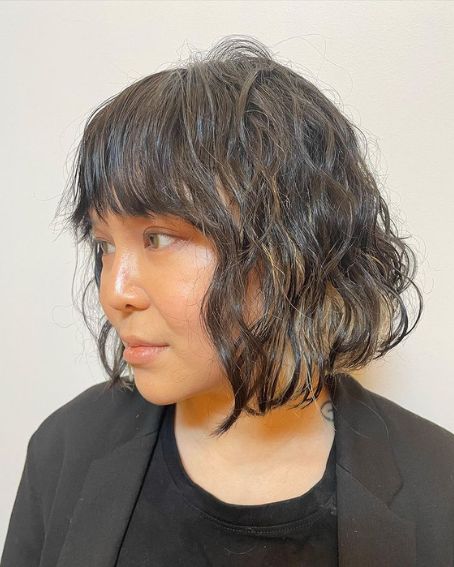 A super sexy and soft-cut angled bob with a fringe. Angled bob looks are outstanding and beautiful on women with naturally straight and fine hair. The wavy texture soft bob is adorable which is going to leave the feeling flirty all day long. 
8. Messy Layered Bob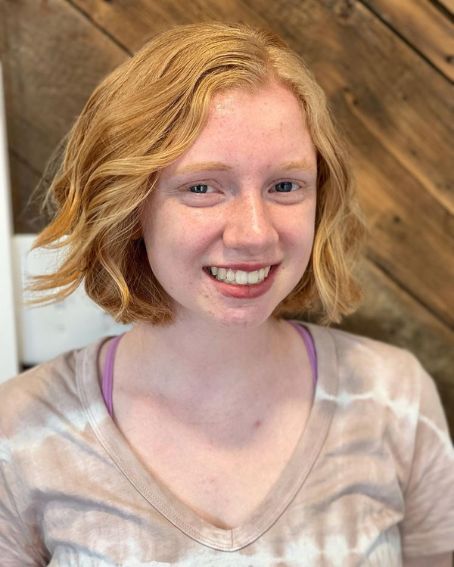 Angled bob with messy layers might be what you have been looking for if you find difficulties bestowing your fine hair volume. In order to get the best result, make your angled bob with a slightly messy style.
[ Read: Layered Bob Hairstyles ]
9. Inverted Bob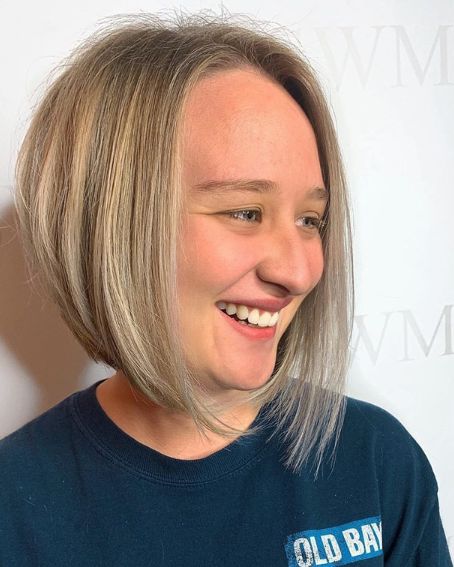 An inverted bob is a splendid haircut for women who need a more dynamic, gorgeous, and also sharp-looking hairstyle. This angled inverted bob gives you a classic and elegant look. 
10. Long Asymmetrical Bob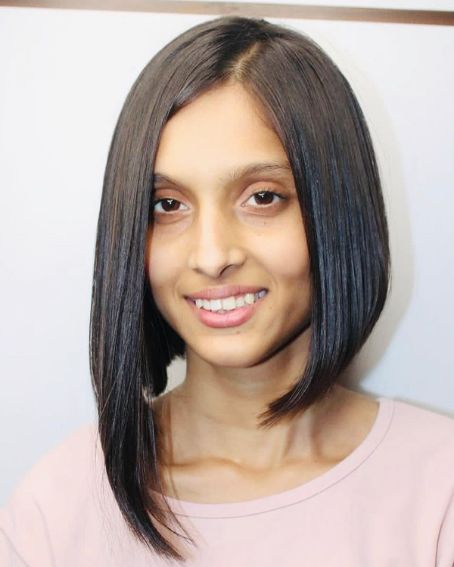 The long asymmetrical bob is totally back in style. If women exploring ways to spice up the hairstyle for summer, don't search more, this asymmetrical bob style is the epitome of chic with a sharp edge.
11. Choppy Bob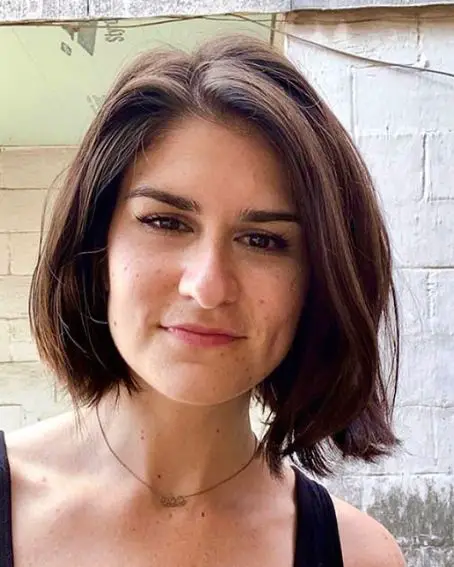 Making a decision to commit to a choppy bob is an easy, uncomplicated, and smart one. It is a fancy way of saying to medium long hair, don't care. A choppy bob is a cute haircut with a laid-back attitude. 
12. Copper Shade Angled Bob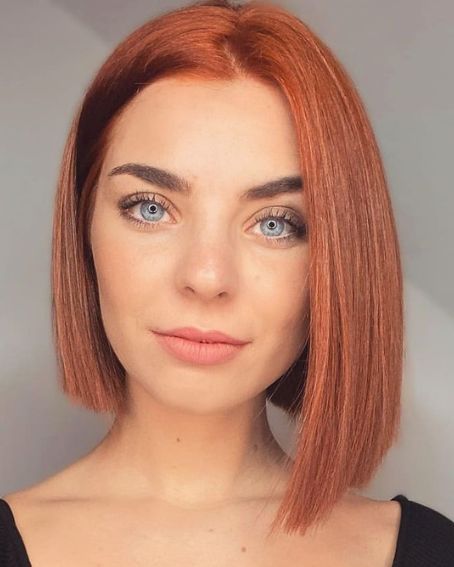 Copper and orange shade angled bob is an amazing trends hairstyle, that most girls trying nowadays. This elegant-looking hairstyle will always make you feel happier and suits for casual parties.
13. Balayage Bob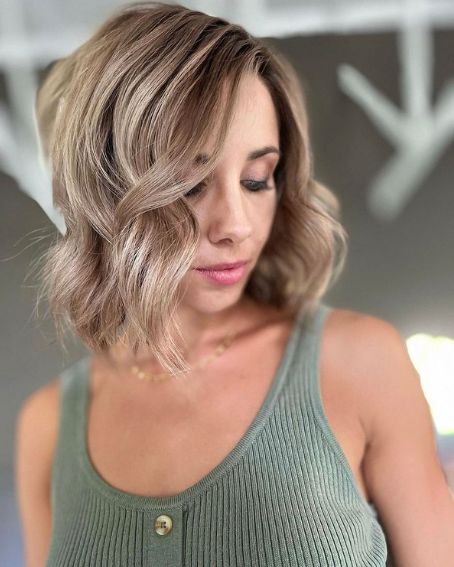 Balayage in the bob look less stripy than the past highlights and it offers the same gorgeous dimension as well as fun shade to your hair. 
14. Vivid Red Angled Bob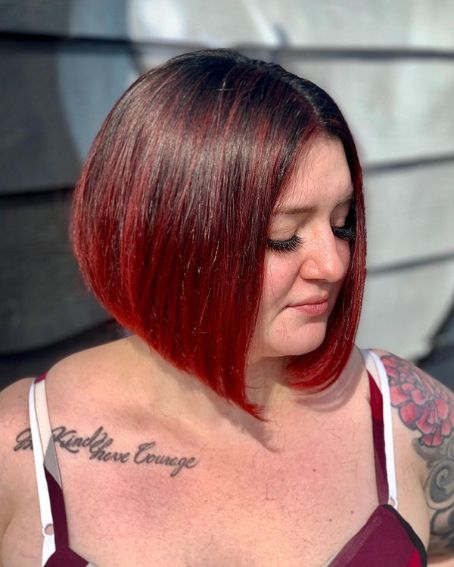 This is definitely a quirky and flirty angled bob. The vivid red angled bob is a versatile style that is perfect for a night out or everyday look. The fall in this hairstyle is very soft and effortless to do it.
15. Honey Curly Bouncy Bob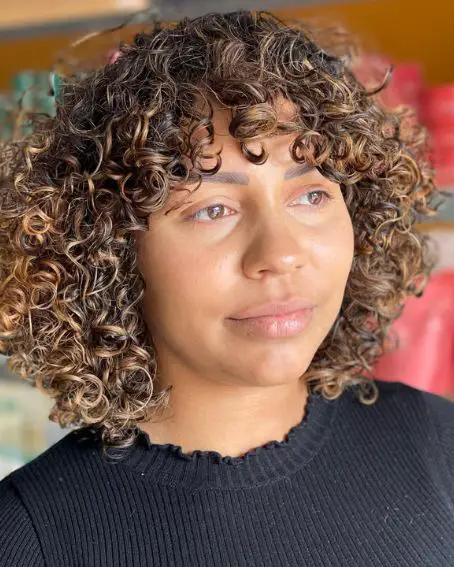 Honey curly bouncy bob is an eye-catching hairstyle. You can never go disappointed with this bob and it will fill all types of faces. This incredible haircut can be created in different ways with the proper product.
16. Angled Bob With Side Swept Bang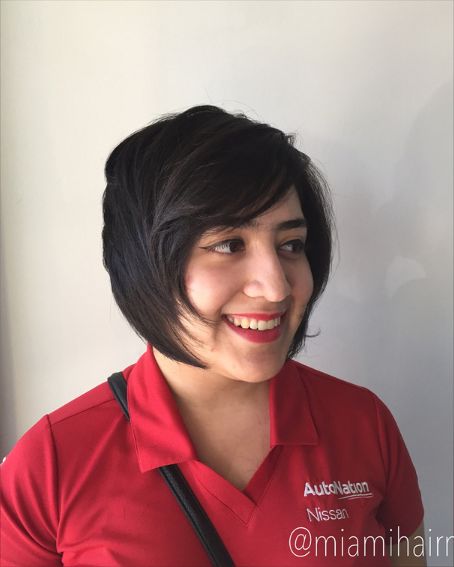 This impressive angled bob with side swept bang is for all women, don't mind about your hair texture or age. It is a low-maintenance style and absolutely gives a timeless look.
17. Purple Angled Bob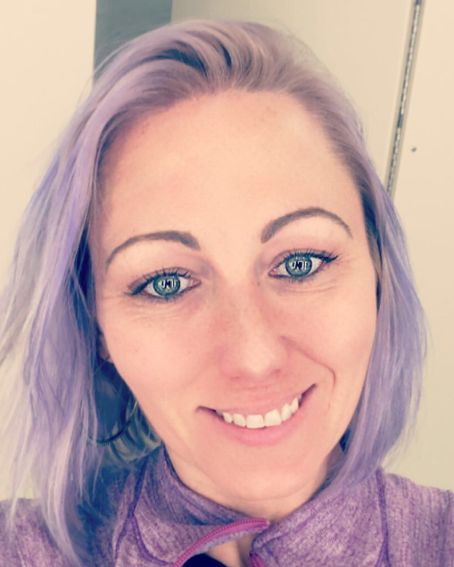 If you are one who likes to try a different color than standard red, brown, and white? You give preference to purple angled bob, this purple on the bob is very attractive and can be worn by ladies with wavy, curly, or straight hair.
18. Feather Cut Angled Bob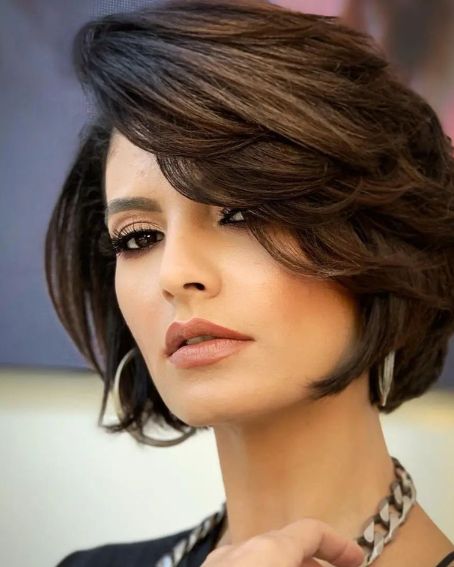 With this style, you can prepare to style your hair daily. Step-by-step cut gives an extraordinary view to this hairstyle. Feathered texture adds an even more incredible and wonderful look to the face.
Best Styling Products For Bob Haircuts
You Might Also Like: