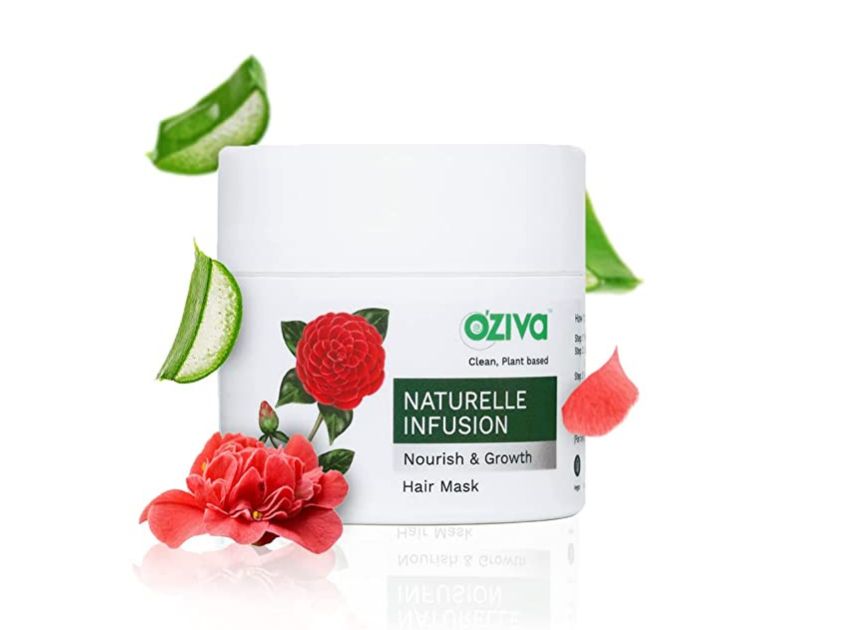 Having lustrous locks enhances the personality. If the hair are healthy, you can style them the way you want or flaunt them with an open hair style. In the quest for getting healthy hair we often end up using multiple hair care products that do more harm than help. Most of hair care products consist of chemicals that may make the hair look soft and smooth initially but over time, the hair strands lose their porosity, becoming dry and brittle.
If you also use different hair care products, we are going to unveil a hair mask from Oziva. The Naturelle Infusion Nourish & Growth Hair Mask from Oziva is believed to control the damage and provide nourishment to the hair.
Let's check out its ingredients and understand how effective it could be.
Product Review
Oziva Oziva Naturelle Infusion Nourish & Growth Hair Mask is one of a kind of hair mask as it comprises some powerful nature's ingredients like Millet Seed Extract that helps in hair restoration, Tiare Flower Extract that cleanses the scalp, Horsetail Extract that tones the hair texture and strengthens the hair follicles and Cedarwood Oil that improves hair growth. Additionally, Rosemary oil promotes healthy hair growth.
Since the components are plant-based and there are no chemicals, the chances of side-effects reduce to zero. The use of Oziva hair mask provides conditioning of hair, adding moisture, shine and strength to them.
All this make this hair mask worth trying and we believe it will add to the strength and shine of the hair.
Product Description
Oziva Naturelle Infusion Nourish & Growth Hair Mask consists goodness of more than 11 plant-based ingredients that are beneficial for dry and frizzy hair. It helps to improve scalp's and hair health by providing deep nourishment. The best thing about the product is it controls frizz by increasing the hair hydration.
It is suitable for all hair types. To use Oziva's hair mask, you need to wet your hair followed by parting them hair into two halves. Now scoop out spoonful hair mask on the palm and apply it generously over the wet hair and scalp. Let the mask stay on hair for at least 10 to 15 minutes and rinse it with lukewarm water and supfate-free shampoo.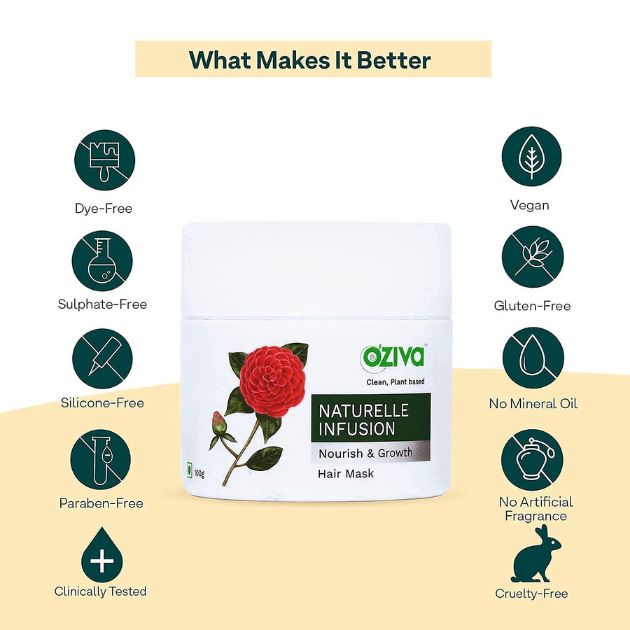 Nutrition Facts
The two blends that make Oziva Naturelle Infusion Nourish & Growth Hair Mask excellent for hair are-
Hair Nutrition blend- It consists extracts from aloe vera and camellia that furnish the requirement of Provitamin B5 (Panthenol) for hair growth.
Shine & Protect Blend- The extracts of Tiare Flower along with rosemary oil and shikakai meet all the nutritional needs of the hair.
What We Like
It is a vegan product and certified by the Vegan Society of the UK.
It is a non-GMO product.
It is Sulphate-Free, Paraben-Free and does not contain any artificial fragrance.
All the ingredients are plant-based and free of dye and silicon.

What We Don't Like
To get the result of this amazing hair mask from Oziva, you need to use it at least once or twice in a week for three to four months. The effect will be evident in a single use, however, to maintain hair health and provide deep nourishment, a regular use is a must.
How Much Does Oziva Naturelle Infusion Nourish & Growth Hair Mask Cost?
While the regular price of the product is Rs 499, you can buy it at a discounted price of Rs 484. Always buy Oziva's products from its official website or some trusted source like website so enure getting it at a discounted price.
Alternative Products
Conclusion
Hair masks enhance the hair quality. With a regular use, they provide deep nourishment to hair, making them healthier and shiner. Although there are plenty of hair masks available in the market, you can choose Oziva Oziva Naturelle Infusion Nourish & Growth Hair Mask as it consists of 100% natural and plant-based ingredients, making them highly effective for hair growth and health.
Read More