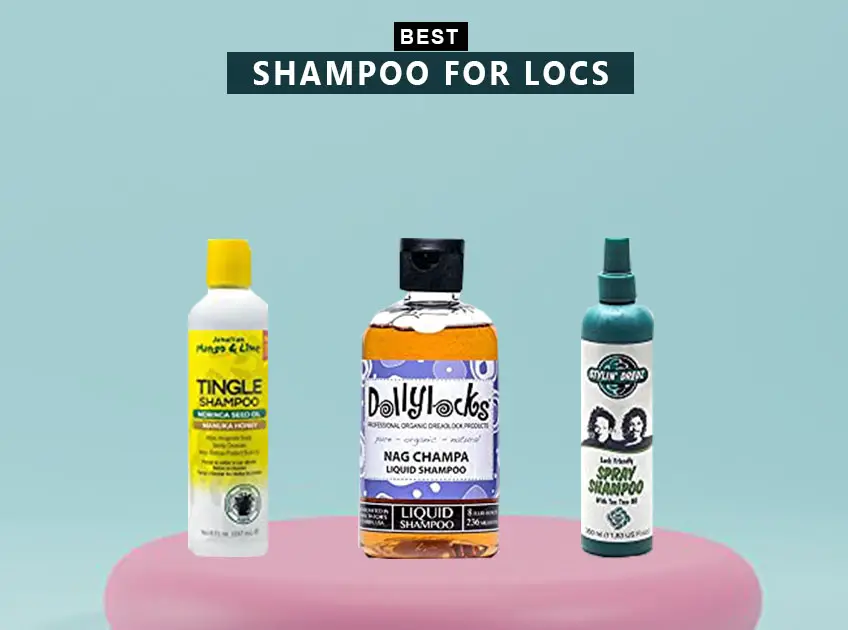 Even though locs- dreadlocks and sisterlocks look classy and stylish, giving you a statement look, maintaining them takes a toll. Locs call for special care and attention all the time to make them eye-catching and healthy looking. Therefore, using the best shampoo for locs is essential.
Different brands formulate shampoos for locs that are highly beneficial. These shampoos are infused with hair-nourishing ingredients that maintain hair health. Moreover, unlike regular shampoos, shampoos for locs clean any build-up residue and even help tighten the locs and keep the style intact.
Shampoo For Locs
If you are planning to carry on with locs hairstyle, you need to be mindful while choosing your shampoo. It needs to be free of harsh chemicals like sulfate and parabens. At the same time, they should not make the scalp greasy and oily.
Here we have curated a list of the 7 best shampoos for locs that are infused with plant extracts, delivering their benefits to your locs. Check them out and say goodbye to some common hair issues with locs, such as dandruff and itching.
7 Best Shampoo For Locs
1. Best Gentle Formula: Jamaican Mango & Lime Tingle Shampoo
The 3-in-1 formula that cleanses hair massages the scalp and removes build-up
Contains antibacterial and antioxidant ingredients
Leaves hair smelling fresh with mango and lime extracts
Stays gentle on the scalp and helps give well-groomed and healthy hair
Deeply nourishes hair and gently cleanses it
What We Don't Like: It doesn't lather too much. Also, it may cause a tingling sensation on the scalp.
[ Read: 7 Best Shampoos for Sisterlocks ]
2. Best For Colored Hair: Dollylocks Nag Champa Liquid Shampoo
It is made with pure and organic botanical extracts.
Cleanses hair and scalp without leaving behind any residue
Contains coconut oil that gently nourishes hair without stripping away its natural oils
Works well for color-treated hair
Residue-free shampoo, effective and leaves scalp feeling refreshed and invigorated
Lightweight formula gives you shiny, healthy dreads
What We Don't Like: It is slightly greasy.
3. Best For All Hair Types: Knatty Dread Loc Shampoo
Suitable for all hair types and hair textures
Contains coconut extracts for deep nourishment and conditioning of hair strands
Reduces the drying time after washing
Does not leave behind any residue
Fragrance-free and used before styling the dreads
Leaves hair looking clean and healthy
It helps tightens dreadlocks
It is residue and fragrance-free
What We Don't Like: It does not reduce frizz.
4. Best For Sensitive Scalp: Dollylocks Tea Tree Spearmint Liquid Shampoo
Formulated for sensitive skin
Made with natural organic ingredients that are hypoallergenic
Lightweight shampoo that balances the pH of the scalp
Gently cleanses away all the dirt and grime
The presence of coconut oil leaves hair feeling soft and conditioned
Does not leave behind any residue or build-up
What We Don't Like: It is expensive.
[ Read: How to Detox Your Scalp for Healthy Hair at Home ]
5. For Styling the Locs: Stylin' Dredz Spray Lock Friendly Spray Shampoo
Contains tea tree oil
Gently cleanses hair without leaving behind any residue or build-up
Formulated with foaming agents that help in maintaining the locs
Creates a thick lather that cleanses hair without detangling
Removes any build-up, leaving locks looking soft and shiny
Helps in reducing itching and eliminating dandruff
What We Don't Like: It may dry out the hair.
6. Best For Hair Breakage: Dread Head HQ Earth Locks Organic Dread Shampoo
Moisturizes the locs, leaving them soft, shiny, and healthy
Do not dry out the hair or make it brittle
Protects hair from breaking easily
Does not leave locs sticky or greasy
Repairs matted hair and prevent hair breakage
It is non-greasy and fragrance-free
What We Don't Like: It contains a few harsh chemicals.
[ Read: How To Fix Hair Breakage On Top Of Head ]
7. Best Biodegradable: Knotty Boy Dreadlock Shampoo
All-natural shampoo for locs
Keeps the locs clean and smelling great
Infused with moisturizing saponified oils such as olive oil, castor oil, and hemp seed oil
Also contains essential oils of tea tree, peppermint, rosemary, and cannabis
Imparts a slight tingling sensation
Refreshes the locs and cleanses the scalp thoroughly
Also, it conditions and softens the dreads
What We Don't Like: It is pricey.
Conclusion
So, these are some of the most effective and best shampoos for locs that can help manage them effectively without disturbing their style and health. If you were using regular shampoos for locs, it's high time you should shift to these best shampoos for dreadlocks and stay stylish.
You Might Also Like: