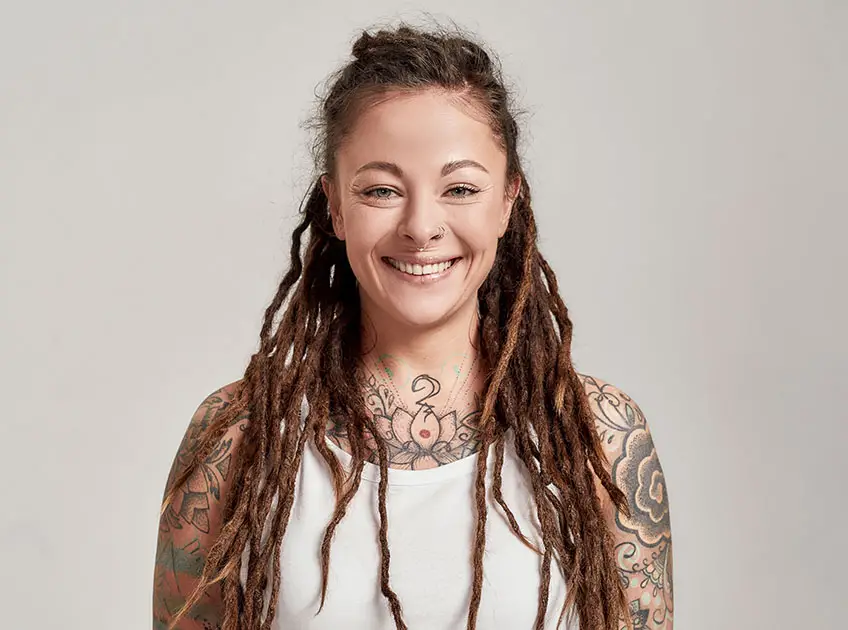 Most people don't have knowledge of what is dread and locs hairstyle. Even if they know, they may think that both are the same styles. But this is wrong, both dread and locs are different hairstyles which are created by sculpting the hair into ropes. These styles are highly used by the people who live in Africa. The history of several different hairstyles spreads multiples cultures over thousands of years. Your hairstyle is not only a fashion statement but also tells about who you are as well as where are you from. Knowing the dread and locs difference is not just about how they look like, it also contains some meaning and culture of origin behind it.
Heard Of Dread And Locs Hairstyle
What Is Meant By Dreads And How It Was Introduced?
Dreadlocks have a large-scale history in plenty of cultures. American culture has mistaken the word "dread" and they have taken the meaning as dangerous, but people who wear this dreadlocks hairstyle in other cultures are considered as warriors. When enslaved people were traveled overseas from Africa, that time they cannot able to care for their hair. Due to this problem, natural locs hairstyle came to save their hair. Dreads refer to a pretty hairstyle that can be made by chiseling a person's hair into ropes. In addition, you can also do this by braiding or rolling. This type of hairstyle became highly famous during the evolution of reggae music.
Will Dread Hairstyle Harm My Hair Badly?
You may have doubts about whether the dreads hairstyle will harm my hair? sometimes, it will give you side effects like headaches and neck strain if you choose a long dread hairstyle and it causes a problem because of its heavy weight. Instead of an over lengthy hairstyle, you may go for a limited length. Most people think that dreadlocks are impervious to wash. But it is necessary to wash the dread hairstyle on a regular basis after two weeks of hair growth. On the other hand, it should not be washed more than one time in a week because it may affect the hair growth.
What Is Meant By Locs And How It Was Introduced?
Locs come under African hairstyle which consists of hair strands that can be braided, coiled, palm rolled, or twisted to make a rope-like structure. This locs hairstyle was introduced in ancient Greece, people of different religions and cultures such as ancient Israelites and Hindus have worn locs. This locs hairstyle is very much easier to create on African or Nubian than on straight Caucasian hair. The Hairstyle of locs can protect the strands from losing moisture and allow them to stay for a longer time.
Do You Want To Know The Difference Between Dreadlocks And Locs
Dreadlocks and locs hairstyles have a few differences and this difference really depends on individual opinion as well as the cultural perception of dreads and locs.
Due to slave trade history, the dread hairstyle still has some negative implications. While locs are comes under cultural identity and it is considered as a hair grooming technique that belongs to African descent.
Rastafarian tradition has introduced this dread hairstyle, and some western people copied this hairstyle. But most others are following the cultural aspects of the Rastafarian tradition. While locs hairstyle has traditionally came from Nubian and African descent.
 Locs hairstyle has a well-kept tighter appearance when compared to dreads
 Locs involved more defined roots than a dread hairstyle
Some Similarities Between Dreads And Locs
Few people believe that dreads look like matted hair which has been grown on its own without proper maintenance. Some others believe that people who wear these types of hair are more spiritual compared to the average person. But the fact is dread and locs are elegant hairstyles which are suitable for all hairs. It may be very difficult to differentiate and say the similarity of dread and locs. Followed by the difference of these hairstyles, certain similarities are mentioned below
1. Both dread and locs have a unique look
2. They both stay for a longer time than you think and it purely depends on how long you want to have
3. The process involved in this both the hairstyles help to protect the hair from losing moisture
Conclusion
Dread vs locs has been sparked when western people started to adopt these hairstyles. Nowadays, this haircut is becoming more popular and you can also give it a try if looking for a change. Anyone can have these dread or locs hairstyles as long as they thought to respect the history of these hairstyles and appreciate the holiness of this excellent heritage.
You Might Also Like: