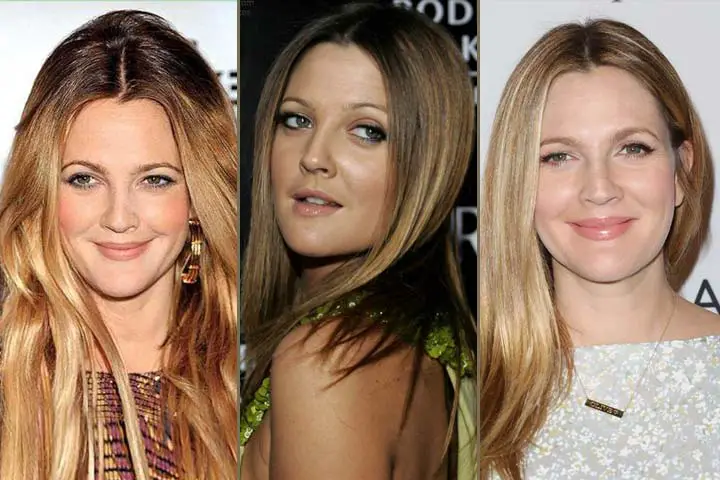 Drew Barrymore is a very popular sweet face in Hollywood. Drew Barrymore was born into an acting family and began her acting career when she was eleven months old. As a kid, she had bob-cut hair with little fringes on the front that looked perfect for her role in E.T. Since then, her fashion statement and hairstyles become big talk among the girls. She loves to have new hairstyles and haircuts that suit her face and complement her every outfit created a new trend and style which also aroused her fans to make a trip to the saloon.
19 Drew Barrymore's Impressive Hairstyles and Haircuts
1. Barrymore In Center-parted Slick Straight Hair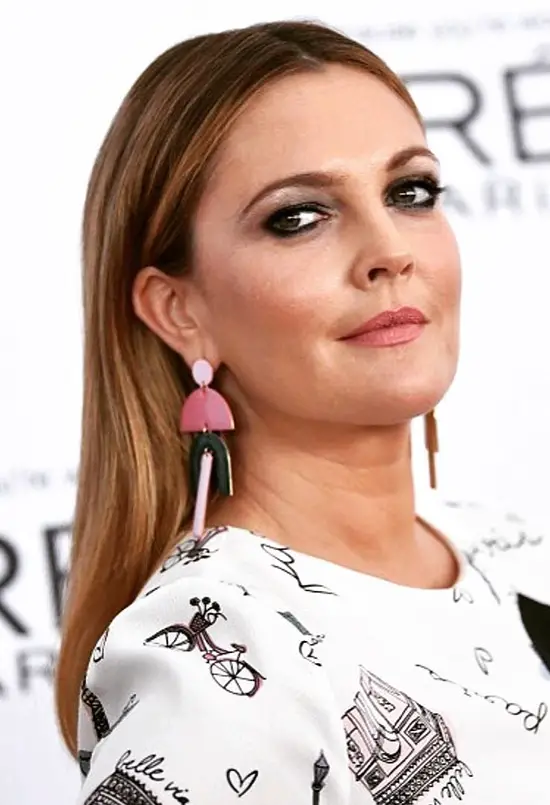 This elegant hairdo makes Drew Barrymore look beautiful and bold. The slick straight hair is center-parted. This smooth hair with no fuss suits anyone for all the events.
2. Messy Side Braid In Ombré Hair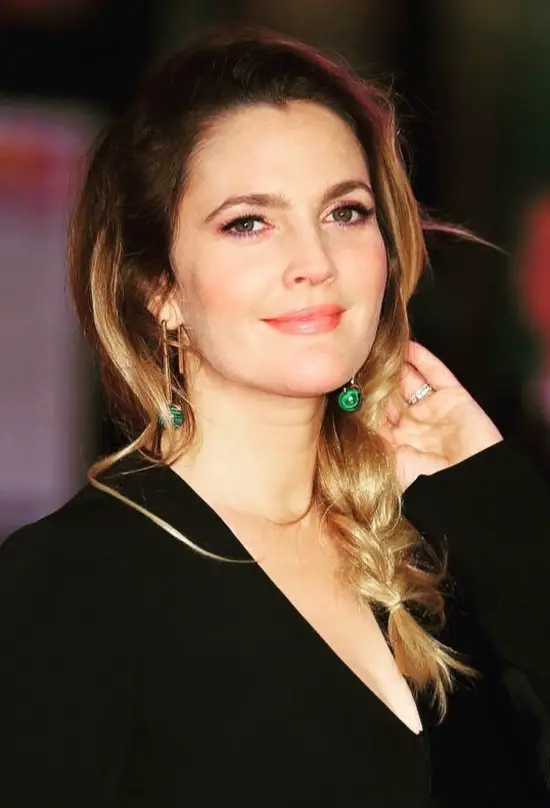 Barrymore looks super casual and lovely in this messy side braid hairstyle. The loosely side braided ombré hair with long thin wavy fringes on the sides. This frizzy and messy hairstyle is pretty charming on this Hollywood talented actress.
3. Drew Barrymore's Pixie Cut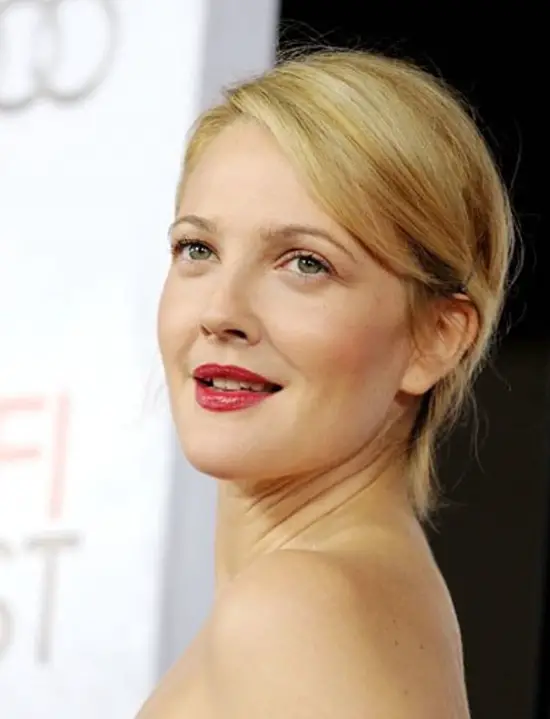 This is a bold pixie cut. The side-parted blonde straight and smooth pixie cut hair is pulled back and secured with a bobby pin with side swept bangs. This hairstyle with the red-shaded lipstick is extremely beautiful on Drew Barrymore.
4. Center-parted Wavy Free Hair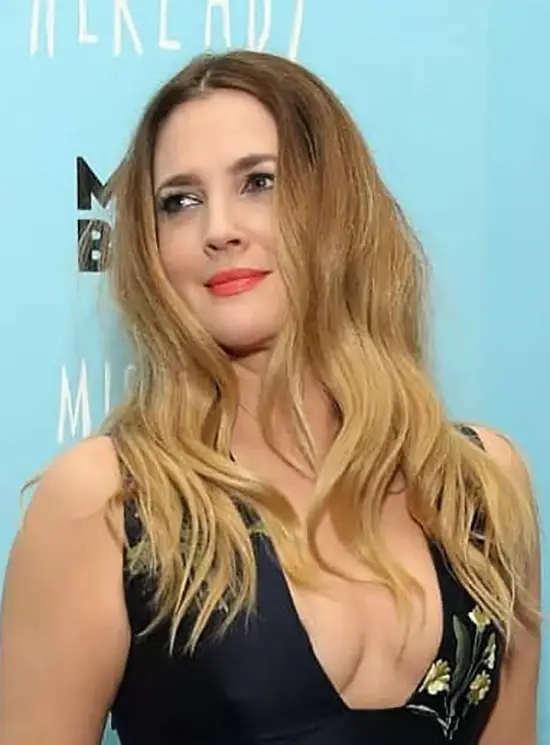 Barrymore made her appearance with this amazing tousled wavy tress. Her dark blonde medium-length hair is center parted with her face-framing lengthy fringes. This free hair with waves hairstyle makes Barrymore look absolutely gorgeous and sexy. This easy freestyle hairdo can be tried by anyone effortlessly.
5. Barrymore Looks Lovely In A Side Braided Fishtail Hairstyle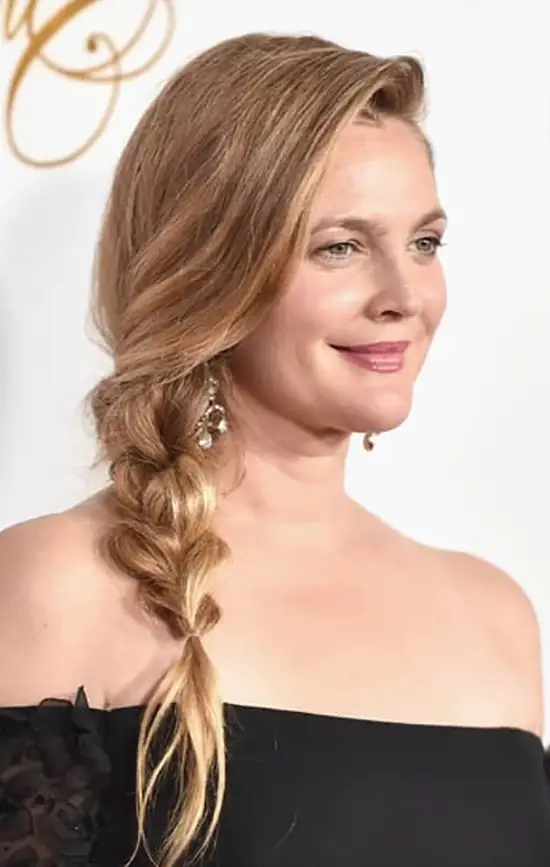 This is the most pretty and elegant hairstyle. The side-parted hair is uplifted on the roots that look like a cascade along the messy braid side swept hair. Barrymore paired this hairstyle with the strapless daring black dress that makes her appear pleasant as well as charming. This hairstyle is suitable for romantic dates.
6. Tightly Pulled High Bun Hairstyle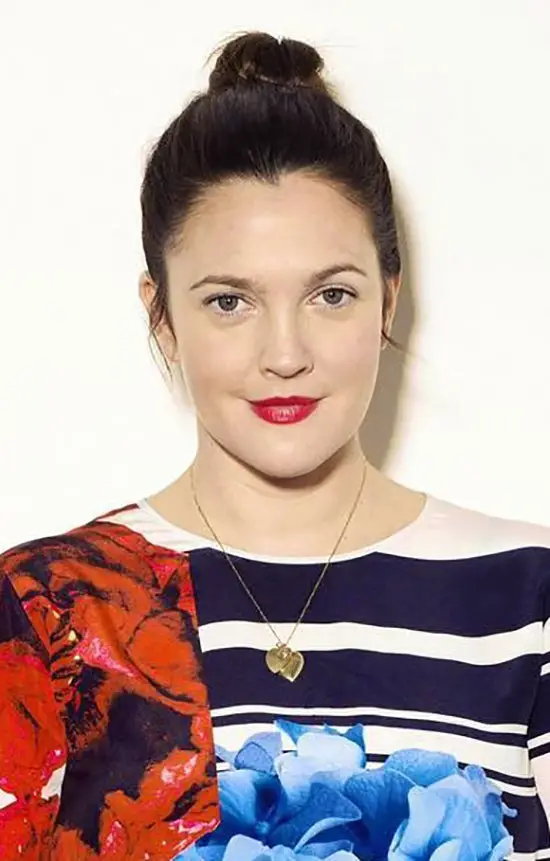 This is the most commonly seen hairstyle in celebrities which is simple and cool. This time Drew Barrymore colored her hair black that is tightly pulled and knotted into a high bun. A thin short hair is pulled out near both ears that highlights her fine sexy jawline. This comfortable and casual hairstyle goes well with any modern outfit.
7. Drew Barrymore In Medium Length Feather Cut Hair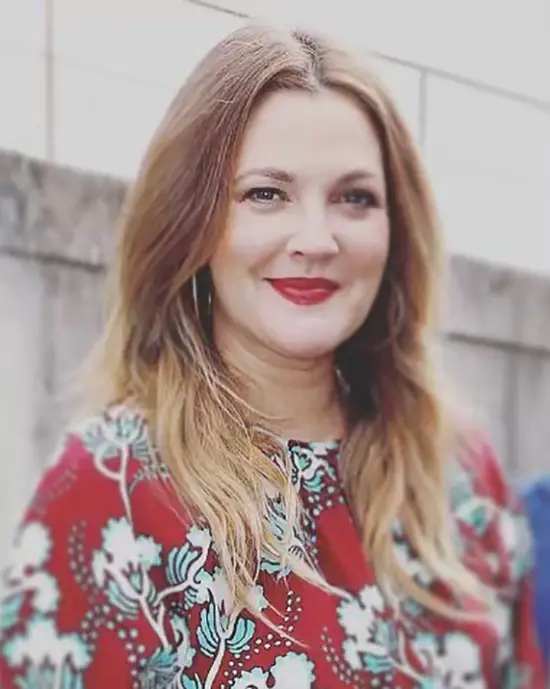 Barrymore shows off with her medium-length feather-cut hair which is slightly wavy and glossy. This lustrous center-parted hair makes Barrymore look more adorable and ravishing.
8. Barrymore's A Daring Voluminous Curly Bob Hair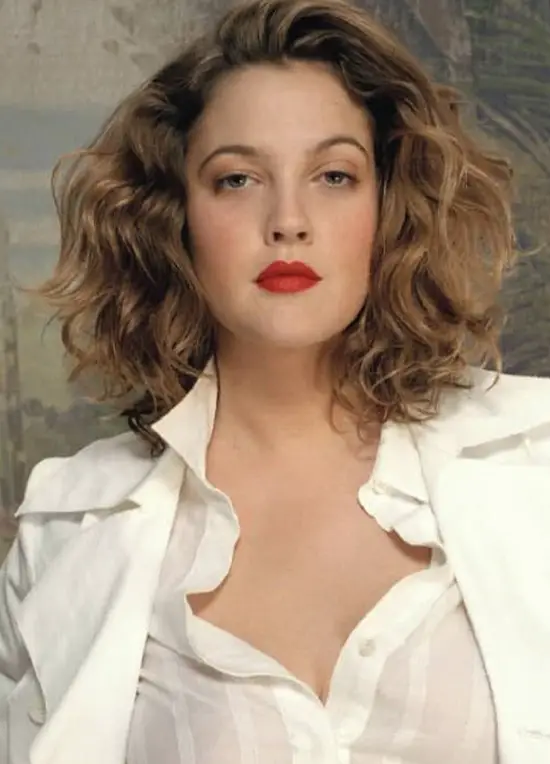 This Hollywood fame producer rocks with her new curly bob hairstyle. The gorgeous curls are added to the side-parted hair which looks dense and voluminous and the edges are curled on the bob-length hair to add movement that gives a bouncier look. This mesmerizing hairstyle makes Barrymore look daring as well as brave.
9. Center Parted Back Hair Updo Hairstyle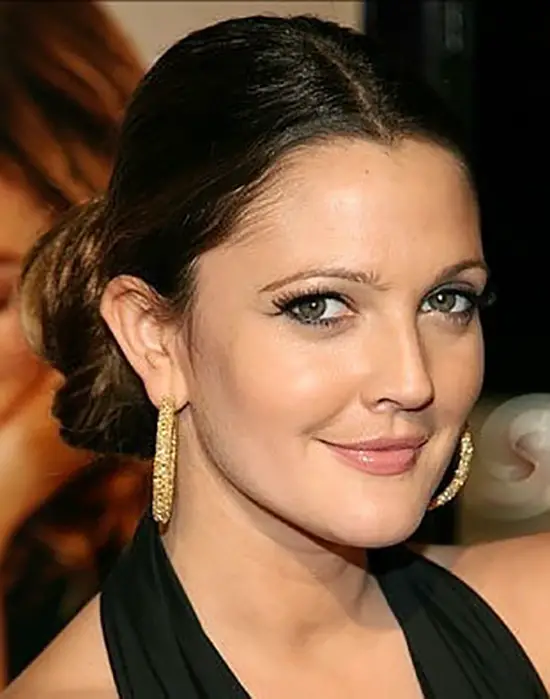 This is the elegant and low fussy updo hairstyle on a center-parted black hair. This hairstyle along with her golden big ring earring brings out the beauty and gorgeousness of Barrymore. This cute hairstyle is easy to create.
10. Straight Hair With Shoulder-length Feather Cut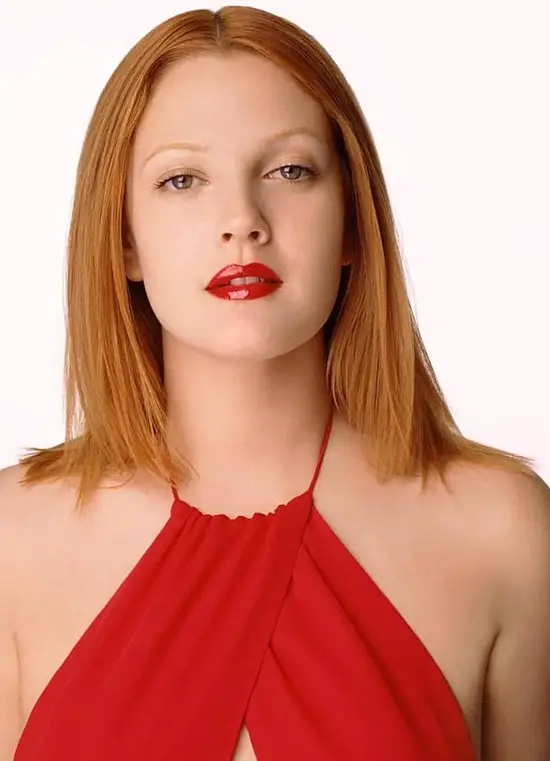 The sexy and bold appearance of Drew Barrymore. Her orange brown straight mane is center parted and feather cut to shoulder length that slides back and forth which is maintained easily. This appealing hairstyle is simple yet hot and bold on youthful Barrymore.
11. Drew Barrymore's Texturized Long Bob Ombré Hair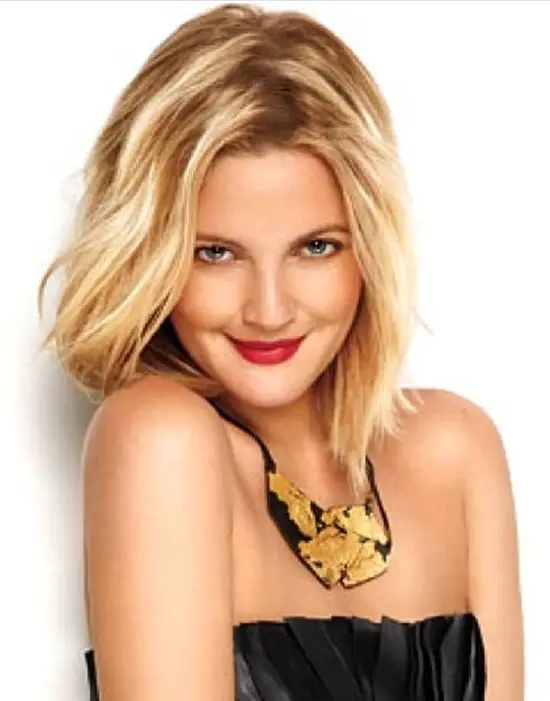 This sweet actress's ombré hair is chopped into a texturized long bob that slides by side and back side. This zig zag parted ombré hair is dark on the roots and light shaded along the hair length. This modern and stylish hairstyle makes Barrymore look more chic and fashionable which inspired her fans to give it a try on this hairstyle.
12. Beautifully Looking Side Parted Beach Waves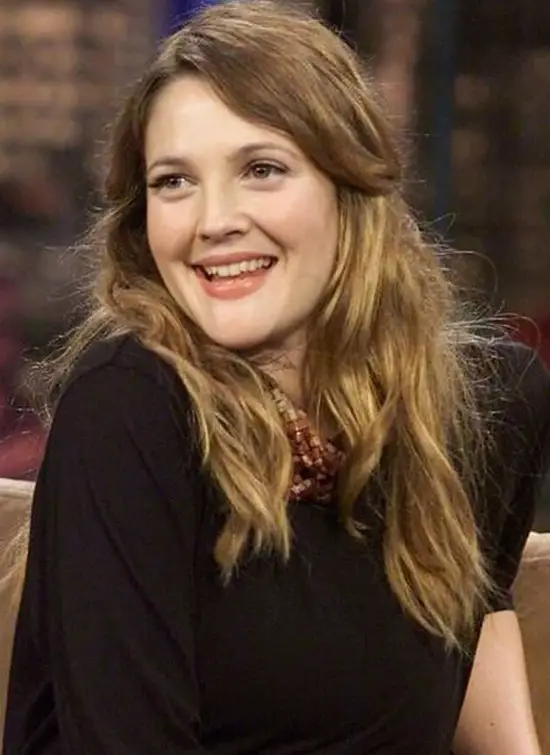 This beautiful hairstyle looks more pretty and adorable on young age Drew Barrymore. The side-parted beach wavy mane is pinned on one side and the other side of the hair is set free. This fabulous hairstyle is loved by most of her fans as she looks super cute and sweet.
13. Center Parted Cinnamon Brown Colored Hair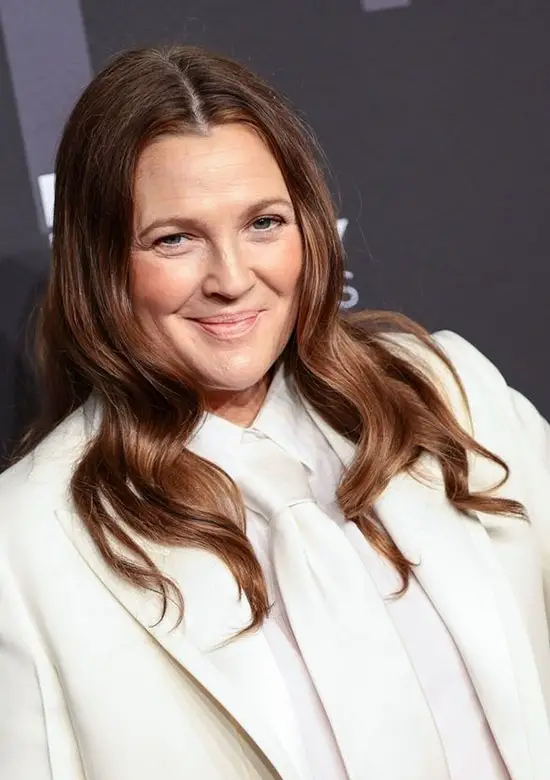 Barrymore made her appearance with this center-parted cinnamon brown colored hair which is straight until mid-length and the large smooth waves are added at the end. This plain and humble hairs
tyle highlights the chubby cheeks and beautiful smile of this talented actress.
14. Drew Barrymore In Smooth Straight Tresses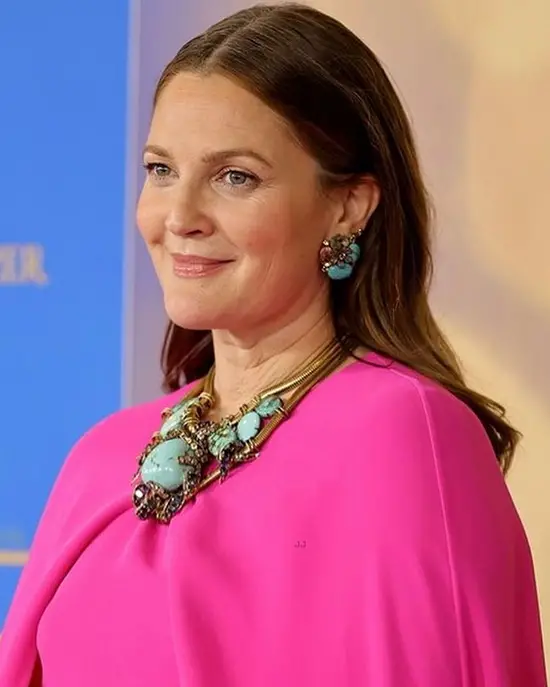 The cool and classy-looking Barrymore in this simple hairstyle. The center-parted hair is pinned at the back of her ear on both sides and the remaining smooth tresses with slightly bent ends are set free at the back. She appeared on Emmy's red carpet with this alluring hairstyle.
15. Barrymore Is Adorable In This Highlighted Double Braided Hairstyle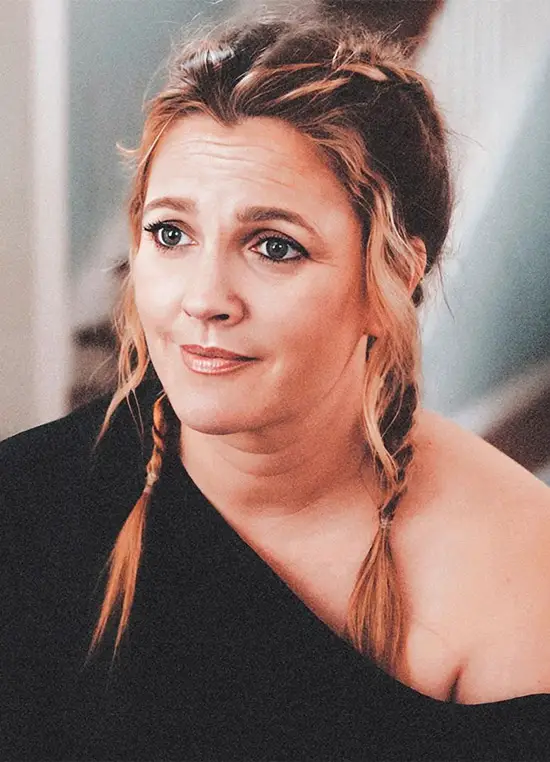 This hairstyle looks amazing with blonde highlighted wavy fringes and double braids. The messy hair is center parted and divided into two sections and a few strands of hair from the front are twisted on two sides that are added along the remaining divided hair which is braided separately on two sides. This hairstyle is mind-blowing and cute as well.
16. Side Swept Relaxed Waves Hairstyle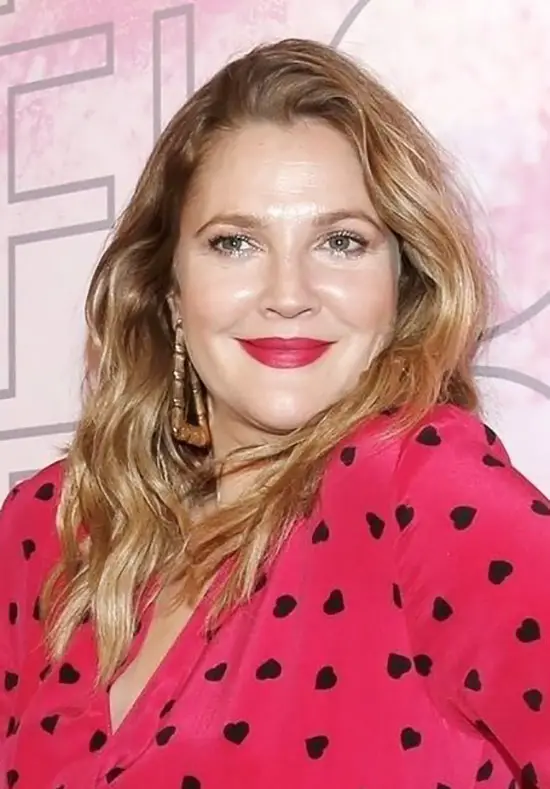 The ever gorgeous look of Drew Barrymore is only because of her hair color and wavy hairstyle. Her medium-length glossy wavy tresses are attractive and charming which motivates many girls to go for this hairstyle.
17. Drew Barrymore's Low Fuss Center Parted Free Hair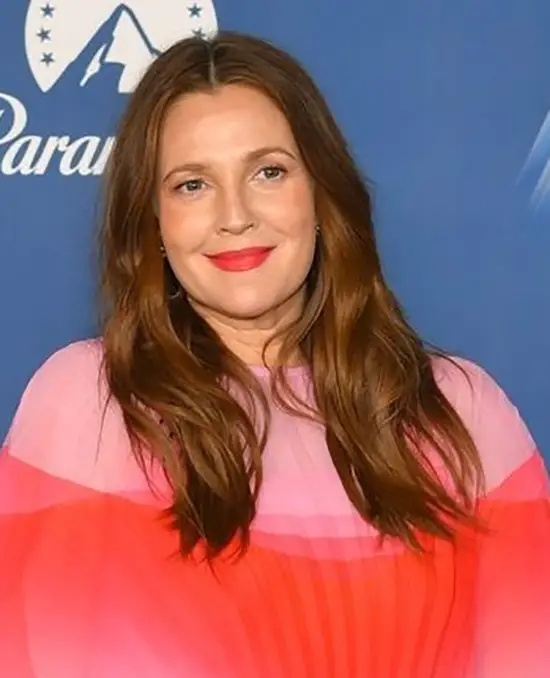 This simple and casual hairstyle looks amazing on Barrymore. The low fuss center parted smooth tresses on her medium length hair with slight waves hairstyle is easy to carry and suit any outfits and events.
18. Barrymore Flaunts Her Textured Straight Long Hair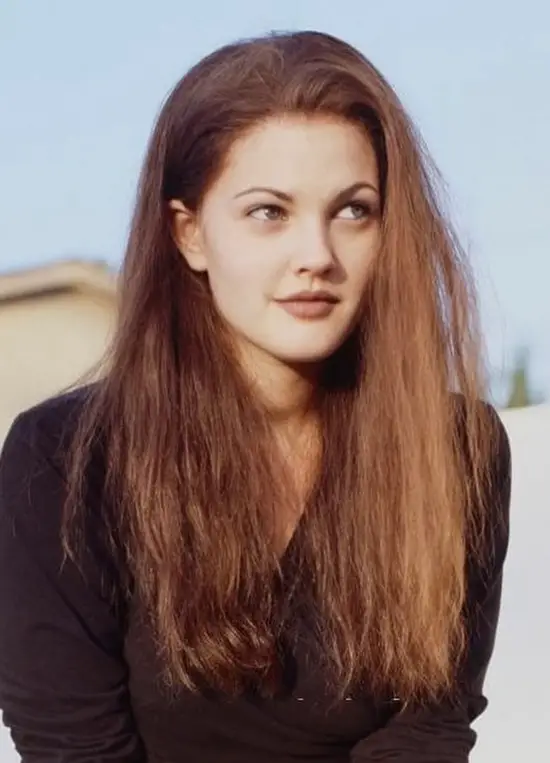 Drew Barrymore looks fabulous in this hairstyle in her teenage. The rough textured side parted long straight hair is set free which is mesmerizing and good-looking. This hairstyle creates a new trend in her teenage times that inspired every girls to flaunt their tresses.
19. Center Parted Very Short Bob Cut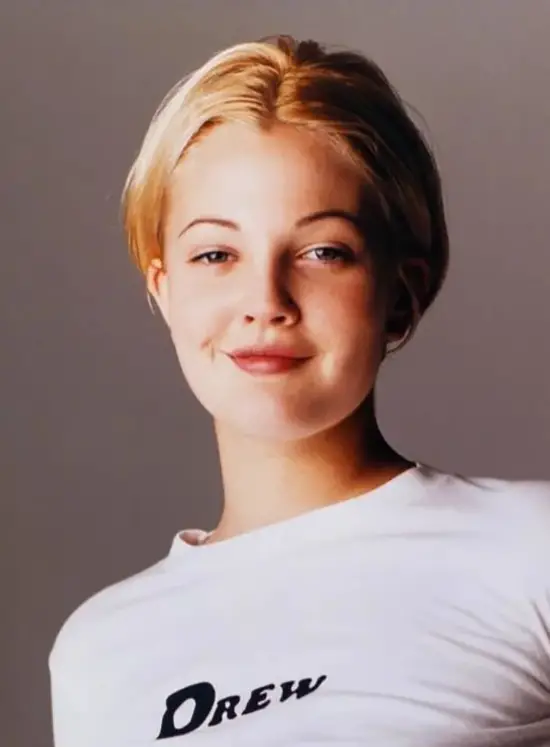 Barrymore in her teenage had this super short bob cut in her blonde hair which is center parted and settled back of her ears. This cute and brave haircut shows hers boldness. The teenage Barrymore looks adorable and cute in this hairstyle.
Best Hair Styling Products
You Might Also Like: