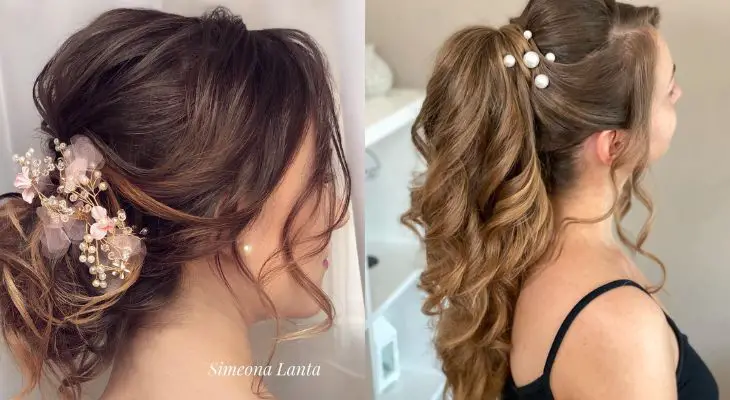 If you are a bride and your wedding is around the corner and confused to choose the wonderful wedding hairstyles, then scroll down this article. Wedding hairstyles keep changing with time and season. Don't shy away from trying these amazing wedding hairstyles in advance to find the true match that suits you 100%. Let's get deeper into various wedding hairstyles that you can try them for your big day.
20 Gorgeous Wedding Hairstyle Ideas
1. Short Hair Wedding Hairstyle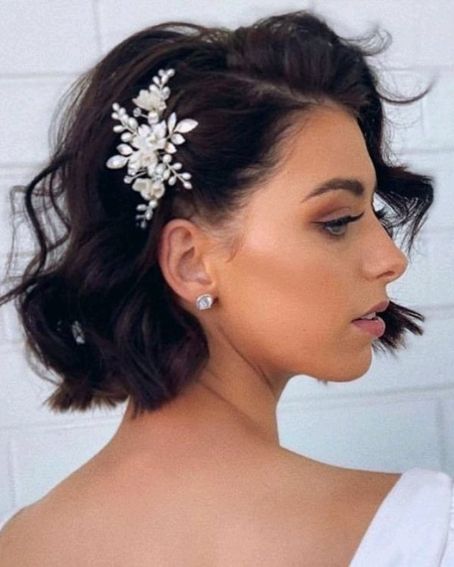 Flaunt your short tresses on your big day easily. This amazing hairstyle is best for those brides who have shorter hair. Just simply side part your short hair and style them with waves to add volume. Secure one side with the white petal and stone jewel clip to attain this hairstyle.
2. Curly Long Hair with Butterfly Motifs Wedding Hairstyle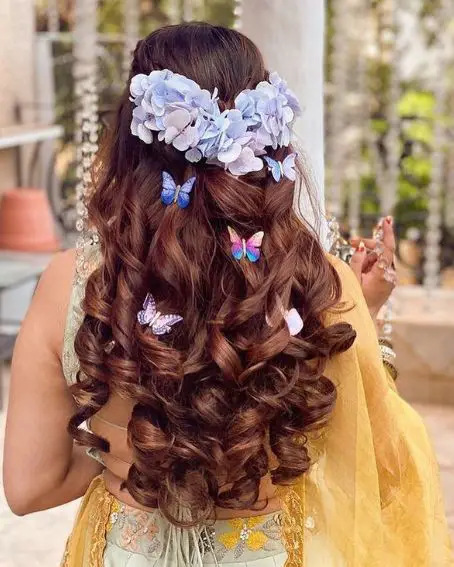 This is the latest trending bridal hairstyle which quickly catches the millennial brides who like to keep up with the latest fashion trends. Rock on your wedding with these colorful incredible butter motifs and butterfly clips. There is no denying that this hairstyle adds a fresh and quirky element to the whole look.
3. Messy Low Bun Wedding Hairstyle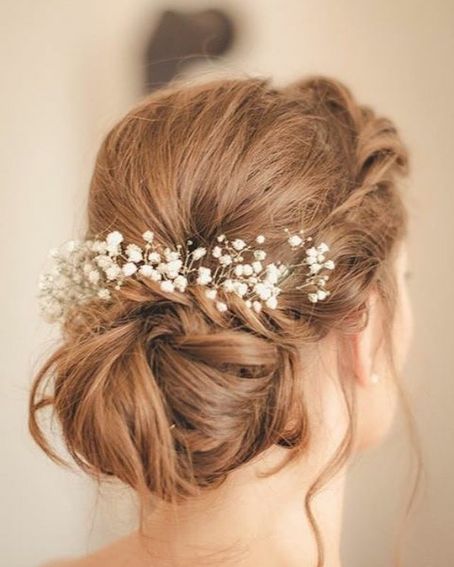 Many brides these days prefer keeping their tresses locked into a bun. Especially this messy low bun is for those brides who want to look elegant on their big day. Leave one or two hair strands free on the sides to look messier and more beautiful.
4. Half Up Half Free Wedding Hairstyle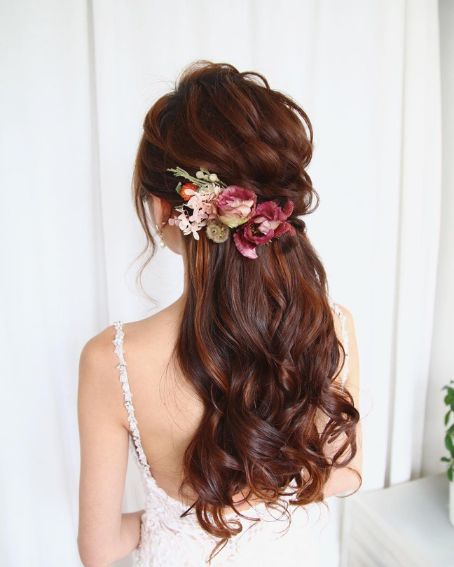 This gorgeous rich mahogany locks is styled into a half-up with great movement and body. Simply accessorizing with autumn color blooms suits perfect for your wedding gown.
5. Low Lying Ponytail Wedding Hairstyle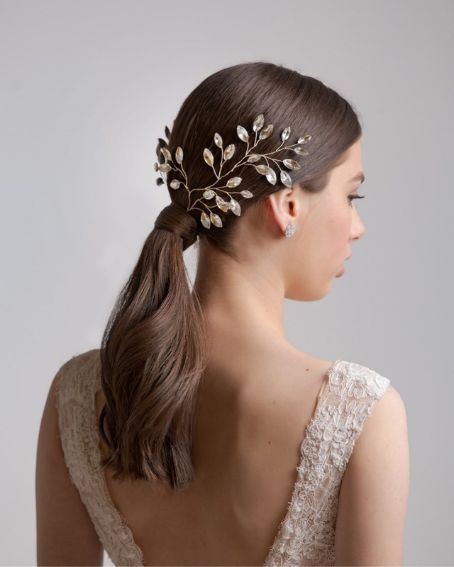 Even simple western hairstyles also look great with your wedding dress. The stone embellished hair clip is the key here. A cute small diamond earring and a wedding gown with this hairstyle are enough to complete your bridal look.
6. Gorgeous Wedding Hairstyle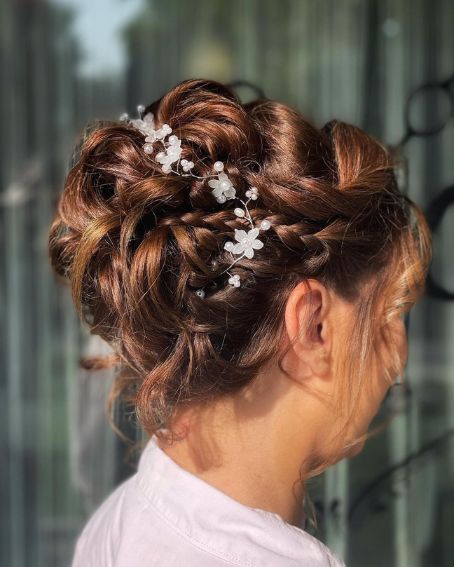 This gorgeous wedding hairstyle is created by combining various styles. A few strands of auburn brown hair are twisted and braided as well as secured as a messy bun along with other hair. Leave a few strands of hair free and curl them to flaunt it out.
[ Read: 15 Best Braided Hairstyles For Older Women ]
7. Mix Blonde Waterfall Braid Wedding Hairstyle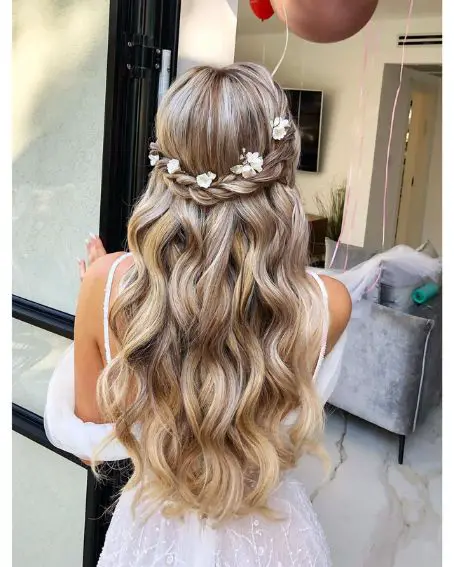 As the name says, this mixed blonde hairstyle gives an effect of the waterfall with partial hair from either side braided and secured. The remaining mixed blonde hair is falling in the back freely with wonderful waves. Secure some flowers to enhance the braids.
8. Simple Smooth Knotted Low Bun with Stone Clip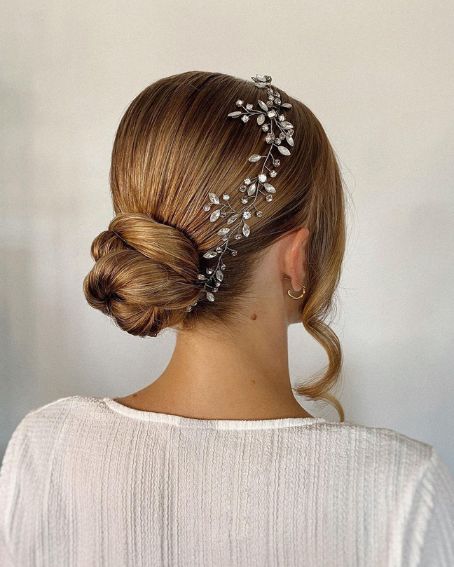 It is simple to create this wedding hairstyle when you are in hurry burry. Brush your hair back neatly and make a knotted low bun leaving a few strands of hair in front to sit free and curl it. A stone embellished round hair clip from under the bun is a great styling option.
9. Blonde Cascading Simple Wedding Hairstyle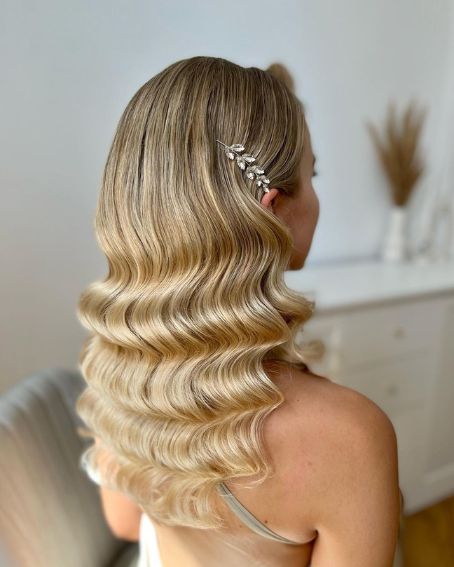 If you prefer to stay simple yet stylish without many decorations on your hair for your wedding, then this wonderful hairstyle is the best pick. Now add beautiful cascading waves to it and set it with hair spray for a long stay. A stone embellished leaf hair clip secured near the ear highlights the bridal look.
10. Twisted Huge Curls Wedding Hairstyle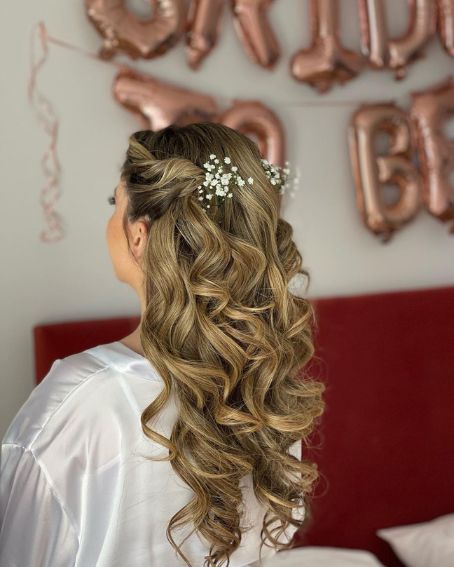 This hairstyle can be tried on those brides with long hair. To achieve this hairstyle all you have to do is to mid-part your hair and take a few strands on either side and twist as well as secure it with a Bobby pin. The remaining hair is added with lots of huge curls to appear voluminous.
11. Huge High Bun with Crown Wedding Hairstyle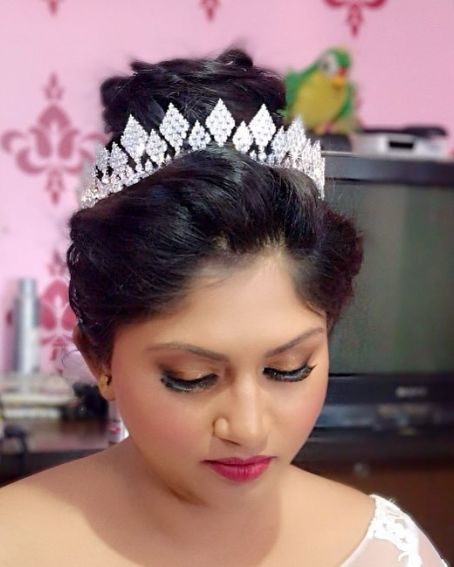 This hairstyle gives the real bridal queen feel. The entire hair is pulled and secured into a tight twisted high bun. You can even use hair extensions to make the bun visible hugely. The ombré asymmetrical fringes take the hairstyle to another level.
12. Twisted Low Updo Wedding Hairstyle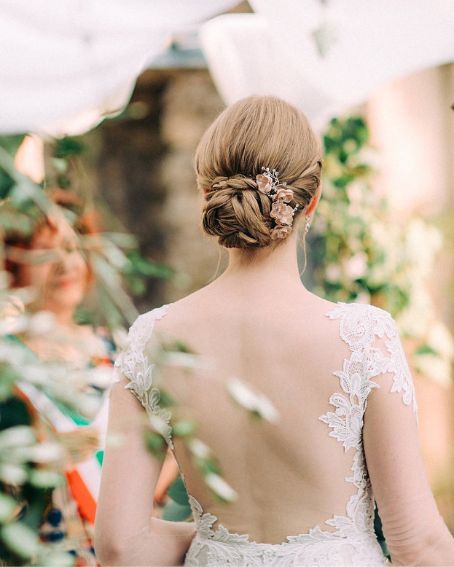 Most brides prefer updo hairstyles for their wedding to allow their low-back wedding gown designs for good visibility. The low-lying twisted updo is decorated with stone flowers. Complete your bridal wedding hairstyle by leaving a strand of hair free on the sides.
13. Messy Platinum Blonde Wedding Hairstyle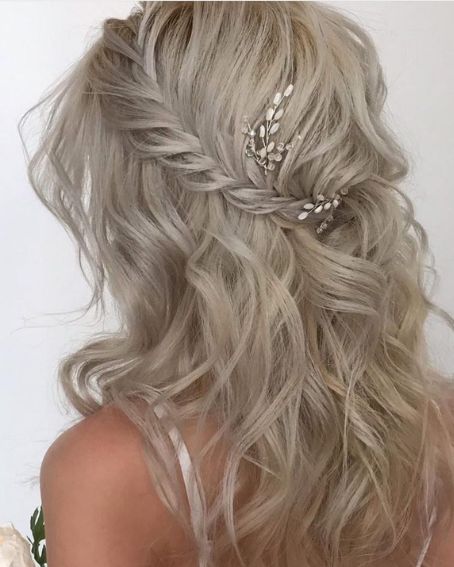 The key to achieving this fabulous hairstyle is by doing a simple side braid by adding a strand of hair to the braid one by one. Leave behind the remaining voluminous curly platinum blonde hair free. A stone clip secured here and there on this upper messy hair can look stunning for your wedding.
14. Twist Back Wavy Ombré Hair Wedding Hairstyle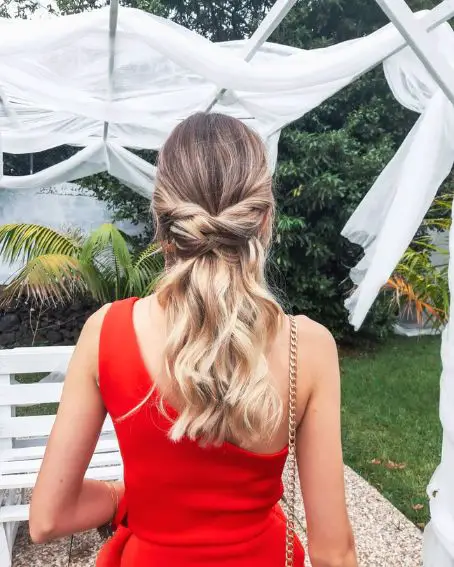 The Wedding season is a never-ending one. This elegant hairdo is suitable for sheer-loving brides and bridesmaids. Just twist and secure some of your ombré strands. The excess wavy hair is classy and shiny. No need for any extra clips or flowers as the hairstyle itself appears amazing.
15. Side Braid Messy Curly Wedding Hairstyle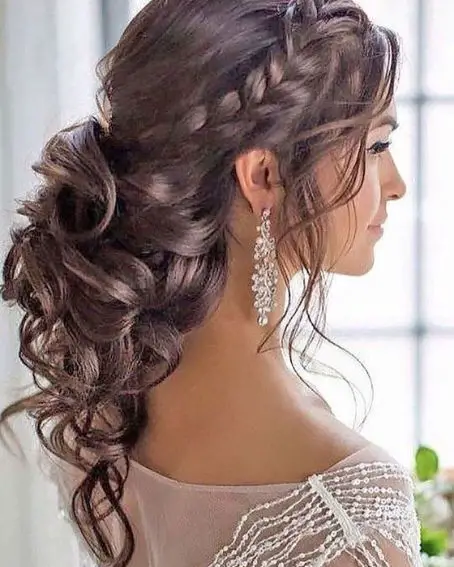 This hairstyle may be the favorite one for most brides as messy hair is easy to make and looks great. This hairstyle adds more volume to your thin hair. The side-parted hair is braided and tucked at the back with copious curly hair strands.
16. Twisted Updo Wedding Hairstyle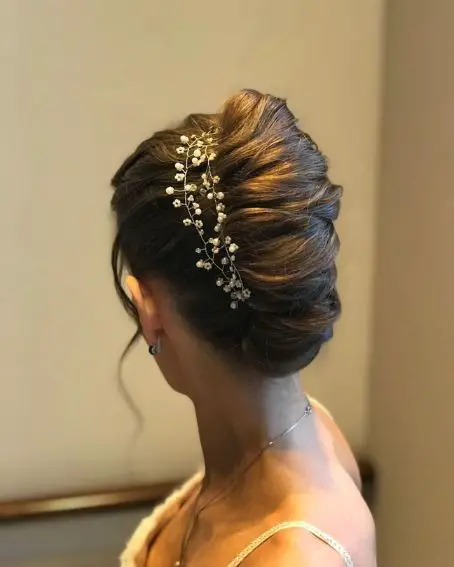 Updo hairstyle never fades out of trend. Most brides love having this hairstyle on their big day. . Add a tiny white stone flower jewel at the one side of the twist. A single strand of hair is curled at the sides. And now you are ready to walk the aisle.
17. Huge Low Bun with Jeweled Clip Wedding Hairstyle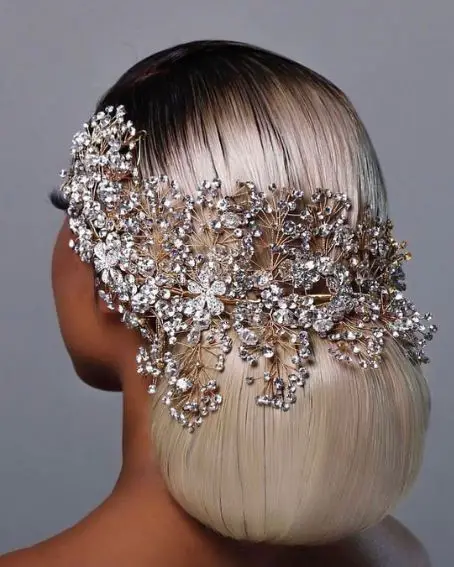 If you want to look all classy and glam on your wedding, just pick this stunning huge bun hairstyle. The luxury heavy stone embellished hair clip is the highlight here which resides above the bun. You are definitely the show-stealer with this astonishing hairstyle.
18. Voluminous High Ponytail Wedding Hairstyle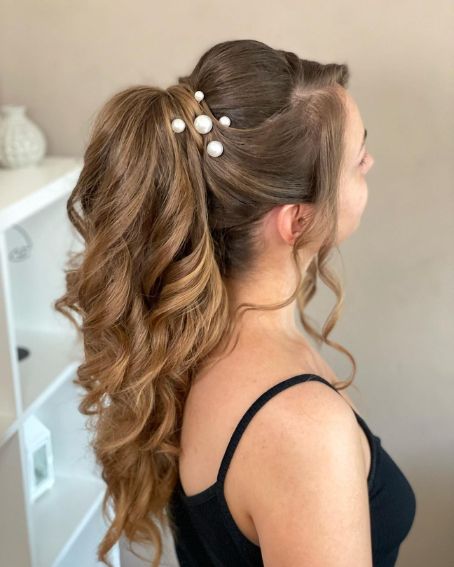 This hairstyle is the vintage one which most brides prefer to have on their big day to look like a Hollywood glam diva. Make a hump and tuck the full hair into a high ponytail. Secure big pearl pins to give a touch of a lovely look.
19. Messy Curly Waterfall Wedding Hairstyle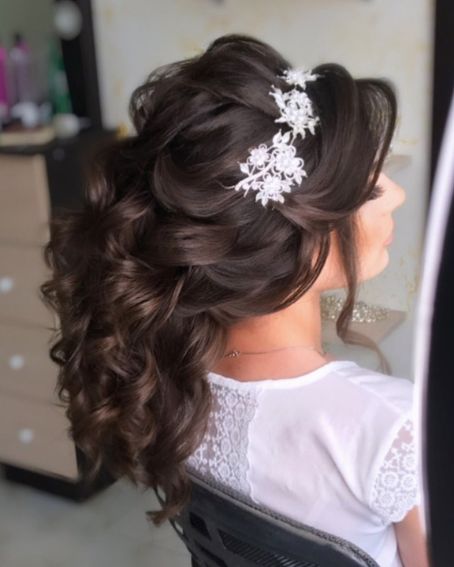 You will be an absolute stunner attracting the crowd as a bride with this mind-blowing hairstyle. It is a little tricky and only the hairstylists can perfectly make this hairstyle. It is highly voluminous with lots of curls added to it.
20. Messy Bun Wedding Hairstyle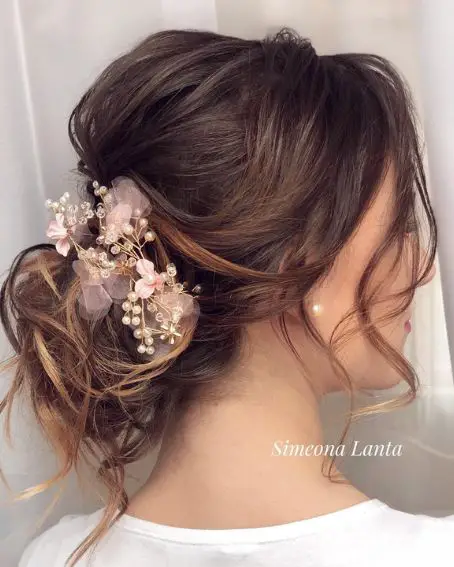 Almost every bride opts for this messy hairstyle as it is the trendsetter. No matter whether your hair is short or long, this messy bun is easy to make. Just a jeweled clip is enough to finish up your wedding hairstyle.
You Might Also Like: