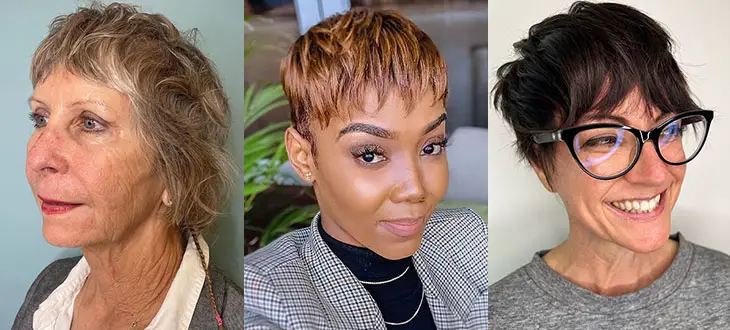 If you are in a dilemma about whether hairstyles with bangs for women over 50 make them look older or younger, the below pictures will make it clear to you. There are different opinions on bangs, but they are in trend and make one look stylish.
Bangs always make you look younger than your age, adding interest and attention to your personality. I believe that even a small fringe can change your looks completely and for good. All you need is to get it done by some professional hairstylist so that he or she can get you the best bangs suiting your face shape.
There are different types of bangs- straight, curtain, feathered, messy, fringes, and a lot more. However, before you decide which one will suit you consult your hairstylist and know the right thing.
15 Best Hairstyles With Bangs For Women Over 50
1. Long Style With Feathered Bangs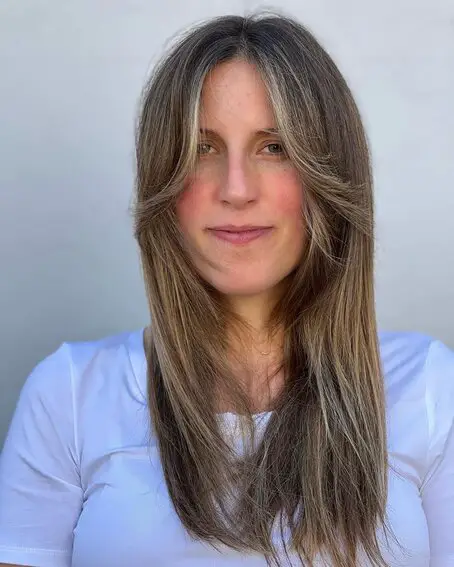 Adding an extravagant look to your personality, long hair with feathered bags looks great on all. At the same time, feathered bangs are light and easily manageable. You can also sweep them into curtain bangs as they grow in length to get another stylish hairstyle after a few months.
2. Shaggy Pixie With Front Bangs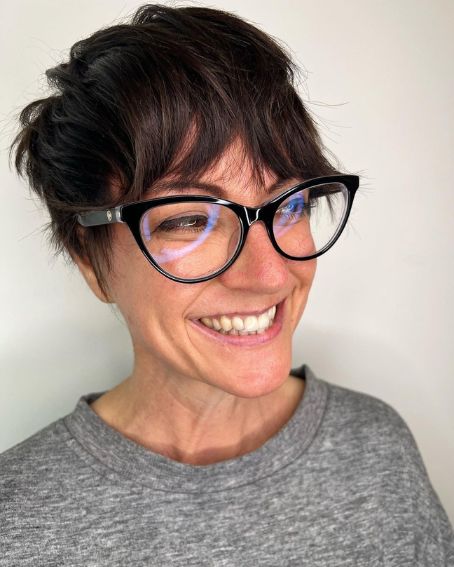 Pixie haircuts are easy to manage and therefore perfect for working women. Pairing them with front bangs adds to the glimmer and glamour of the personality. They look cool and funky and perfect to get a youthful look.
3. Baby Bangs For A Cute Look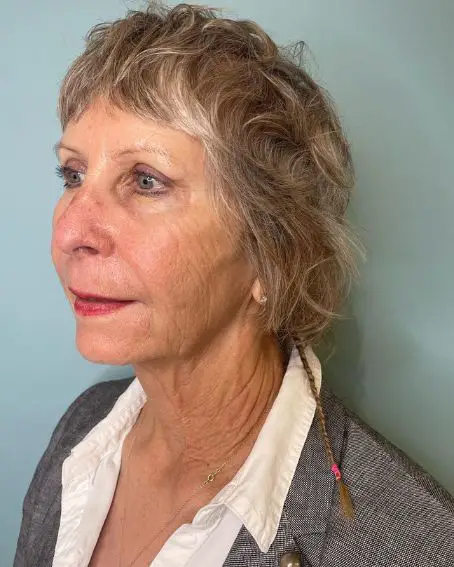 Out of so many bangs, you can try baby bangs to cover a small portion of your forehead and make you look cute. If you think you won't be able to manage long bangs or curtain bangs, go for baby bangs without any second thoughts.
4. Vintage Bob With Bangs
This simple vintage-styled bob haircut paired with small front bags is perfect for today's modern women. It is low maintenance and looks cool on all face shapes. Being super stylish, this hairstyle will make you the center of attention.
5. Long Waves With Side Bangs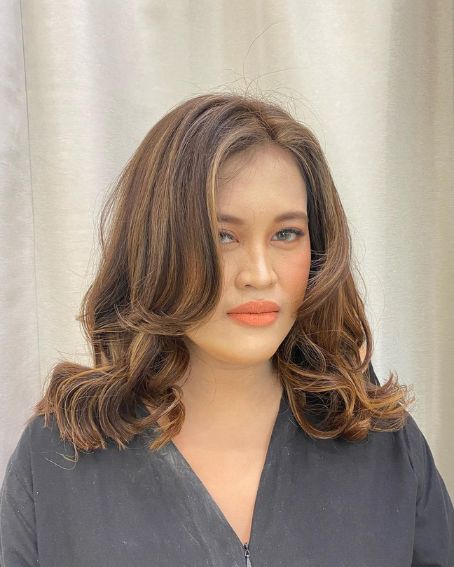 If feathered bangs, front bangs, or curtain bangs is not your thing, you will definitely like the side bangs hairstyle with long wavy hair. It gives youthful energy to your personality and adds to the dimensions and volume of the face. A waver wand or plaiting wet hair will give the hair an extra edge and a beachy look.
6. Wavy Bangs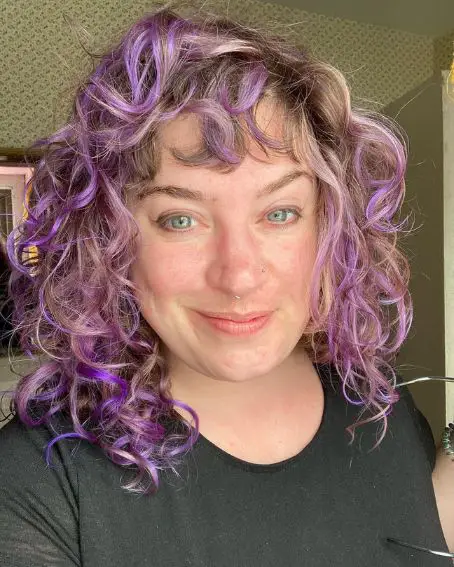 Women with wavy hair can try this super gorgeous wavy bang hairstyle. It looks classy and gives you a sophisticated mature woman figure. You can get some highlights with this hairstyle to make it more pronounced.
7. Feathered Bangs In Bob Haircut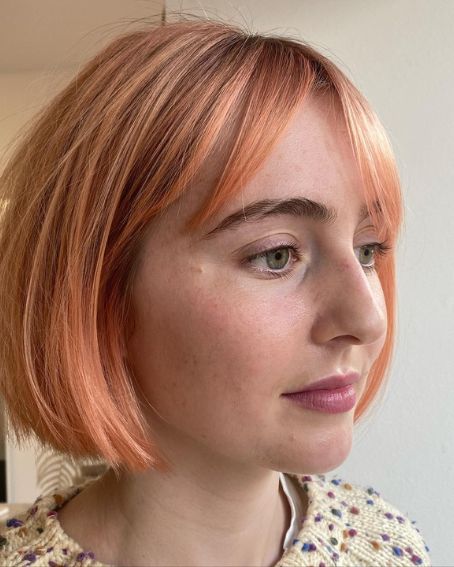 Working women can opt for these super stylish feathered bangs in a bob haircut. It is a low-maintenance hairstyle that will never take much time to get you ready. Just brush them with a few strokes, and you are good to go.
8. Shoulder Length Haircut With Bangs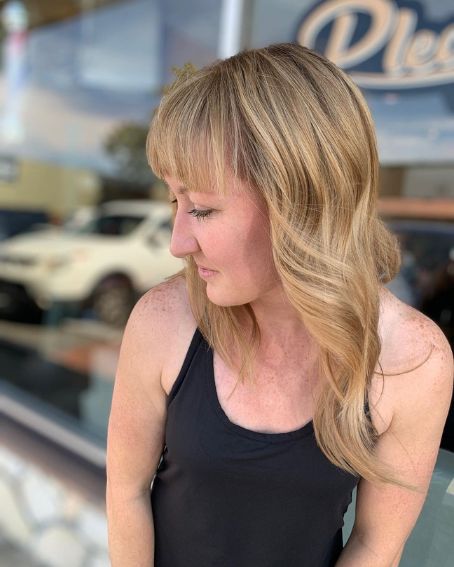 If you are not a big fan of bob cuts or pixie cuts, get shoulder-length hair cut with bangs that work well all the time. Whether you are heading for your office, meeting, or party, with this hairstyle, you can rock your world.
9. Side Swept Wispy Bangs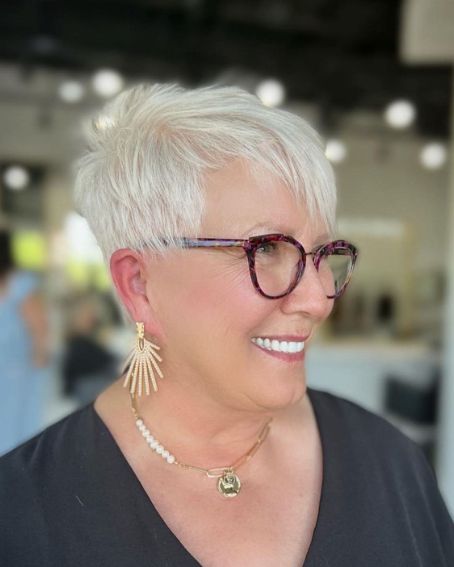 It is a simple yet classy and elegant hairstyle with bangs for women over 50. Easy to manage and low maintenance, this hairstyle doesn't require combing. It looks more enhanced and amazing when paired with highlights or light undertones.
10. Long Layers With Luscious Bangs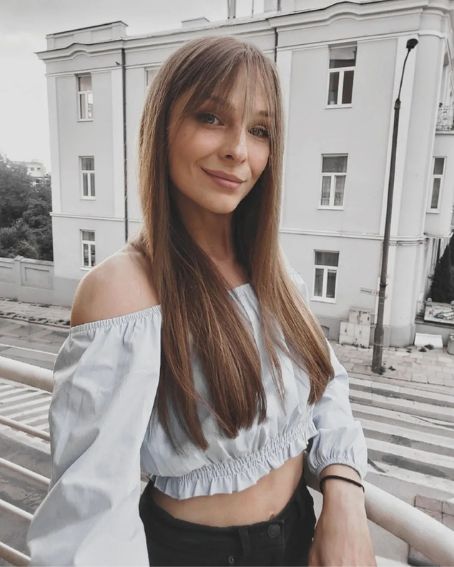 If you have long hair, just get feathery bangs like this and enhance the shape without losing the length. There are different types of bangs like a curtain, feathered, full, etc. Your hairstyle will help you decide which type of bang will suit your face shape the most.
11. Pixie Cut With Long Bangs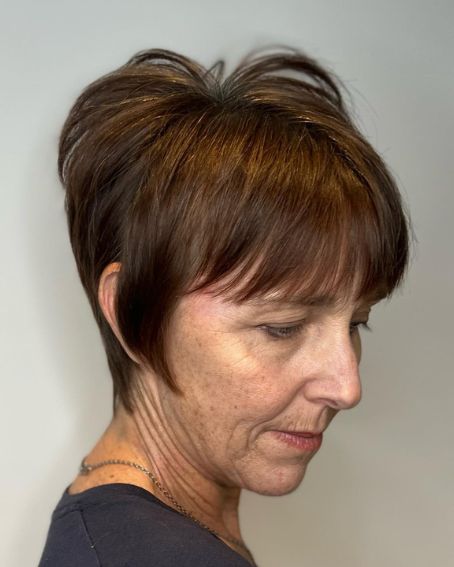 For a younger and youthful look, get this pixie cut with long bangs. Just like side-swept bangs to hide your forehead imperfections, long bangs will also hide the wrinkles on your forehead, and the attention stays on your hairstyle alone.
12. Pixie Haircut With Chopy Bangs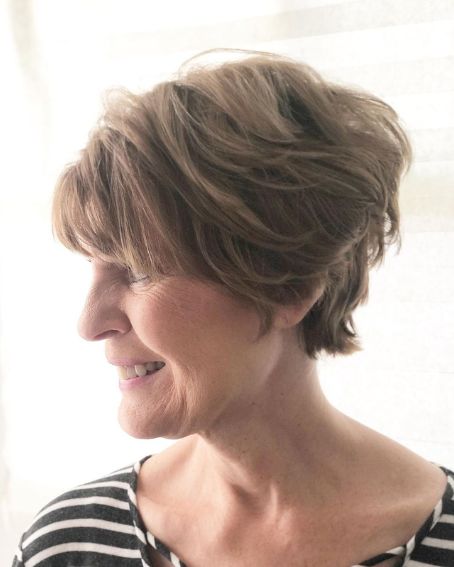 Some haircuts are made to create a stylish look, and this pixie haircut with chopy bangs is one of them. Women over 50 can have this haircut to look gorgeous. Completing it with some cool undertones like icy blonde or bronde color will enhance the look even more.
13. Short Jagged Bangs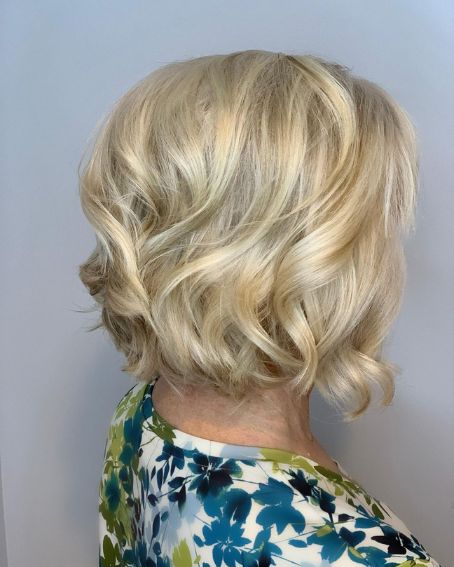 You can pick jagged bangs that look great on working corporate women for a more professional look. This hairstyle makes you look interesting and helps you grab the crowd's attention.
14. Bob With Bangs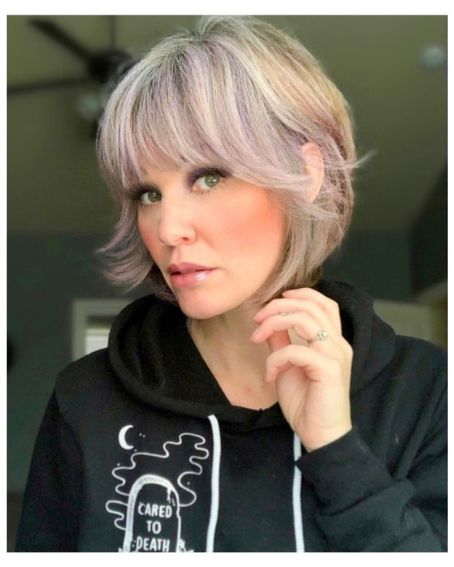 Women with big and round faces can get bangs as it looks great on them. If you think a bob haircut for women over 50 makes them look uninteresting, bangs will come to the rescue, giving a complete makeover to your look.
15. Pixie Haircut With Feathered Side Bangs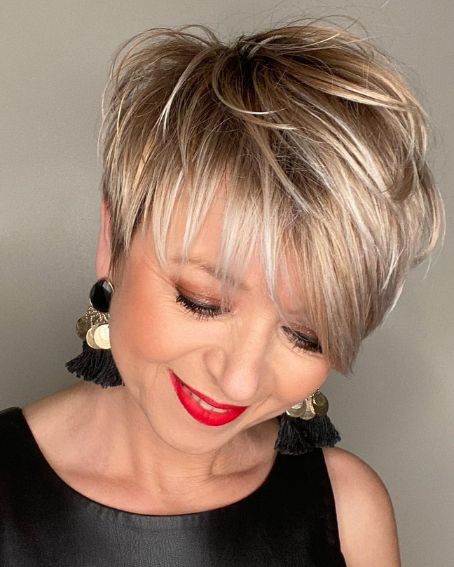 This is another interesting pixie haircut for older women with feathered side bangs that make them look super cool for their age. Believe me; your daughter will love this style on you.
Best Hair Products For Styling Bangs
Conclusion
Getting hair fringes gives a great advantage as it helps to hide your forehead wrinkles and fine lines, giving you a youthful look. If you get the right hairstyle depending upon your face shape, and hair texture, nothing can stop you from looking beautiful.
You Might Also Like: