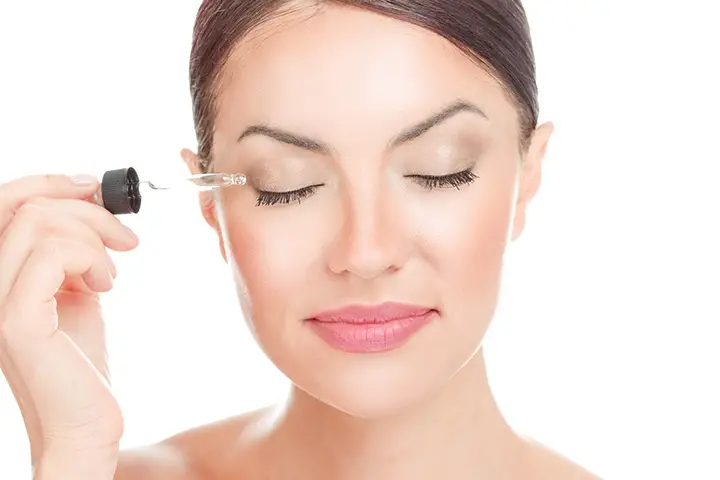 The beauty of the face always looks amazing when focused on the eyes. Are there any women who don't fall for youthful eyelashes ? Absolutely no. Here are beauty hacks to enhance the quality of eyelashes. Days have come where women are habituated to mascara, sets of falsies and extensions for improvising eyelashes. Below are the eyelash growth serums which are obtained naturally around you.
Homemade Eyelash Growth Serum Recipes
1. Coconut oil and Almond oil Eyelash Serum
Beautiful curls for eyes are just amazing to imagine. If one knows the hidden secrets behind having sparkling eyes. No woman can resist learning the tips. Here is coconut oil and almond oil which are super healthy in the growth of hair fiber. Basically coconut oil is rich in saturated fats that helps in restoring protein loss. It also retains moisture which gives a glossy lash look.
Almond oil has more vitamins and minerals which nourishes and softens hair. This improves the thicker growth of eyelashes and gives longer appearance.
Process:
1 tbsp of organic coconut oil

1 tbsp of sweet almond oil

Melt the oils in pan till the water shimmers

Keep it aside for sometime

Pour it in a container

Clean eyelashes before applying

Apply on lashes during night time

Clean it with wet cloth or cotton he morning
[ Recommended: Castor Oil for Eyelashes Growth ]
2. Vitamin E Eyelash Serum
Luscious lashes are the most impressive traits of feminine character. Vitamin E is a useful source in promoting hair growth at the site of eyelashes. This is a magical serum which works awesome when used for eyes.
It makes bushy lashes with beautiful curls in it . Every female desires for classy eyes and vitamin E makes the job easier. It is actually mixed with other oils for better texture and best results.
Process:
2 capsules of vitamin E

1 tbsp of coconut oil

1 tbsp of castor oil

Take the oils in small bowl

Squeeze vitamin E capsules

Pour them in the dropper bottle

Till the bottle to mix

Clean the eyes and lashes

Apply onto lashes before sleep, avoid applying during day time

Massage the serum properly

Wipe it off using moist cotton in the morning.
3. Castor oil Eyelash Serum
Are you tired of using artificial products to regain your eyelashes? Don't feel bad here is the natural solution for it. Castor oil can be used in preparation of serum which will do wonders. As it has high nourishing fatty acids that helps nutritional growth of hair.
The antifungal and antibacterial property prevents hair loss and breakage specially at eyelashes. It also gives the fresh and lively look of your eyes. To get the fuller lashes with healthy growth follow the tips below.
Process:
1 tbsp of castor oil

Melt it and wait for sometime

Pour this into a roller container

Clean lashes are recommended before applying

Apply onto eye lashes during night

Wait till morning and let the serum work

Wipe it with wet cotton.
[ Recommended: Vitamin E Oil for Eyelashes ]
4. Aloe Vera Eyelash Serum
Mostly all the plant based ingredients are used in the land of beauty needs. Who doesn't want a stylish lash ? Almost every woman wants, here is aloe vera gel which is gonna help out in providing shiny eyelashes.
It moisturizes ,gives smooth finishing and resolves the scanty lashes and brows. Aloe vera works even better when mixed with olive oil. To get the coolest eye lashes follow the tips below.
Process:
take1 tbsp of fresh aloe vera gel

1 tbsp of olive oil

Mix them well until it softens

Clean the eyes and lashes

Apply the serum, with help of dropper

Massage well on the eyes

Leave it for 15 mins

Wipe it off gently with moist cotton
5. Petroleum Jelly Eyelash Serum
Petroleum jelly is used widely for many beauty hacks. It seals the moisture and provides hydrated lashes. The freshness of the jelly gives shiny eyelashes. Glossier eye look is only best owned by petroleum jelly. It is one of the cost effective beauty products available.
Process:
Buy any petroleum gel available in stores

Wash hands thoroughly

This will help eyes free from bacteria

Clean eyes gently

Apply little vaseline or petroleum gel with the help of cotton swab

Evenly spread to upper and lower lids

Blink your eyes so that it is coated all over

Doing it before bedtime gives best results in the morning

Wipe it with wet cotton.
6. Olive oil Eyelash Serum
Olive oil has many acids like palmitic acid,oleic acid and so on which help against anti-inflammatory actions . This regulates the sebum production that improves healthy follicle growth near eyes and lashes.
The emollient present in it turns out to be the best as eye softening. No other oil gives the shiny look which is attained by olive oil.
Process:
Take olive oil in bowl

Use mascara brush

Dip in olive oil

Wash eyes and lashes properly

Let the lashes dry

Gently coat the eyelash right from the root till the tip

Apply before bedtime

Rinse the lashes in morning

Use a cotton swab to remove the stickiness of oil.
All the best possible solutions for dull lashes and scanty brows are described above. Do use them at home with all the natural remedies. Before using, consult an ophthalmologist for any infection or allergy. Know your eyes better then move forward for healthy growth of eyelashes. Do follow us for more interesting beauty hacks.
Recommended Topics: