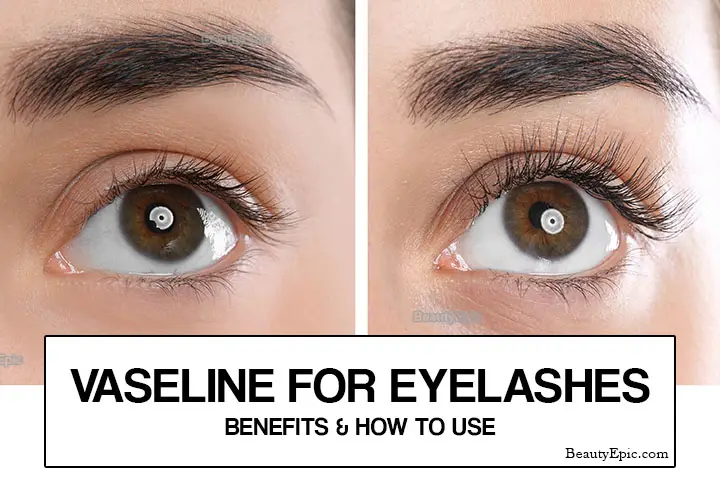 Having naturally thick curvy and long eyelashes is a common desire among all women. They enhance the beauty of the face as much as our hair and glamorous skin does. When we feel beautiful it makes us feel confident as well. Wearing false eyelashes is common to make them look more voluminous, but would not you like to have such gorgeous eyelashes naturally? Well, it is an easily achievable dream. You do not have to spend a lot of money for it either, as this method comes pretty cheap. Use Vaseline petroleum jelly for getting the desired lovely eyelashes. This article is dedicated to that very cause. Here we will talk about how effective is vaseline on eyelashes and its various uses.(1)
Is it Safe to Put Vaseline on Eyelashes?
If you are worried whether Vaseline is safe enough or not then go through the following points.
It acts as a moisturizer for the eyelashes and conditions the skin in that area. Lack of moisture makes the lashes brittle and dry.
Vaseline ensures that your eyelashes grow long and beautiful.
Vaseline makes the lashes stronger and thicker.
It makes the skin around the lashes smooth, supple and wrinkle-free.(2)
[ Read: How to Use Castor Oil for Eyelashes Growth ]
How to use Vaseline on Eyelashes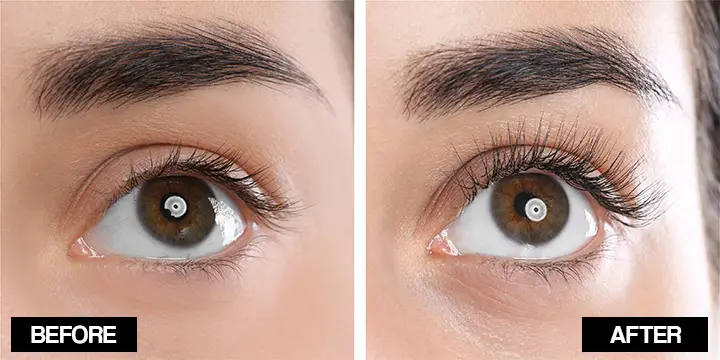 Castor oil and Vaseline on Eyelashes
Ingredients:
1 tablespoon of castor oil
1 tablespoon of Vaseline
A small container
Procedure:
Mix the castor oil and Vaseline in the container until a smooth mixture is obtained
Wash your face thoroughly
Using a clean q-tip or an absolutely clean mascara wand apply the mixture onto the lashes.
You can also apply it to your eyebrows
Let it rest overnight
Wash it off with a mild cleanser and lukewarm water.
Repetitions: Daily.
Preparation Time: 3 minutes.
Best Time To Apply: Overnight.
How It Work: Castor oil has gained itself quite a reputation for making eyelashes and eyebrows thicker and longer. It restores thinned out eyelashes. It restores the moisture to the skin around the eyelashes.
Tips: Warm the mixture slightly before application.
[ Read: How to Use Vitamin E Oil for Eyelashes ]
Putting Vaseline on Eyelashes
Ingredients:
1 teaspoon of Vaseline
1 absolutely clean mascara wand
Procedure:
Clean your face
Remove any existing makeup
Rub the Vaseline between your fingers, which will increase its temperatures and make it smoother
Roll the wand over the Vaseline and apply it to your eyelashes
Let it rest overnight
Wash it off with a mild cleanser and lukewarm water.
Repetitions: Daily.
Preparation Time: 2 minutes.
Best Time To Apply: Overnight.
How It Work: Vaseline moisturizes the eyelashes that prevent the breaking of the eyelashes. They do not fall prematurely.
Tips: Your eyelashes will tend to clump together after applying the Vaseline, so do not over apply. Use one thin coat only as that will be enough.
[ Read: How to Use Coconut oil for Eyelashes ]
How Long to See Results from Vaseline on Eyelashes?
It is very difficult an exact time for your eyelashes to start looking long and more filled out. it generally depends on your skin type. The follicles present and your regularity in the application. The results vary from person to person. However, you will start to see positive changes after a month or so.
Here are some of the uses of Vaseline to make your eyelashes look fuller and beautiful. However, you must be aware of the drawbacks of Vaseline
It has a very greasy texture so it is only natural that you will face problem removing it in the morning. It will leave the area around the eyelashes greasy.
This could lead to an unwanted build up. This could lead to some unwanted puffy eyes and also dark circles. Ensure that the grease is properly removed.
The usage of Vaseline is most probably going to lead to an acne breakout. The oil clogs the pores in your skin leading to a germ build-up and hence the acne.
This is a very rare scenario, but not unheard of; you could end up with allergies from the usage of Vaseline. In such a case stop usage of the product and consult your doctor at once.
Best Eyelash Growth Serums
Best Overall
RevitaLash Cosmetics Advanced Eyelash Conditioner – Buy on Amazon
Best on Amazon
Grande Cosmetics GrandeLASH MD Lash Enhancing Serum – Buy on Amazon
Best Conditioning Treatment
Obagi Nu-Cil Eyelash Enhancing Serum – Buy on Amazon
Best for Lash and Brow
Twenty/Twenty Beauty Get Growing Lash & Brow Serum – Buy on Amazon
Best for Anti-Aging
Better Not Younger Superpower Lash Serum – Buy on Amazon
Best to Darken Lashes
Talika Lipocils Expert Ultimate Eyelash Growth Serum – Buy on Amazon
Scientific Evidence:
You Might Also Like: