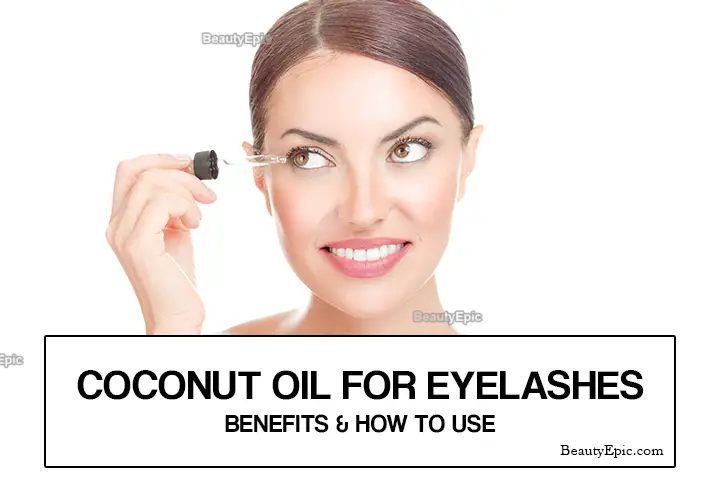 If you want to make your lashes attractive and beautiful it is recommended to use coconut oil with lemon and lavender that contains antioxidants, gives your lashes a very appealing appearance. Use of masks and cosmetic products that help to provide a perfect look also stimulate growth of eyelashes. The most appealing feature of coconut oil is that its utilization helps to reduce weakening of the lashes and helps to create beautiful eyes. Let us read to know how to use coconut oil for eyelashes.
Benefits of Coconut Oil for Eyelashes
Coconut oil is one of the most used oils in cosmetics. It is used in the beauty industry for the manufacture of creams, skin treatments and hair products.
Coconut oil is composed of medium-chain fatty acids, vitamin E, minerals and other imperative nutrients that provide amazing health benefits.
It helps to cleanse, moisturize and have an antioxidant effect.
It also works against the negative effects of chemicals that are present in mascara, which is one of the most common causes of extreme dryness and fall.
It helps to protect your lashes from's UV rays and toxins, and brings shine and more volume on lashes.
Vitamins and minerals content in coconut oil help in achieving natural hydration and a healthy growth of the lashes.
It is also a great substitute cleanser that can be used to remove makeup.
How to Use Coconut oil for Eyelashes
Direct application of coconut oil offers numerous benefits for eyelashes. However a complete treatment that is combined with the powers of lemon and lavender spirit has even more benefits. Lemon is rich source of vitamin C and E, two antioxidants that fortify from the roots to control extreme loss of lashes. Lavender contains antioxidants and vitamins that increase the reformation of the damaged and thin eyelashes.
Ingredients Required:
1 tablespoon organic coconut oil (15 g)
The juice of ¼ lemon
1 teaspoon lavender essential oil (5 g)
1 bottle airtight glass
1 clean mascara brush
How to Prepare?
Soften the organic coconut oil by using a water bath.
Once the oil melts, add the juice of quarter lemon and lavender essential oil.
Remove from heat.
Leave it for a few minutes and pour into an airtight glass jar.
Wait until the oil reaches room temperature.
Then you can apply it.
[ Read: How Effective is Vaseline on Eyelashes ]
How to Use:
Clean a mascara brush.
If you do not have mascara brushes use a cotton scrub.
Remove any eye makeup thoroughly.
Rinse with mild soap.
Spread the brush with the treatment of coconut oil on the lashes.
Massage a thin layer from the roots to the tips of the lashes.
Note:
Be careful while applying around the eyes, since by its content of lemon can be a little annoying if it gets in contact with eye.
Repeat the application every night before bedtime. It is an effective home based therapy to make your lashes thicker, dense and beautiful.
Growing the hair on the lashes has always been one of the most challenging things to achieve from home based remedies. However, the use of coconut oil on an everyday basis can help achieve desired results.
You Might Also Like:
Image:- 1