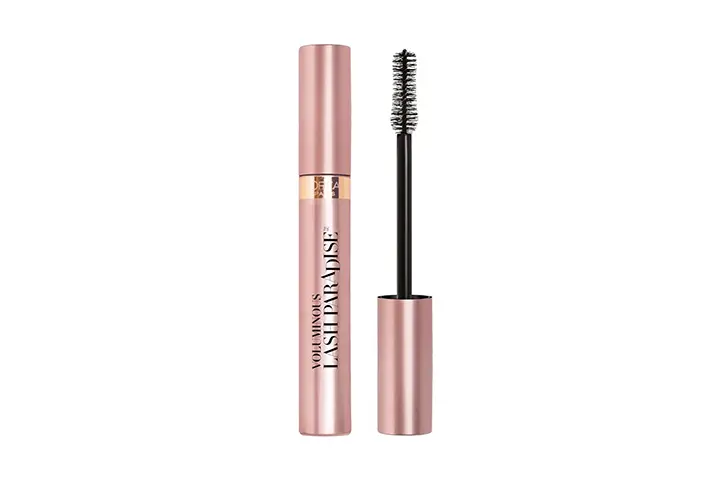 To get intense length and feathery soft full lashes pick L'Oreal Paris Voluminous Makeup Lash Paradise Mascara. This lash paradise mascara makes your lashes volumizing and lengthening.
It instantly lifts the lashes in one stroke!! And it is easy to use. The voluminous lash paradise mascara makes your lashes thick, long and more lifted.
L'Oréal Paris Voluminous Lash Paradise Mascara
How it Works:
This mascara contains a soft wavy bristle brush that holds maximum formula for a dramatic volumizing change.
200 plus bristles catch every lash for a full fringe effect.
The smooth glide formula of this product will give a silky volume in one sweep from root to tip.
Pros:
The hour glass brush shape lifts your lashes and gives them maximum volume and length.
Long eye lashes in just one coat.
200+ bristles hold every lash for a dramatic fanned out effect with long lasting impact.
With ultra soft fibers you can get a sensorial application experience.
You can remove it easily with soap and water.
Cons:
This is a bit heavy on the lashes.
Little bit costly.
Rating: 4.4 out of 5
If you have a strong wish of having volumizing, lengthening eyebrows get this product. The blackest black mascara will not flake, smudge and leaves only feathery soft full lashes.
Frequently Asked Questions (FAQ'S)
Q. Is the latest voluminous still no flake?
Ans: This waterproof, silky smooth formula glides on evenly and easily to deliver a full lash fringe that's feathery soft with no flaking, no smudging, and no clumping. The soft wavy bristle brush with over 200 bristles catches every lash and holds the maximum amount of formula for a dramatic volumizing effect.
Q. Does it smudge with sweat?
Ans: It doesn't seem to smudge very much after it dries. If you blink when it's still wet, it might get on your lid or under eye area. Comes off fairly easily at the end of the day with makeup wipes.
Alternate Products:
You Might Also Like: