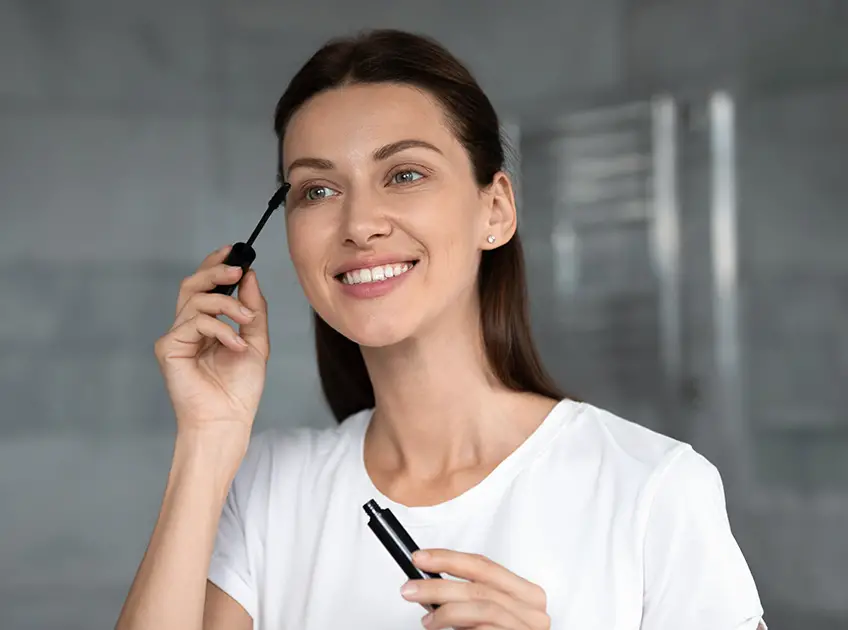 Mascara is one of the essentialities in a makeup kit. Giving a dramatic look to eyes, making them bolder, bigger, and more gorgeous, mascara can enhance the overall look. When applied, the lashes look longer and more pronounced. It is an eye makeup staple.
When buying mascara, we usually search for the best brands, but what about the mascara color? Usually, women end up buying black mascara without knowing that it may or may not suit their skin tone.
Mascara comes in diverse colors, including clear, brown, blue, and purple, but black is the commonest. However, you can also try brown mascara, which looks prettier among women with lighter skin tones. Wondering how to know which mascara shade will suit your skin tone the most? Let's find out!
Brown Mascara Vs Black Mascara
Brown Mascara
Brown mascara looks best among women that are naturally very light-skinned and have light hair. Even though they can apply black mascara, the look with brown shade becomes more prominent. The softer shade looks more impactful and goes really well with the light skin tone.
Likewise, for women with light hair when applying brown mascara create a soft impact. It gives them a clear look, and sometimes it's not apparent that they have applied anything on their lashes.
Brown mascara also looks great among women with blue or green eyes. The soft shade of mascara brings out the hues in the irises and also prevents the extremely dark look that black mascara brings.
[ Read: How To Clean Out A Mascara Tube? ]
If you want to create a smoky look, high-volume brown mascara comes in handy. It pairs really well with some dark eye shadow and eyeliner for a sultry smoky look that doesn't look overdone.
The use of black mascara is not limited to only light skin toned people. Those with slightly dark or olive skin tones can also go for brown mascara that offers a natural and softer look. Such people can pick a slightly darker shade of brown like 'brown black' or 'near black' to get a softer look, matching the current eyelash color.
Take Away-
Brown mascara looks great on people with light skin and hair.

It is perfect to create smoky eyes.

People with slightly darker tones can get 'near black' or 'brown, black' shade mascara.
Black Mascara
Black is one of the most popular and common mascara shades. It is the classic choice of women around the world. However, since a number of mascara shades are available, it should not be the only option.
The best thing about black mascara is it looks great on all skin types. Whether you are very fair, light-haired, or have a wheatish complexion or dark tone, black suits all skin tones and gives eyes a dramatic appearance.
[ Read: How to Remove Waterproof Mascara ]
Another good thing about black mascara is you can wear it anywhere and anytime to lengthen your eyelashes and make your eyes appear bigger and bolder. Black mascara is a staple in your makeup kit if you are a woman with a dark skin tone and dark hair color.
Just a single sweep of black mascara, and your eyes get all the drama. It adds volume and shape to the lashes. When applied correctly, it appears that you are not wearing any mascara and your lashes are naturally long and curly.
You can pick voluminous mascaras with thick brushes to add more drama to the eyes. It helps to make the eyes look darker and smoky. For a classic and simple statement, normal mascara will work well. If your skin tone is too dark and your eyes more colored, pick the shade 'blackest black' for the best look.
Take away-
Black mascara looks great on all skin tones.

It is perfect for women with dark skin and hair color.

It adds volume and shape to the lashes. 
Many women do not like to put a lot of makeup on their eyes. Just a sweep of mascara is their go-to. If you are also one of them, trying different shades of mascara can help to perk up your look and make your personality interesting.
If you do not want to go too loud by using blue and purple shades, your makeup arsenal must-have black and brown shades. While black can be for an everyday look, brown can be used to style the eyes on special occasions. If you are a light-skinned woman, brown could be your daily partner.
Making the right choice of mascara can be a game-changer. So, pick your mascara wisely to get a dazzling look.
You Might Also Like: