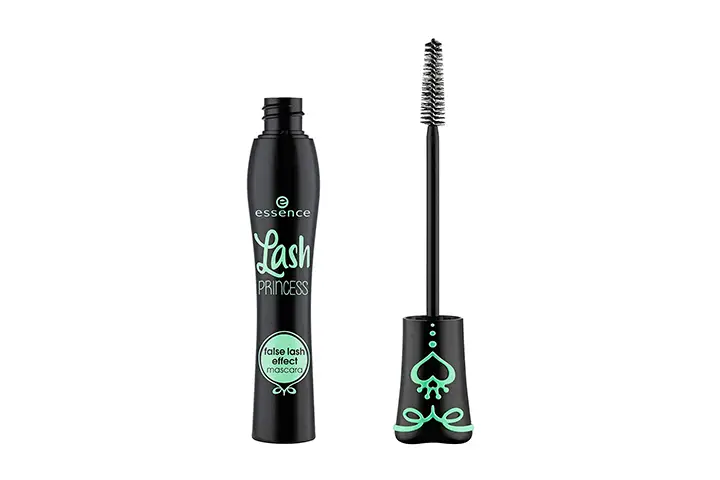 Essence Lash Princess False Lash Effect Mascara makes your eyelashes lengthen, thicken and darker. It increases volume of your natural eye lashes. Wear mascara to enhance the eyelashes.
It is a long-lasting mascara which will not flake and flade. It gives a bold look by separating lashes. This product will make your lashes look from natural to gorgeous.
Essence Lash Princess False Lash Effect Mascara
How it Works:
It contains a conic shape fiber brush that delivers dramatic volume and sculpted length without clumps or globs and captures every lash.
This product is suitable for the skin types like oily, dry, normal and combination.
Apply essence false lash mascara one-coat for instant definite volume or 2-3 coats for an extra voluminous look.
Pros:
The conic shape fiber brush sculpts individual lashes for definition and volume.
It stays all-day without flaking and fading.
It instantly adds thickness.
This product makes your eyelashes darker and voluminous ,which draws attention to the eyes and creates definition.
Essence Mascara makes your eyes bigger.
Cons:
Due to extended use, eyelashes may cause fallout.
Rating: 4.4 out of 5
Essence Lash Princess False Lash Effect Mascara is a must have make-up product which enhances your eyelashes look from boring to bright. You can find yourself awesome after completing your full face makeup. You can feel more confident with thicker, darker eyelashes.
Frequently Asked Questions (FAQ's)
Q. Can this be used with the mask?
Ans: If you wear your mask over your whole face. If you only wear a mask over your nose and mouth and only wear mascara on your eyes you should be ok unless your mask gets accidentally pushed up your face and over your eyes while your mascara is still wet then it might smudge.
Q. Does this product come waterproof?
Ans: YES and it's amazing.
Alternate Products:
You Might Also Like: