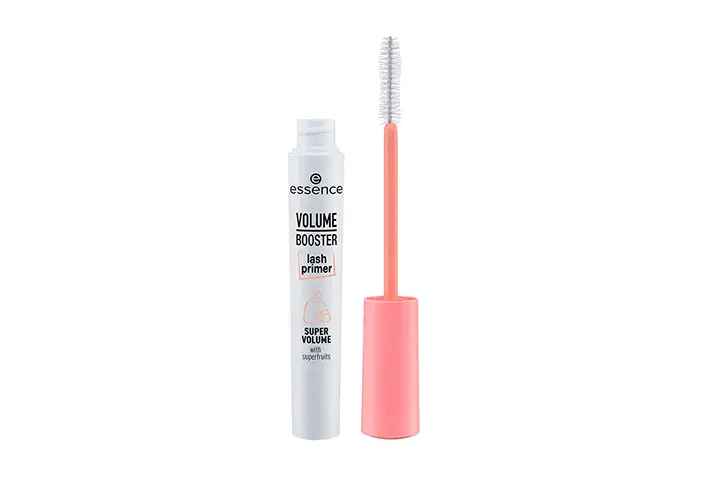 Prepare your lashes for mascara with Essence Lash Primer Mascara . It is the perfect partner to your favorite mascara.
This volume booster lash primer mascara instantly boosts any lash with its arable formula.
This mascara primer gives a healthy dose of volume that won't mess with your mascara formula.
Essence Volume Booster Lash Primer Mascara
How it Works:
It's infused with acai oil and mango butter for nurtured and conditioned lashes.
This primer not only volumizes your lashes but also creates a moisturizing shield around each lash.
The formula of this product holds your lashes tightly to protect from damage.
Apply the primer one coat for a casual look or multiple for a more dramatic lash look.
Pros:
Makes your lashes long and more voluminous.
Creates a sleek, smooth foundation.
Conditions and nourishes your lashes.
Lengthen your lashes so they appear long and lush.
Cons:
May get clumpy upon heavy application.
Some found that the formula is slightly thick.
Result: 4.4 out of 5
Essence Volume Booster Lash Primer Mascara is effective. The buildable formula of this product will instantly make your lashes look several times thicker than they naturally do.
Frequently Asked Questions ( FAQ's)
Q: Does it help keep the mascara from smudging?
Ans: Yes, it's amazing. Don't let it dry before you put your mascara on. You will need a makeup remover to get it off at the end of the day.
Q: How many coats of primer have to be done before applying the mascara?
Ans: Everyday I wear just one coat. Special occasions 2 coats. Let dry about 20 to 30 seconds between coats and mascara. Great primer!
Alternate Product:
You Might Also Like: