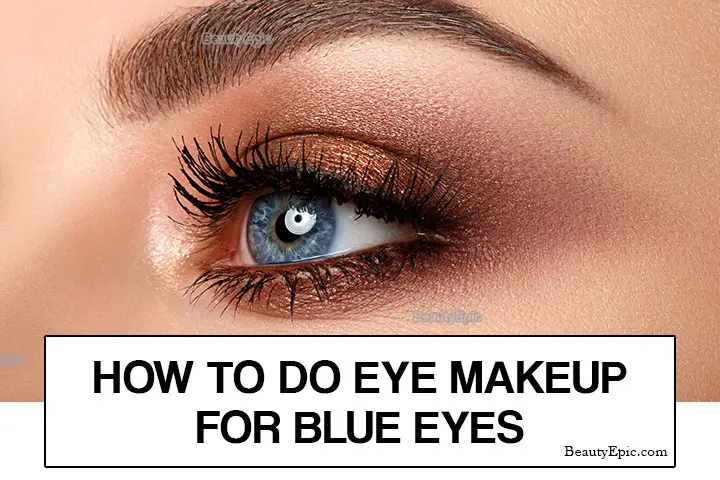 Every make up you chose to apply on your skin must match things like color, your complexion, age, and many other factors. This is also the case with eye makeups. There are people who have back eyes, others blue. So when you chose your makeup chose that which will magically elevate your beauty.
Do you have blue eyes? Well, we have you covered today. We will look at tips on how to go about makeup for blue eyes. Have you ever wondered why you makeups blow out on Friday afternoons? Or have your makeups wear out on Saturday nights. This is a common phenomenon which we will help you corrects. Your blue eyes require high precisions when applying makeups to avoid blowouts and other undesired outcomes.
Emphasize on The Linear and The Eyelashes
Use simple black application for the eye lashes to get that charming look. You should avoid too much of it, else it will look overdone. Also, apply black color for the linear to complete your diva look. If these applications are done with precision, you will magnificently stand out in the crowd.
If you want to use mascara, well the best choice is black. You might need a colored touch and you don't have all the time for eye shadow and eyeliner, try to use blue or a purple touch. If these applications are done with precision, you will magnificently stand out in the crowd.
[ Read: How to Apply Eyeshadow ]
Have a Soft Touch on Brows
If even when you want that pop and elegant look, surely you don't want the application overpowers your look. You don't need that for your blue eyes. The attention might turn away from the eye to how you have done your make up. You can use a warmer toned eyebrows product and have what you desire.
Have a Gold or Bronze Shade
Apply either a bronze of gold shade and do it with high precision for the right blending of the shadow. Lumre is one common and quality bronze eye shadow that gives a magical look, maybe you can try the product from Naked Heat Palette.
The same should be done with gold shade. After correct blending, you should add some more shade for a great finish and a wonderful natural finish.
[ Read: How to Apply Bronzer ]
Add Glitter on The Eye Lids
Choose a glitter that not so conspicuous from a distance. Your glitter should be accompanied by a glamorous background probably dark. This shimmery metallic on your eyelids makes you look like a real diva. You can have it at your bottom lashes or just a bit of it on your eyeliners for an extra pop. This will give you a look that you would wish you can see.
Add Some Value to Your Eyelashes
You can have your lashes finished with the top and the bottom coats finished with a mascara touch. You can curl them first and apply mascara on the top coat. You can elevate the look of lashes by applying colors on them. Again I will stress avoid very conspicuous colors from a distance.
With the correct application, you should be able to bring the look to life. If the application is done in the right precision, you should get the diva look that you desired and really stand out in the crowd.
[ Read: How to Apply Mascara Perfectly ]
Orange Lipstick Finish
Your blue eyes will need very makeup that will complement their beauty. There are applications that actually achieve that. Blue beauties are really lucky. Orange lipstick will auger well with their blue eyes. I know this is strange to some of us. That's why I advise you chose your favorite orange from the many shades of orange available.
Avoid The Obvious and Try New Looks
Not every eye makeup that looks great on brown eyes will look the same on blue eyes. For instance, a red lipstick will complete the facial makeup for brown eyed divas very well. This is the most obvious and common lipstick for that matter. For blue eyes, you will do no harm to your look if you miss an eye shadow.
Every beauty wants to stand out in the crowd. Our blue beauties can stand out with diva looks if they have the eye makeups done as supposed. The applications and color will give elegance and greatly elevate their beauty.
Best Eyeshadows for Blue Eyes
You Might Also Like:
Image:- Shutterstock