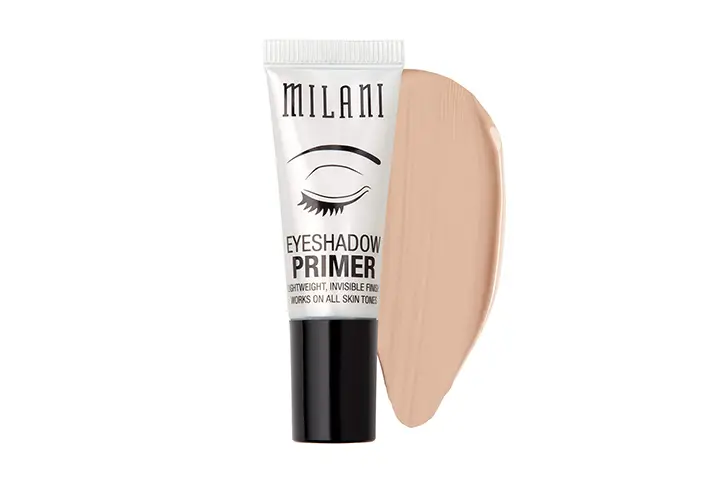 Increase the color of your favorite eyeshadow and intensify its wear time by applying Milani eyeshadow primer. It is lightweight and crease-proof.
Prep your eyes and create brilliantly beautiful. This eyeshadow primer makes your eyes even and vibrant all day.
It blends perfectly into your skin and you no need to worry about color matching because it dries invisibly.
Milani Eyeshadow Primer
How it Works:
Milani eyeshadow primer is formulated to be the perfect base for your flawless style.
It improves your skin texture and helps to prevent smudging.
Swipe a small amount across each eyelid before applying eye makeup.
Then select your favorite eyeliner and eye shadow shades to create a look that lasts all day.
If you want to stay your eyeshadow in place all day and night, apply this primer it gives extra soothing to last your eyeshadow.
Pros:
It's lightweight, invisible and suitable for all skin tones.
Intensifies and extends the wear of any shadow.
Non-sticky texture and minimize creasing.
Blend well all over the eyelid and allow to set for 30 seconds.
It's vegan and cruelty free.
Cons:
For some, eye irritation and burning feelings may occur.
Rating: 4.3 out of 5
A primer which is made for long lasting wear is Milani eyeshadow primer. It increases the color of your favorite eyeshadow and lengthens its wear from day into night.
Frequently Asked Questions (FAQ's)
Q. Any scent to this product?
Ans: No, there is no smell. This is one of the best beauty products I have used. I would recommend this to a friend, and repurchase it.
Q. Can you use this with a liquid eyeliner?
Ans: Sure can! I use it with powder eye shadow and it works great!
Q. What should we use to apply this?
Ans: You can apply this with your fingers or a brush.
Alternate Products:
You Might Also Like: