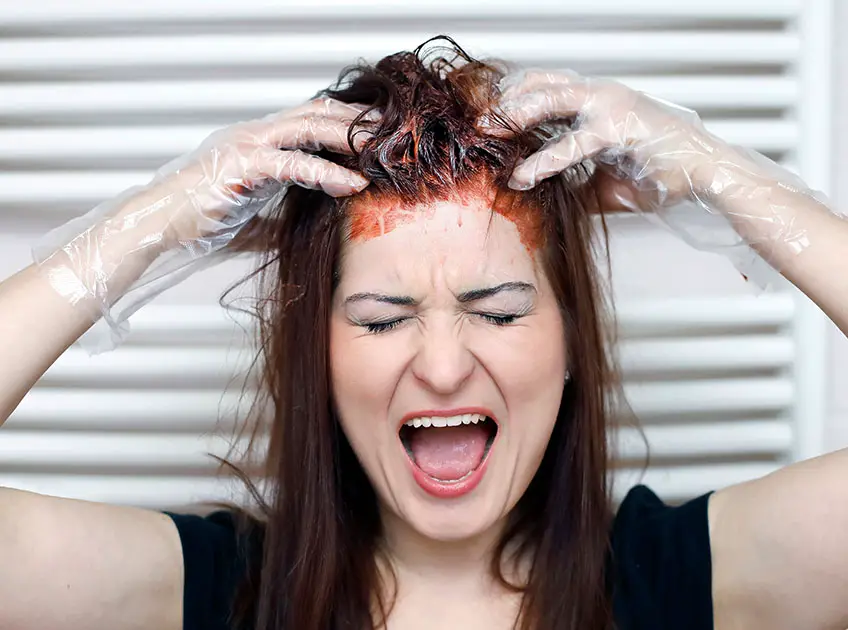 If you had the experience of over-toning the hair, then sure you know the difficulty to manage the problem. You may be left with shades of grey, purple and blue. But don't get too much stress, read on some effective tips presented here for removing toner from hair. Upcoming methods are exactly for you which are super easy as well as it will not damage your locks. The major reason for hair to become stained with hues of purple or blue is because of over toned your hair, the toner will be very strong if you applied too much. Luckily, there are plenty of ways to reverse this without disturbing your hair.
Fix Over Toned Hair
First, Know What Is Meant By Hair Toner?
Toner is said to be a semi-permanent hair color that can be used to add dimension to the hair, enhance natural color or cover up grays. It is also used highly after bleached hair in order to neutralize any unwanted orange or yellow tones. Toners are mainly utilized to change the color of hair. It makes your hair lighter or darker, depending on the needs. On the other hand, you may use toner to remove brassiness in the hair color. Brassiness means hair color will start to look a bit yellow or orange. But toning in a limited amount is good, if it goes more than that then you should face the over-toning problems.
Get Some Knowledge On What Is Over Toning And How To Fix It More Safely?
Over toning occurs when toner is applied more to the hair. This situation happens for many reasons, but it has often done when trying to achieve a pale or very light color and ends ups using more toner on the hair. In this case, the hair change to orange, brassy, or over toned purple hair. To fix your over-toned hair, certain effective tips are mentioned below.
1. Clarifying Shampoo: Clarifying shampoos are substantially very effective in hair cleaning compared to conventional shampoo. They are mainly designed to clean the hair thoroughly and eliminate any grime, oil, or product buildup. If you find your hair is over toner and it is looking especially brassy, then try to use clarifying shampoo one or two times a week.
2. Baking Soda: Baking soda can be manipulated as a shampoo to assist remove any dirt that builds up on hair and scalp. This can aid to restore the natural balance of the hair and scalp and it helps to stimulate the overall look of over-toned hair. If you thought to use baking as shampoo, mix 1 tbsp of baking soda with 2 cups of water. Put this mixture on the wet hair and massage it into the scalp for nearly one minute. Later wash with normal water and redo this procedure once a week.
3. Dishwashing Soap: Dishwashing soap is an excellent way to take out unwanted tones in the hair. It can be used as shampoo, simply you can wet your hair and apply the dishwashing soap to it. Rinse thoroughly with water and repeat this process for few times to separate unwanted tones in the hair. Make sure to use conditioner after using dishwashing soap.
4. Lemon Juice: There are some ways available that you can use lemon juice for over-toned hair. The first way is to add lemon juice with a carrier oil such as olive oil and apply it to the hair. The second way is to mix the lemon extract with water and have it as a final rinse after taking a head bath with shampoo. In addition, lemon juice also can add with regular conditioner. If you don't want lemon juice to dry out your hair just makes sure to use a mild conditioner.
5. Hydrogen Peroxide: If you like to have a natural way to fix over-toning hair, hydrogen peroxide is the best solution for it. This thing can be used as a bleaching agent in order to lighten the hair and it can also assist to pull out unwanted pigments. Hydrogen peroxide, on the other hand, is a great disinfectant, so it can aid to cleanse the scalp and separate any build-up which causes over toning issues. To make use of hydrogen peroxide, mix 1/3 parts of the water with one part of hydrogen peroxide and keep it in a spray bottle. Spray this mixture on the hair and stay for five minutes, then wash thoroughly with warm water and repeat this process until you get satisfaction.
Conclusion
Hoping that, you may get some options to fix your over-toned hair in this article. The above methods are said to be very easy and you can try them at home itself. Pick up the method that suits you very best and make sure to follow the instructions carefully to avoid hair damage.
You Might Also Like: