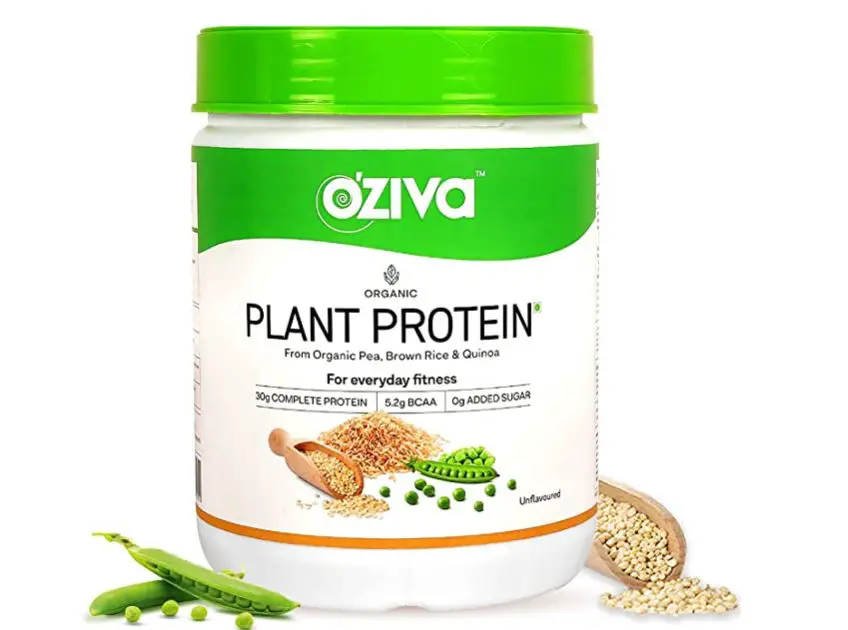 Out of multiple nutritional supplements, protein powder is the most common. These days when fulfilling the protein requirement of the body only through food is not sufficient, starting the intake of protein supplements has become essential.
Protein is an essential macronutrient that helps repair tissues, build muscles and make enzymes and hormones. Also, it aids in weight management and tone the muscles. It is the reason why people are doing intense workouts to get muscles to take extra protein in the form of supplements to furnish the extra requirements of the body.
You can find two types of protein powder- dairy-based and plant-based. Since some people are vegan and do not prefer dairy-based products, plant-based seems perfect for them.
In the same context, today, we are reviewing Oziva Plant-based protein powder that claims to be perfect for everyday fitness.
Product Review
Oziva plant-based protein for everyday fitness consists of 30 g plant protein and 5.2 g BCAA per serving. The presence of all essential amino acids makes it wholesome for every day. There are pea protein isolates, brown rice, and quinoa- everything in their organic state.
Intake of this protein powder daily will furnish the requirement of protein in the body. It is advised to take it regularly irrespective of age to see the difference in stamina. Also, it boosts immunity and helps in faster recovery. It aids in fighting off infection as the immune system gets stronger over time.
The best part is since it is a plant-based protein, there is no problem in digesting it.
Unlike most protein powders, it is suitable for all family members between the age of 16 to 65. It is certified clean by US CLP & certified Vegan by Vegan Society of UK.
Product Description
Oziva Protein Powder is a nature miracle as it comprises an only plant-based protein. Protein from pea, brown rice, and quinoa fulfills the need for all the amino acids required for healthy growth and tissue repair.
The intake of Oziva protein powder is easy. You can have it in these three ways-
Add one scoop with two bowls of flour, make a dough and enjoy high protein chapattis for dinner or lunch.
Make a health drink by adding half a scoop in one glass of water or your juice and smoothies. You can add a few ice cubes to make it delicious.
Sprinkle half scoop of protein powder in vegetables, fruits, salad, and soups to make them more nutritious.

Nutrition Facts
Being completely plant-based, Oziva Plant Protein is perfect for everyday fitness. The major ingredients of this protein powder that consists of all essential amino include-
Organic Pea Protein Isolate
Organic Brown Rice Protein
Organic Quinoa
These three ingredients are rich sources of plant protein that together make 30g Complete Plant Protein, 5.2 g BCAA, and 0 g sugar, helping to build and tone muscles and repair tissue damage.
What We Like
It is a complete plant protein that is cholesterol-free.
Easy to digest, and people of any age, between 16 to 65, can take it under the direction of a physician.
It is free of gluten, soy, added sugar, artificial sweeteners, and preservatives.
It is a non-GMO product.

What We Don't Like
You may find the smell of powder a bit awful, but it comes in all types of protein powder that are not adulterated with artificial preservatives and sweeteners. Seeing the quality of Oziva Protein Powder, the smell can be neglected.
How Much Does Oziva Plant Protein Cost?
The regular price of Oziva Plant-based protein powder is Check Here. You can also buy the product from Amazon, wherein it is available at a sale price only. Do not buy Oziva products from any other source as you may not get them at the sale price.
LIST OF ALTERNATIVES
Conclusion
Protein is an essential macronutrient, the lack of which can cause weakness and a lot of health issues. People who have a hectic schedule and no time to indulge in a healthy and protein-rich diet must try Oziva plant-based Protein Powder, which is easy to digest and furnish the requirement of protein in the body.
Try Oziva Protein powder for everyday fitness and see the difference!
Read More