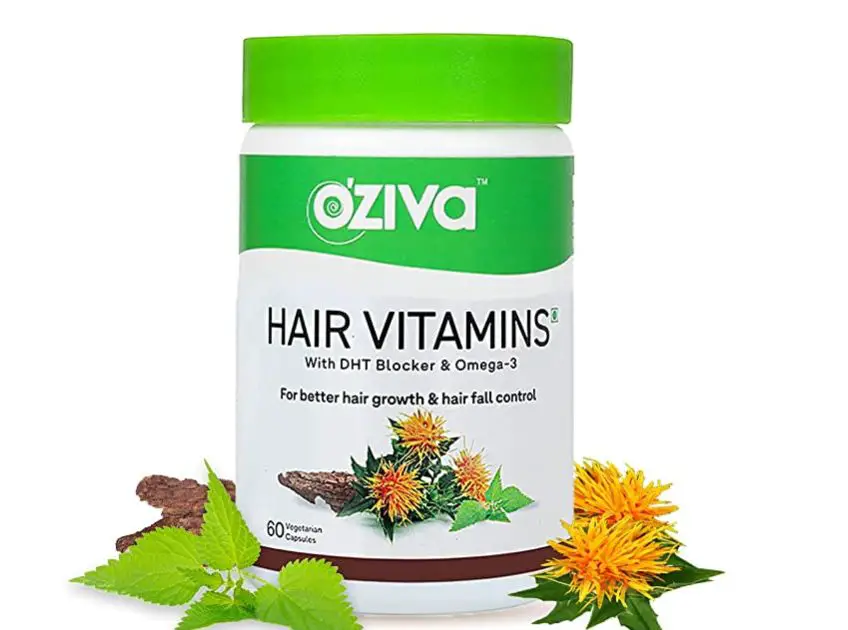 Healthy and shining hair are the epitome of good health. We all want to have hair that can enhance our personality; however, it takes some effort to get such hair. Over time, stress, hectic schedule, pollution, and poor nutrition contribute to deteriorating hair quality. It is when taking some supplements that can boost healthy hair growth comes to the rescue.
Although you can find plenty of products that claim to improve hair quality, it is hard to trust each one of them. Therefore, here we are with a review of Oziva Hair Vitamins capsules.
PRODUCT REVIEW
Oziva is one of the most reliable brands as they have products made with natural ingredients. The lack of chemicals and adulterations ensures that there will be no side effects, and the results will be amazing.
When it comes to their Hair Vitamins, the presence of DHT Blocker and Omega-3 gives a positive aspect. Since both these are necessary for healthy and stronger hair, the Oziva Hair Vitamins seem promising.
Another thing that makes it better than others is they are completely free of gluten, soy, artificial sweeteners, and sugar. Also, it is non-GMO and certified clean by US CLP & Certified Vegan by Vegan Society of UK.
PRODUCT DESCRIPTION
Oziva Hair Vitamins comprise ingredients that promote healthy hair growth. One bottle contains the goodness of Vitamin A, C, D, E, and B-complex- everything that is needed to nourish the hair.
Apart from vitamins, the capsules also contain iron, zinc, and omega-3 to reduce hair fall and make hair stronger right from the follicles. It works by preventing the follicles from shrinking as we age. The presence of DHT blocker in pumpkin seeds, pine bark, beta-sitosterol, and stinging nettle makes it highly effective.
It also has anti-inflammatory properties that will never let the scalp get dry or flaky. Everything that you need to have in your diet for healthy hair is present in these capsules that give magical results after using them for at least three months.
The best thing about these capsules is they work on the deficiencies of the body that are causing hair loss and fulfill the insufficiency. Therefore, the results are long-lasting.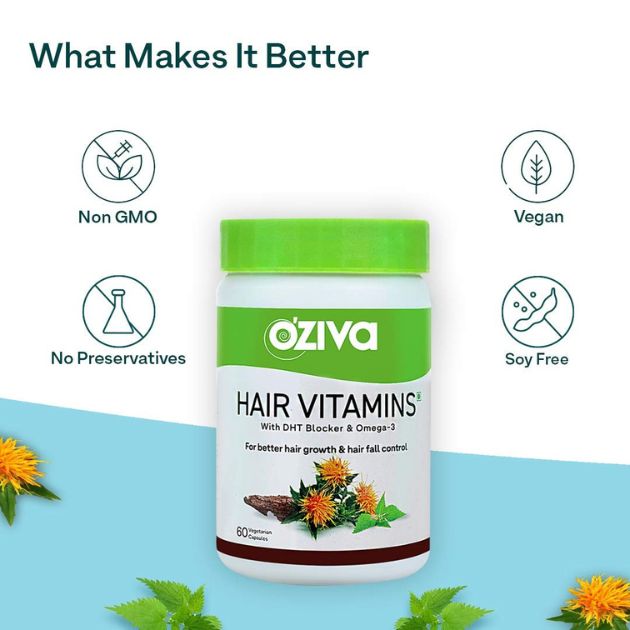 NUTRITION FACTS
Hair Vitamins– Every essential nutrient required for healthy hair growth is present in Oziva Hair Vitamin. It has Vitamin A, C, D, E, and B-complex.
DHT Blocker– It helps in reducing hair fall by preventing follicle shrinkage.
Omega 3– Omega 3 is essential not only for healthy hair but healthy skin too. It has multiple health benefits. For the scalp, it keeps it well-hydrated and nourished to prevent hair fall.
WHAT WE LIKE
Reduces hair fall by making the preventing hair follicles to shrink
Prevents dry and flaky scalp by nourishing the scalp
Promotes healthy hair growth
Make hair voluminous, lustrous, shiny

WHAT WE DON'T LIKE
To see the desired results, you need to consume Oziva Hair Vitamin capsules twice a day for at least three months. If you are patient enough, we suggest you must try as the results will be evident. It didn't take much time to gulp two capsules twice daily, and the results will be worth it.
Additionally, if you want to fasten the results, an approach to a clean and holistic lifestyle will work as a catalyst to show the effects of the vitamins.
HOW MUCH DOES OZIVIA HAIR VITAMINS COST?
The regular price of one bottle of Oziva Hair Vitamin costs Check Here.
One pack contains 60 capsules that will be enough for a month. You will see amazing results after having it for three months in a row.
ALTERNATIVE PRODUCTS
Conclusion
Healthy and lustrous hair is a dream of every woman. Today, when the problem of hair loss is becoming ubiquitous, men and women search for products that can work on the issues from the inside and help them get healthy and stronger hair.
While hair care products like shampoo, conditioners, serums, etc., work from outside, Oziva Hair Vitamins improve the situation from within. It is the reason why the results are long-lasting. Get healthier and stronger hair with Oziva Vitamins and flaunt your luscious locks to the world.
Oziva Similar Products