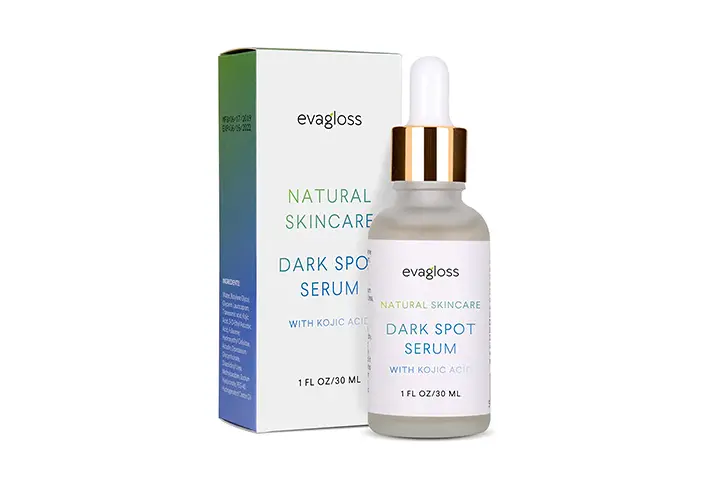 Vanishing dark spots is not an easy task, but with Evagloss dark spot corrector serum it will be very easy and effective. It works great in reducing the dark spots.
To get a spot less skin use this product as your daily routine. The natural dark spot serum is powerful and works deeply in the skin to lighten the spots.
This serum can be used on your face and body. It is not limited to the armpit/under arm, private and sensitive areas, knees, elbow, neck and more.
Evagloss Dark Spot Corrector Serum
How it Works:
Evagloss dark spot corrector serum is with kojic acid, Arbutin and fullerene. Kojic acid help to lightens the skin tone by preventing the production of tylorine, which is responsible for producing Melanin.
Kojic acid also help to reduce skin redness irritation and rashes.
Arbatin helps to prevent the darkening caused by sun exposure.
It also helps to reduce dryness and irritation of the skin.
Fullerene work effectively for whitening by its strong anti oxidation capacity and scavenging free radicals which is the base factor of freckle.
Pros:
Nourishes skin.
Makes even skin tone.
Extremely gentle and safe.
Suitable for all skin types.
Affordable.
Cons:
May take time to show results.
Rating: 4.4 out of 5
This serum helps to reduce the appearance of dark spots. It gives confidence with cleaner and more even skin. You can enjoy a gentle treatment with no side effects.
Frequently Asked Questions (FAQ's)
Q. Can it be used to lighten the underarms?
Ans: Yes. Absolutely you can use it.
Q. How long does it take to show its results?
Ans: After the first two weeks you can see the results.
Q. Can it be used in Tighes to remove spots?
Ans: Yes you can.
Alternate Products:
You Might Also Like: