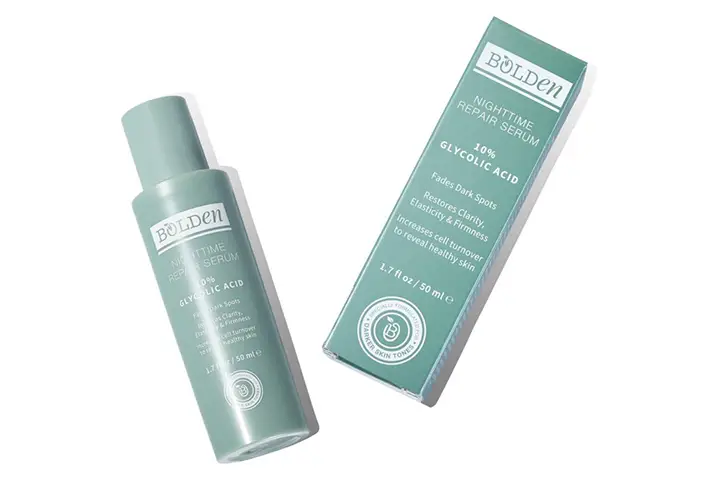 Stop hunting for the best night time repair serum by picking Bolden repairing serum. It works effectively to erase dark spots, acne and breakouts.
It helps to lighten the appearance of dark spots and reverse the damage caused by signs of aging.
It revitalizes your skin by fading dark spots and gives best results to treat hyperpigmentation for women.
This night serum is lightweight and penetrates deep to deliver active ingredients into the skin.
Bolden Nighttime Repair Serum
How it Works:
Bolden night serum exfoliates dead and damaged skin.
It repairs the skin by using its key ingredients and gives you a youthful glow to your face. As you are getting aged, the natural skin cell cycle slows down.
The smallest alpha hydroxy acid helps to remove dead cells and also helps to generate new skin.
Glycolic acid of this product has many benefits and will not give any skin reaction or irritation.
Glycolic acid works to break the bonds between the outer layer of skin cells including dead skin cells and the next skin layer.
Vitamin E is an antioxidant to help heal the skin damage caused by UV rays and from free radicals where aloe soothes and calms.
Pros:
Exfoliate dead and damaged skin cells.
Boost cell turnover to reveal a more youthful and radiant complexion.
Best for oily, acne-prone and combination skin.
Can be used by men and women.
Made without sulfates, parabens or phthalates.
Cons:
Not suitable for all skin types.
Rating: 4.4 out of 5
Get your beautiful skin back by using Bolden night time repair serum. It is the best dark spot eraser. Regular usage of this product restores clarity, elasticity and firmness.
Frequently Asked Questions (FAQ's)
Q. Is it safe to use collagen and retinol cream after using this?
Ans: Using them together can get complicated. If you want to use both, use them on alternate days and be sure to keep your skin well hydrated and protected with broad spectrum sunscreen during the day.
Q. Is it suitable for all skin types?
Ans: Yes, it works for all skin types and particularly works well for hyperpigmentation which is a big concern for women.
Alternate Products:
You Might Also Like: