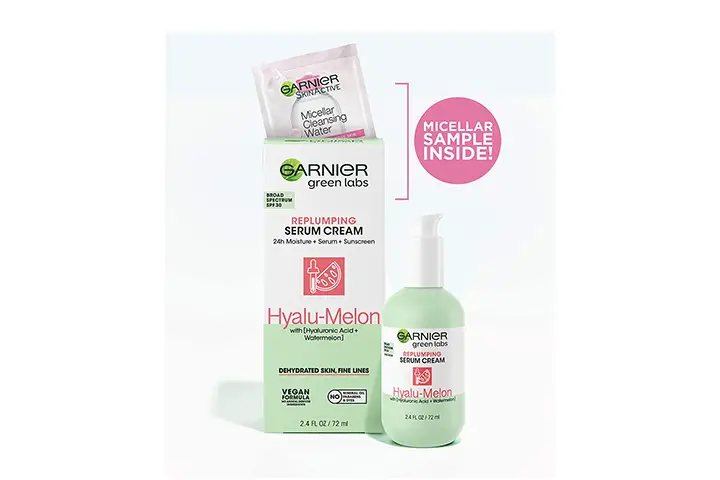 We all love our skin, we will try many ways to keep our skin healthy, glowy and plumpy. Garnier Skin Active green labs replumping serum cream is one of the best ways to keep our skin plumpy and nourished.
You can enjoy 3 benefits if you have this with you. It works as a moisturizer and gives 24-hour hydration as a serum for potency and sunscreen for protection.
Garnier Green Labs Hyalu-Melon Replumping Serum Cream
How it Works:
The plumping formula of this product is the combination of hyaluronic acid and water melon.
Hyaluronic has many skin benefits like it binds the water molecules and keeps the skin hydrated and supple.
It can also reduce the aging signs like wrinkles, fine lines and spots.
Watermelon is filled with water and vitamins.
Vitamin A,B6 and C help to stay your skin soft, smooth and supple.
It also contains vitamin E, which rejuvenates your skin.
It is made with broad spectrum SPF 30, which is safe and effective sun filters provide SPF 30 protection.
The texture of the cream is lightweight that blends evenly into all tones with no white cast.
Pros:
Gives healthy glowing skin within a week.
Reduce fine lines and hydrate your skin.
The formula of this product does not contain any mineral oil, parabens and dyes.
It comes with a micellar cleansing water.
Dermatologist tested for safety.
Cons:
Not suitable for extreme oily skin.
Rating: 4.5 out of 5
Get a plumpy, supple skin with Garnier Replumping serum cream. Excluding the pump the bottles are 100% made with recycled plastic. The formulation of this product keeps your skin supple and hydrated.
Frequently Asked Questions (FAQ's)
Q. Does it contain sunscreen?
Ans: Hyalu-Melon Replumping Serum has Broad Spectrum SPF 30. Safe and effective sun filters provide SPF 30 protection in a lightweight texture that blends seamlessly into all skin tones with no white cast.
Q. Is this fragrance free?
Ans: The Pinea-C Brightening Serum Cream Sunscreen Broad Spectrum SPF 30 is not fragrance free.
Q. Does this have a strong watermelon scent?
Ans: This plumping formula has a mild watermelon scent.
Alternate Products:
You Might Also Like: