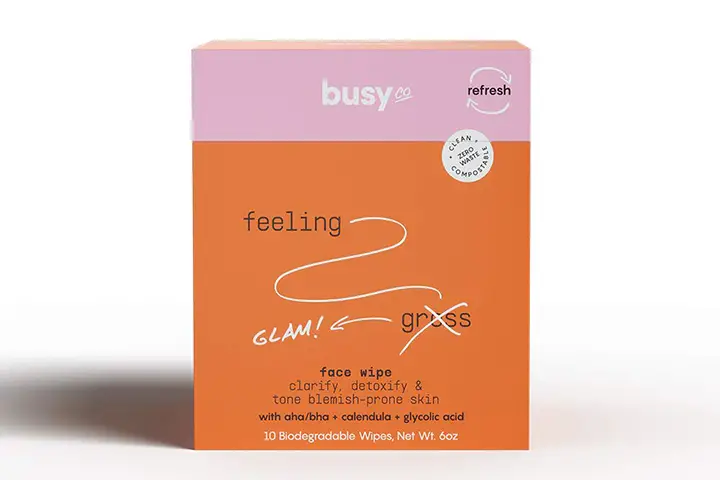 Our skin gets dirt due to pollutants because of dirt our skin is infected with bacteria. To overcome clean your face with Busy Co cleansing facial serum wipes. They remove the dirt and debris on our skin and also minimize the pores and wrinkles.
These wipes detoxify and make your skin brightening and maintain its complexion. It is suitable for all types of skin from normal to oily skin.
Busy Co. Clarify & Cleanse Facial Serum Pads
How it Works:
This product contains AHA/BHA, clover and calendar where AHA/BHA help to minimize appearance of pores and hyperpigmentation while improving tone and texture.
Clover protects against stress, pollution and blue light boosts skin's natural renewal process.
Calendula soothes irritation, minimizes inflammation and promotes healing.
Each wipe is infused with pure, natural ingredients that truly benefit all skin types.
They are free from harmful ingredients like artificial fragrance, parabens and aluminium.
The stylish pack is also made with biodegradable materials and more.
The individual wrap makes you feel comfortable and no mess.
Pros:
Suitable for all skin types.
Help to blemish – prone skin.
Affordable.
Paraben free.
Gives real skin care benefits.
Cons:
Too much usage may cause dryness.
Rating: 3.9 out of 5
The most convenient way to feel fresh and detoxify and clarify your skin. These can be kept in your car, office, at the desk, in your purse anywhere you need. Refresh yourself by maintaining these wipes in your pocket even.
Frequently Asked Questions (FAQ's)
Q. How to use eyelids?
Ans: Just gently wipe over the eyelids.
Q. Does it leave an oily residue?
Ans: No it will not leave any oily residue.
Q. Are these wipes biodegradable?
Ans: Yes, these wipes are biodegradable.
Alternate Products:
You Might Also Like: