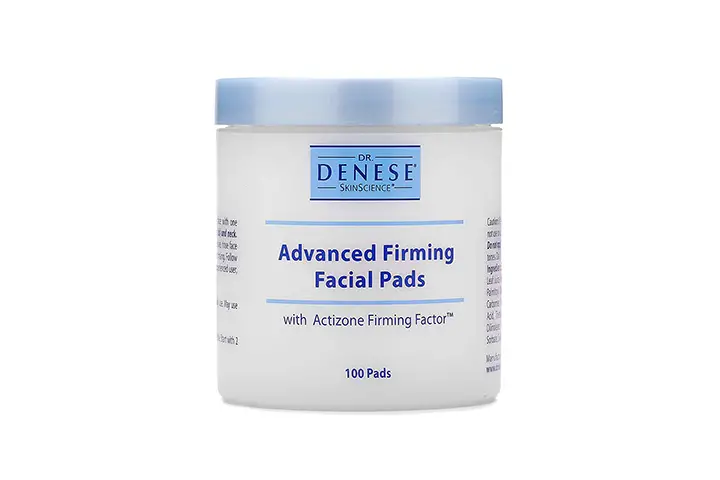 Dr. Denese skin science advanced firming facial pads are helpful for uneven skin tone, enlarged pores, fine lines and wrinkles. This product is especially for oily and problematic skin.
It shows visible results like shrinking the look of pores, decreasing the look of lines and bringing back your skin tone and radiance.
These advanced firming facial pads are developed by doctors and clinically tested and proven that they lift away dead skin cells and facilitate the rise of fresh young skin cells to the surface.
Dr. Denese SkinScience Advanced Firming Facial Pads Exfoliate
How it Works:
Each pad is infused with innovative ingredients including a high percentage of AHA, glycolic acid, which help to get rid of fine lines, wrinkles by increasing collagen production.
It contains Aloe vera which helps to soothe the skin and is great for hydration.
It contains a combination of several powerful peptides known to combat aging, help to promote skin barrier function and repair, and it also smooths the look of lines and wrinkles and improves tone and elasticity.
For best results use this product at night after cleansing, just wipe the entire face for youthful and radiant appearance.
Oily and normal skin can be used in the morning also.
This product is manufactured under FDA mandated procedures.
Pros:
Clinically measured to reduce the look of line and wrinkles.
One of the highest levels of glycolic acid in the market .
Great option for all skin types.
Paraben free, Cruelty free and vegan.
Most helpful for losing firmness and wrinkles.
Cons:
After using it you may feel sting.
Rating: 4.7 out of 5
These advanced firming facial pads work awesome to prevent fine lines, wrinkles and help to bring back radiance into the skin. Best product in the market and can be maintained as your daily routine.
Frequently Asked Questions (FAQ's)
Q. What is the percentage of Glycolic acid in the pads?
Ans: According to the ingredient list (+10) % glycolic acid.
Q. Do these pads have a scent?
Ans: These pads are unscented, have really well and works really well with pores .
Q. Can these pads be used in the morning?
Ans: Yes you can also use them in the morning, but please make sure that you use sunscreen with an spf of 30 or higher.
Alternate Products:
You Might Also Like: