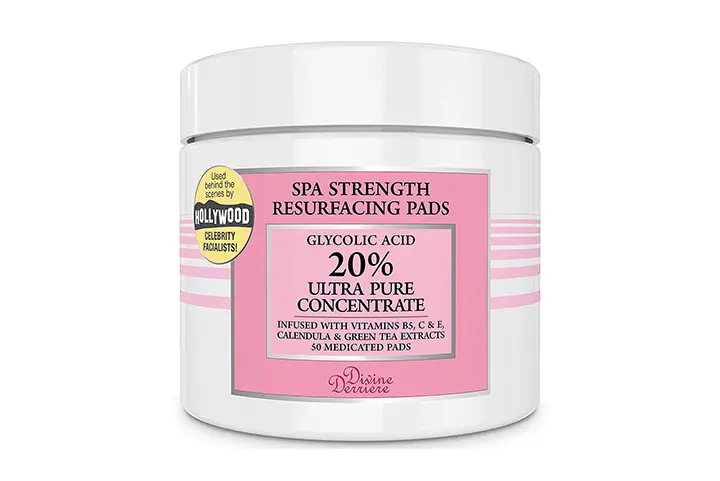 After every facial you can see your skin looks brighter, healthier and younger. Get the facial treatment by using Divine Derriere store Spa strength resurfacing pads.
These resurfacing pads can be used on your face and body. They gently exfoliate the dead skin cells and vanish age spots, lines and wrinkles.
These help to lighten the brown spots and give even skin tone. It also minimize the appearance of signs of aging and discoloration.
Glycolic Acid Pads for Face & Body
How it Works:
These 20% Glycolic acid pads are highly concentrated which effectively removes dead skin cells and these pads also contain vitamin B5,C and E.
Vitamin B5,C and E are the powerful antioxidants which effectively improves the skin texture and erases the aging signs like wrinkles and age spots.
These vitamins also help to maintain your skin elasticity and gives you a younger and brighter looking complexion.
Green tea and calendula are powerful anti-inflammatory and antioxidant agents.
They fight with aging signs and keep your skin fresh and nourished.
These glycolic acid pads keep away scars, lines and wrinkles.
It repairs your skin by filling the lines and lightens dark spots and gives you a nourished skin glow.
Pros:
Improves skin tone and texture.
Leaves your skin radiant and maintains glow.
Effectively removes build up and serum.
Non-toxic and environment friendly.
Keeps your skin fresh and nourished.
Cons:
Not suitable for extremely sensitive skin.
Rating: 4.3 out of 5
These glycolic acid pads treat your skin by avoiding burns, fine lines, scars and more! They also contain vitamin B5,C and E, which keeps your skin nourished and hydrated.
Frequently Asked Questions (FAQ's)
Q. Does it give a burning or tingling feeling?
Ans: After the first use you may have extreme burning and stinging and it may last about 20 minutes before it doesn't feel anything after that.
Q. How many pads are there in each jar?
Ans: There are 50 pads in each jar.
Q. How long will it take to see the results?
Ans: About 4 uses you can find the difference.
Alternate Products:
You Might Also Like: